Sydney has the highest luxury residential rental growth out of 10 global cities measured by Knight Frank
15 November 2023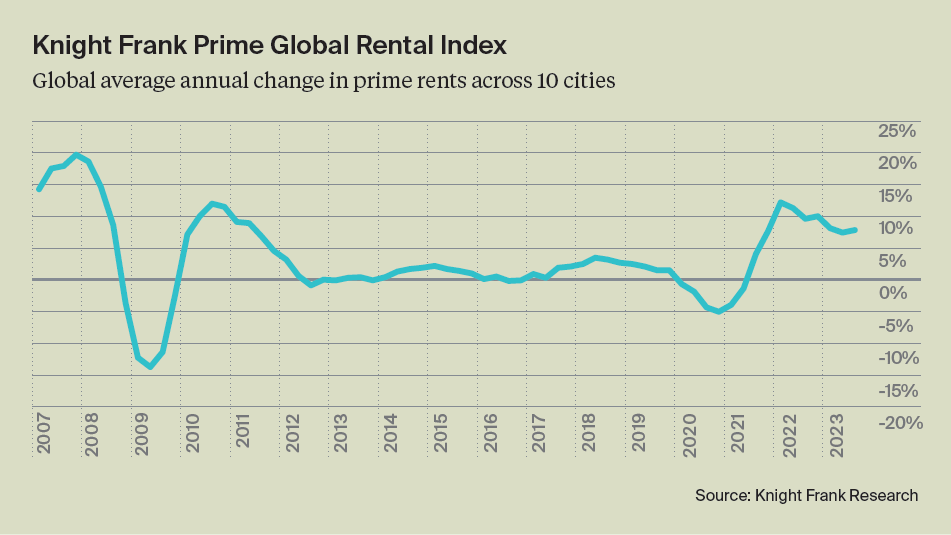 SYDNEY has the highest luxury residential rental growth out of 10 global cities measured by Knight Frank, according to the latest research from Knight Frank.
Knight Frank's Prime Global Rental Index (PGRI) Q3 2023, which provides a quarterly snapshot of trends in luxury lettings markets across 10 key world city markets, found Sydney claimed the top spot over the 12 months to the end of September, with 18.3% growth.
Sydney's rate of growth was 2.3 times the 7.9% average growth in prime rents across the 10 global markets in the PGRI city basket over Q3 2023, and a rise of 52 basis points from its 13.1% annual rate of growth in the previous quarter.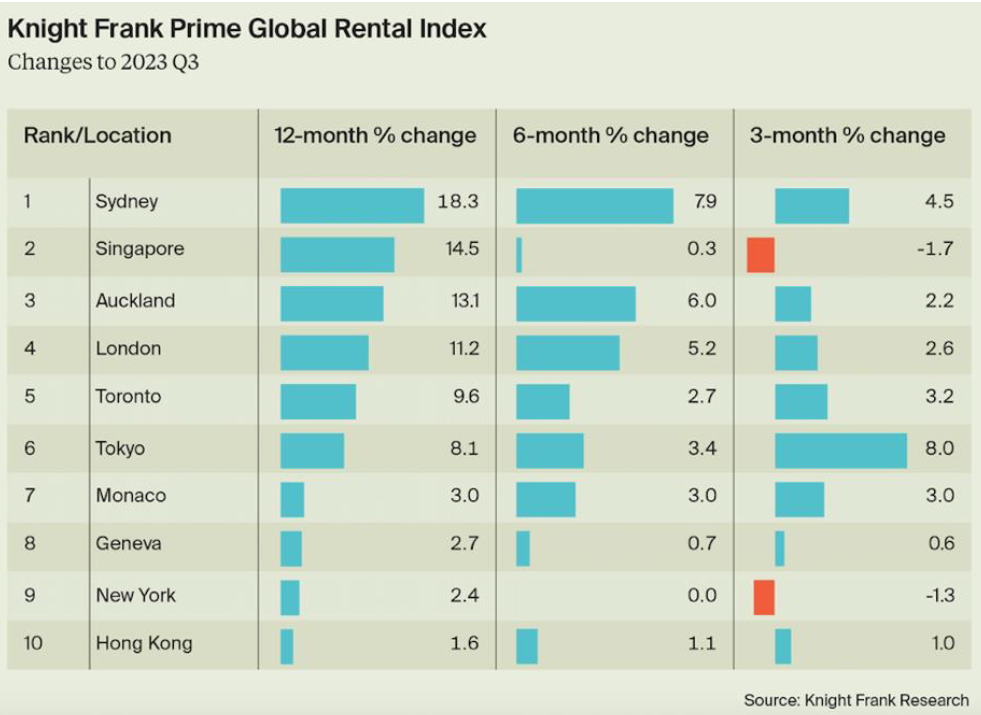 Singapore (14.5%) and Auckland (13.1%) came in second and third on the PGRI.
Knight Frank Head of Residential Research Michelle Ciesielski said the annual growth in the PGRI of 7.9% was a modest increase from the 7.5% growth recorded in the previous quarter.
"However, the latest data confirms rents in this luxury sector are rising at a rate three and a half times their long-term pre-pandemic trend," she said.
"Strong recent growth has pushed prime rents 17.9% above their pre-pandemic high, seen in Q3 2019, and 25.5% higher than the pandemic low in Q1 2021.
"Market trends from the previous quarter persist in the prestige rental market, with strong demand from renters facing affordability challenges in the sales market and constrained new supply.
"Despite ongoing debates surrounding work-from-home arrangements and the challenges in the office sector in key cities, the data confirms the underlying strength of demand for city living and the resilience of accommodation requirements in close proximity to the CBD.
"While the global outlook is for ongoing upward pressure on luxury rents, we can see limits in terms of affordability.
"However, this is more likely the case in markets such as New York and Singapore, which have experienced a quarterly dip in rents following strong growth, rather than in Sydney."
Knight Frank Head of Residential Erin van Tuil said the rate of prime rental growth in Sydney was only getting stronger, with pressure on rents resulting from elevated demand for luxury homes and reduced supply.
"Not only have we seen a 52 basis point increase in annual growth from Q2 to Q3 this year, but the six-month rate of growth was also the strongest of the 10 global cities examined, at 7.9%," she said.
"The increase in prime rents in Sydney is in line with wider rental growth in the Australian market.
"In the luxury market it can be attributed to the ongoing trend of limited new supply, resulting from construction challenges during the pandemic.
"We are also seeing many luxury home renovations, which is adding to the demand for prime rentals as homeowners rent while they wait for their homes to be completed.
"Strong demand from newly arrived residents is another further fuelling rental growth, with inward migration picking up sharply after a three-year hiatus.
"This includes executive level workers being lured to Australia from overseas to alleviate the skills shortage, as well as crews coming from overseas to produce films in Australia, both of whom will most likely be looking to rent a luxury home during their stay or until they find a more permanent home."