Superb Toorak investment sells on stunning 1.8% yield
15 November 2023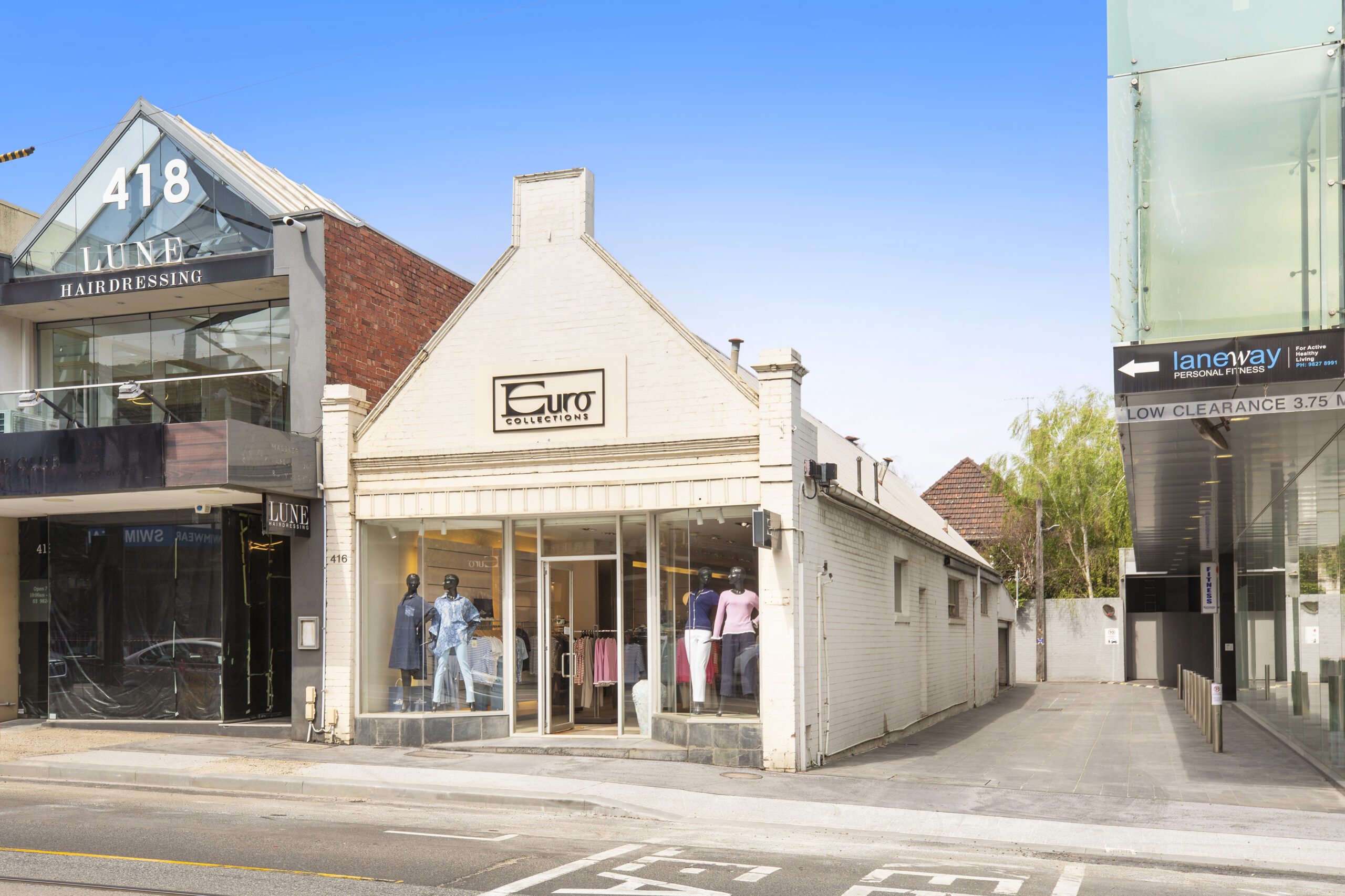 A superb, perfectly-located freehold in prestigious Toorak Village has smashed expectations and sold under the hammer on a stunning 1.8% net yield – likely the lowest achieved in 2023 for a true investment play in Melbourne's established shopping strips.
Fitzroys' Mark Talbot and Lewis Waddell 416 Toorak Road in Toorak Village – which is undergoing an unprecedented evolution – for $2.7 million, on behalf of a private investor who had owned the property since 1985.
The purchaser is a local investor who has purchased commercial property throughout Melbourne and knows the area well, and will hold the property as a passive investment.
The open-plan shop, home to multi-store boutique Euro Collections, is on an irreplaceable landholding of 196sqm with an exceptional 5.9m frontage to Toorak Road. It has a threeyear lease plus options to 2028 with annual rent reviews and a market review at option.
"This was an incredibly bold demonstration from the market that income-producing bricksand- mortar assets along Melbourne's shopping strips are considered a safe investment option, particularly at a time of sharemarket and residential market volatilty," Talbot said.
"We have yet more evidence that multiple interest rate rises haven't deterred cashed-up investors from pursuing high-quality opportunities. Buyers are willing to pay a premium price in established, land-rich areas where they can see high-disposable income and strong demographics.
"We had four bidders – all investors – compete fiercely for the property, taking the sale price $500,000 past the reserve."
Talbot said, "The market recognised this was an ultra-rare chance to get into one of Melbourne's most prestigious shopping strips, Toorak Village, which is witnessing a generational period of revitalisation," Talbot said.
"The purchaser saw the rental growth and revitalisation of the Village as a huge positive. The new Orchard Piper development a few metres away was a big drawcard," he said.
"The property's surrounded by a plethora of new developments. Orchard Piper is developing a $120 million six-level mixed-use, high-end project, right near 416 Toorak Road, as well as a $400 million boutique apartment project moments away on the Mercedes-Benz dealership site on Carters Avenue, while Vicland's St Germain development has just delivered offices and a Coles Local supermarket to Toorak Village," he said.
"Toorak Village has always enjoyed the benefits of servicing what is one of Melbourne's most affluent and established catchments. More locals rightsizing into apartments on and around the strip, as well as more people working from its new offices are adding more people to the catchment, further boosting day-to-day trade."
"Developments along the strips are boosting trade prospects and security of rent income." According to Fitzroys' latest Walk the Strip report, Toorak Village recorded a sixth-straight year of single-digit vacancies.
"Toorak Village is one of the best examples of the renewal currently being seen across Melbourne's iconic shopping strips, which since COVID have recorded elevated rates of sites being used for new developments," Talbot said.
This is the second benchmark sale in Stonnington shopping strips that Fitzroys has achieved in just a few weeks. Fitzroys has just sold a trophy corner investment in the absolute prime of Toorak Road, South Yarra, at 109-111 Toorak Road & 1A-1C Murphy Street, for $6.23 million, well above reserve and on a sharp 3.2% passing yield. Fitzroys has recently sold multiple assets in the prime of Melbourne's high-performing shopping strips. It has also sold 1014 High Street, Armadale for $3.525 million, on a sharp 3.4% yield, and 35 Church Street, Brighton, home of big four bank NAB, for $7.15 million on a 3.5% yield and land rate of $24,826 per sqm.