KBR signs seven-year lease at 30 Pirie Street
9 November 2023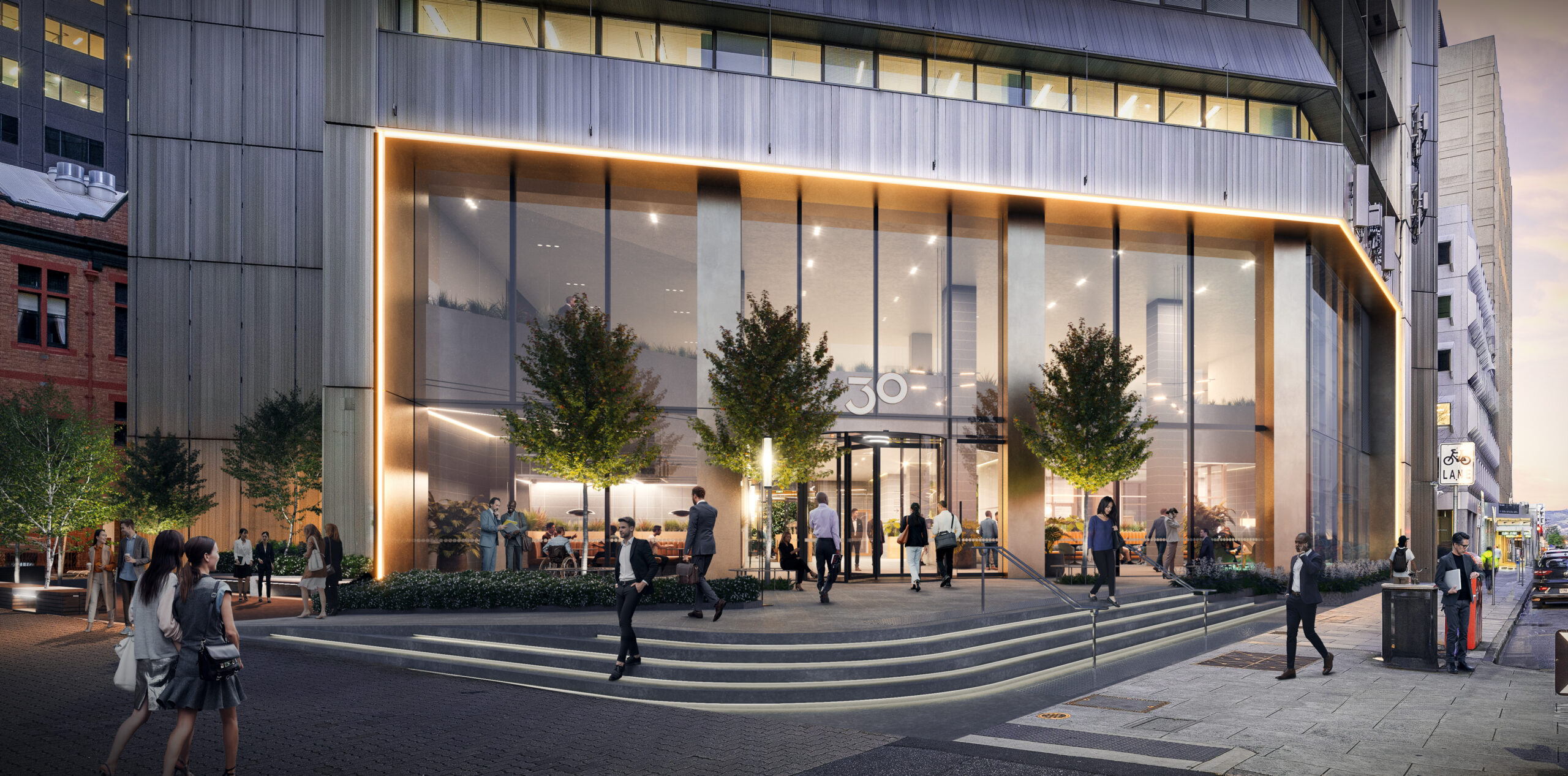 Global engineering firm KBR has committed to a seven-year leasing agreement in the landmark office building at 30 Pirie Street and will cover over 2,000sqm across floors 20 and 21.
KBR will move from its Parkside location to the heart of the Adelaide CBD and is the latest major tenant to relocate to 30 Pirie Street this year, with Boeing and TSA accounting for almost 5,000sqm of space. KBR brings the total space leased in the last 12 months to more than 7,000sqm.
Natalie Papaioannou, Operations Manager South Australia for KBR, said, "Everything we do at KBR is centred around supporting the country's continued economic growth, national security and energy transition.
"Engaged by governments and businesses in our primary markets of defence and infrastructure, we need a central location and a building design that enables us to work together to address our customers' growing needs to continue delivering innovative, sustainable solutions.
"In Adelaide, 30 Pirie is ideally suited to our needs".
Noah Warren, Head of Quintessential Assets, said, "KBR was seeking a location for its South Australian head office that was central and offered great amenity."
He continued, "They were familiar with our track record nationally and commitment to the Adelaide market. Their willingness to commit to 30 Pirie Street before the construction works are complete is a testament to their trust in us. "
"Our ability to deliver a compelling commercial office solution that supports staff retention and helps team members collaborate all formed part of their decision-making process."
'The Quintessential Assets team is thrilled to deliver a full turn-key fit-out solution for KBR, providing an exceptional workspace they can be proud of whilst supporting the community and businesses by appointing local consultants and contractors."
Michael Pfitzner, Senior Director of Advisory and Transaction Services at CBRE, said, "A complete transformation is underway and will modernise the building, bringing it to life with new retail offerings and a revitalised ground floor with fully equipped third spaces and hotel quality End of Trip Facilities."
"Companies like KBR inherently understand that location and amenity that have the potential to impact company culture positively – and that's where 30 Pirie Street will deliver in spades."
"The Quintessential Assets team are well underway with the regeneration works at 30 Pirie Street and has a clearly defined vision and supporting expertise with a record of excellence. We are excited to represent this property in the market."
Quintessential, owners of 30 Pirie Street and several other Adelaide office buildings and industrial sites, confirmed the new leasing agreement and announced a $30 million major regeneration has been underway for the past six months with the existing fitout already stripped out. Practical completion is expected in July 2024. The regenerative works include:
• An overhaul of the ground floor foyer.
• Adding end-of-trip facilities.
• Bookable third spaces.
• A coffee bar with seating.
• An open workspace.
• Refurbished façade and lifts throughout
Regeneration works like these support the growing trend of major occupiers moving into the city from suburban locations seeking CBD amenity to attract workers back to the office and retain the best talent.
Quintessential is committed to improving the energy efficiency of its properties, and works are in progress to achieve a minimum 5-star NABERS Base Building Energy Rating.
About Quintessential and 30 Pirie
The counter-cyclical acquisition strategy employed by Quintessential has seen the company successfully acquire and refurbish well-located office buildings across the country, refurbishing the assets and attracting renowned organisations as tenants.
30 Pirie was an exceptional chance to return this well-positioned property to the market after being leased to Telstra since it was built over 30 years ago; an opportunity to reimagine and amplify some of the best amenities the CBD has to offer being surrounded by transport, F&B and conveniences tenants actively seek.
This overlaid with the offering within the building for a new food and beverage operator, third spaces, stunning new ground floor lobby, new end-of-trip facilities, and mechanical upgrades are all ingredients required for businesses to attract and retain the best local talent in SA.
The carbon savings made by regenerating a building are representative of Quintessential's' long-term investment in South Australia across a set of assets that are environmentally and socially responsible, benefiting the State by taking buildings and bringing new life through CAPEX works, then activating with tenants and their teams to support the surrounding CBD businesses.
Quintessential's presence in South Australia is well established, with assets and development projects totalling circa $1 billion. Adelaide has seen significant improvements to CBD office buildings owned by Quintessential, including 431 King William Street, which underwent considerable refurbishment, bringing the tenancy rate from 35 per cent at the time of purchase in 2018 to what is now a fully occupied, thriving hub in the heart of the CBD.
100 King William Street, previously home to the Commonwealth Bank and acquired in Sept 2021, is also currently underway with a major refurbishment – a 17,000sqm tower in the heart of the Adelaide CBD that sits adjacent to 30 Pirie Street creating a reactivated precinct for all to enjoy via Exchange Place.
Michael Pfitzner, Andrew Bahr of CBRE, Tom Budarick, and James Parkyn of JLL are appointed leasing agents.
www.quintessential.com.au