Development opportunities in the growing ACT suburb of Lawson set to be auctioned
9 November 2023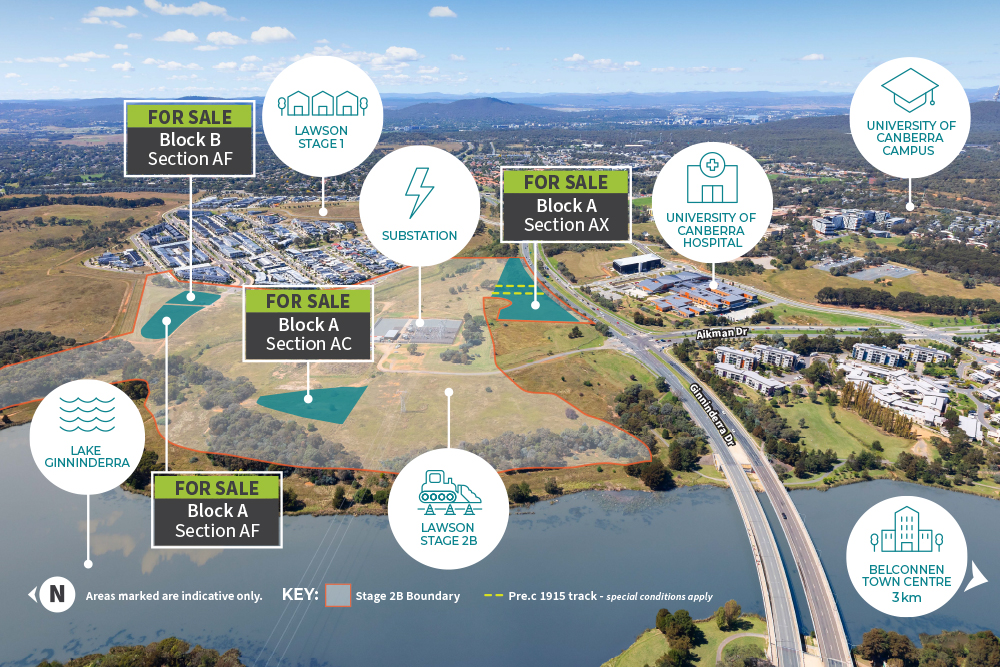 Opportunity beckons in the established suburb of Lawson, with four blocks of land for sale by auction next month.
On behalf of the ACT Government's Suburban Land Agency, Knight Frank has been engaged to market the properties, which include three multi-unit blocks and one Community Facility zoned block off Ginninderra Drive and Solong Street.
The properties represent some of the last available sites in Lawson Stage 2.
They are situated opposite the University of Canberra Hospital and University of Canberra Campus, with the Belconnen Town Centre – a major shopping, entertainment and business precinct in the midst of an exciting period of growth and redevelopment – just three kilometres away across the lake.
The three multi-unit blocks range from 6,618m2, 16,060m2 and 2,776m2. Upon completion they are set to provide up to 221 dwellings, including 26 affordable dwellings and 10 community dwellings.
The Community Facility site is sized at 4,195m2, and is zoned for a child care, cultural facility, health facility or other permissible use under the CF zoning.
Knight Frank's Nathan Dunn, who is running the auction campaign for the properties in conjunction with colleague Kellie O'Connor, said he expected to field strong interest in the assets.
"These development sites are some of the last available opportunities in the popular suburb of Lawson," Mr Dunn said.
"Located in a growing neighbourhood, the sites are ideally situated to support the community by providing much-needed accommodation, as well as a variety of community facilities.
"Demand for quality development sites continues to be strong, particularly for residential sites, with the market continuing to have an undersupply of homes in relation to demand."
Ms O'Connor said the development sites offered buyers the opportunity to build on the distinct sense of place and community in the growing suburb of Lawson.
"Developers can create quality projects on these sites, implementing their vision for the future development of Lawson," she said.
"Lawson is a proven, strong performing suburb with established connectivity and arterial corridors at the doorstep.
"It is a popular home for families, academic and those wishing to live close to a variety of employment options."
The properties will be auctioned at 11am (AEDT) on Tuesday 5 December 2023.