Pellicano marks major milestone, completing M1 and M2 industry parks in Dandenong South
9 November 2023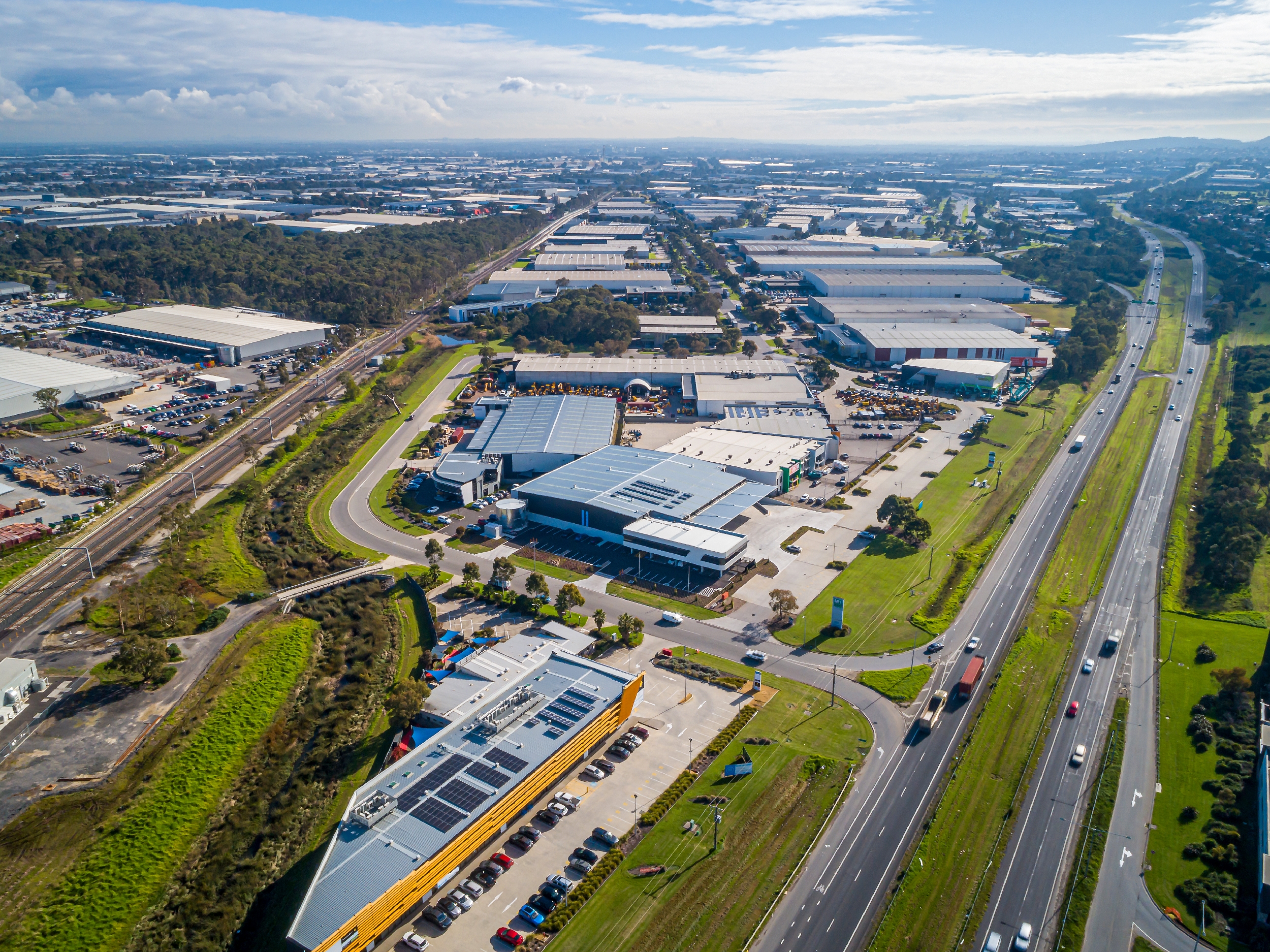 Diversified developer Pellicano has signed four major deals across its industrial portfolio – worth a combined total of $4.5 million per annum – which will culminate in the completion of M1 and M2 Industry Parks in Dandenong South.
When the last facilities are completed and handed over in mid-2024, both industrial parks will be fully developed, marking a significant milestone for Pellicano. The developer bought the land in 1999.
The deals encompass three speculative facilities and one pre-lease:
– Knauf Gypsum Pty Ltd has moved into a speculative 7,320sqm building on a 14,062sqm site at 109 Bayliss Road at M2 Industry Park for a 7-year initial lease term, negotiated by JLL's Cameron Stuckey
– Ekornes Pty Ltd (IMG Comfort) has moved into a speculative 3,938sqm building on a 7,103sqm site at 155 Monash Drive at M1 Industry park for a 7-year initial term, negotiated direct through Pellicano
– An undisclosed tenant has signed a 10-year initial term for a speculative 11,791sqm facility (due for completion in Q4) on a 23,390sqm site at 200 National Drive at M2 Industry Park, negotiated by CBRE's Stephen Adgemis
– Pure Dairy has signed a 15-year pre-lease for a 12,744sqm building on a 22,840sqm site on Abbots Road at M2 Industry Park, negotiated through Crabtrees' Grant Tishler – the facility is due for completion in mid-2024
The deals have a weighted average lease expiry (WALE) of 10.74 years and encompass 35,793sqm of building area and 67,395sqm of total land developed, contributing to the 715,000sqm total of built-form industrial stock within Pellicano's portfolio.
Industrial property represents over 50 percent of Pellicano's portfolio, and has long been a cornerstone of the company's operations.
The completion of M1 and M2 Industry Parks, which are home to major clients including Amazon, Baby Bunting and Dulux, as well as the Frank Pellicano Reserve, is a major milestone the Pellicano family.
"This is a historically significant time in our 55 year journey – our founders Frank and Nunzio purchased the land in 1999 and collectively we took the time to focus on delivering projects the right way, to the right occupiers," said Renato Pellicano.
"We seek out clients who share our baseline ethos of transparency, and we are dedicated to designing future-proof buildings and business parks that will continue to deliver long-term benefits to our occupiers
"Our journey has been one of vertical integration, starting from the ground up with greenfield development. Now, we're also unlocking opportunities in brownfield occupancy. This flexibility allows us to adapt and repurpose our assets to cater to the evolving needs of our occupants – it's a testament to our family's unwavering commitment to building for the future," managing director Renato Pellicano said.
Pure Dairy's Executive Chairman Adrian Josephson commented that Renato and the Pellicano team had been professional and accommodating from the first meeting.
"M2 Industry Park site will encompass Pure Dairy's manufacturing, research and development plant, innovation kitchen, warehousing, logistics as well as the Pure Dairy corporate office. Featuring innovative automated equipment, this facility will guarantee lean manufacturing and environmental sustainability to the highest accreditable global standards.
"Pure Dairy works tirelessly to deliver foods that exceed the expectations of our customers. By focusing on their evolving needs and preferences, we now aim to establish Pure Dairy as the first choice for premium dairy products that consistently offer unparalleled taste, quality and nutritional value.
"Pellicano has provided the right property solution, ticking all the boxes with its professional approach, vertical integration as landowner, builder and developer. We look forward to welcoming all our partners and customers to our new home of manufacturing excellence in mid-2024," Josephson said.
M1 and M2 Industry Parks span a significant 120ha of commercial and industrial land, providing on-site amenities like a childcare and indoor play centre, wider roads for ease of access and Arco Café and Restaurant, alongside location benefits like connection to main arterials.
Frank Pellicano Reserve, which is located at 43-67 National Drive, was renamed in recognition of Frank's contribution to the Greater Dandenong area. It brings together 24ha of accessible parkland, wellness and conservation space, forming the heart of M1 and M2 Industry Park.