AURA by Aqualand's landscaping to reflect North Sydney's distinctive character
9 November 2023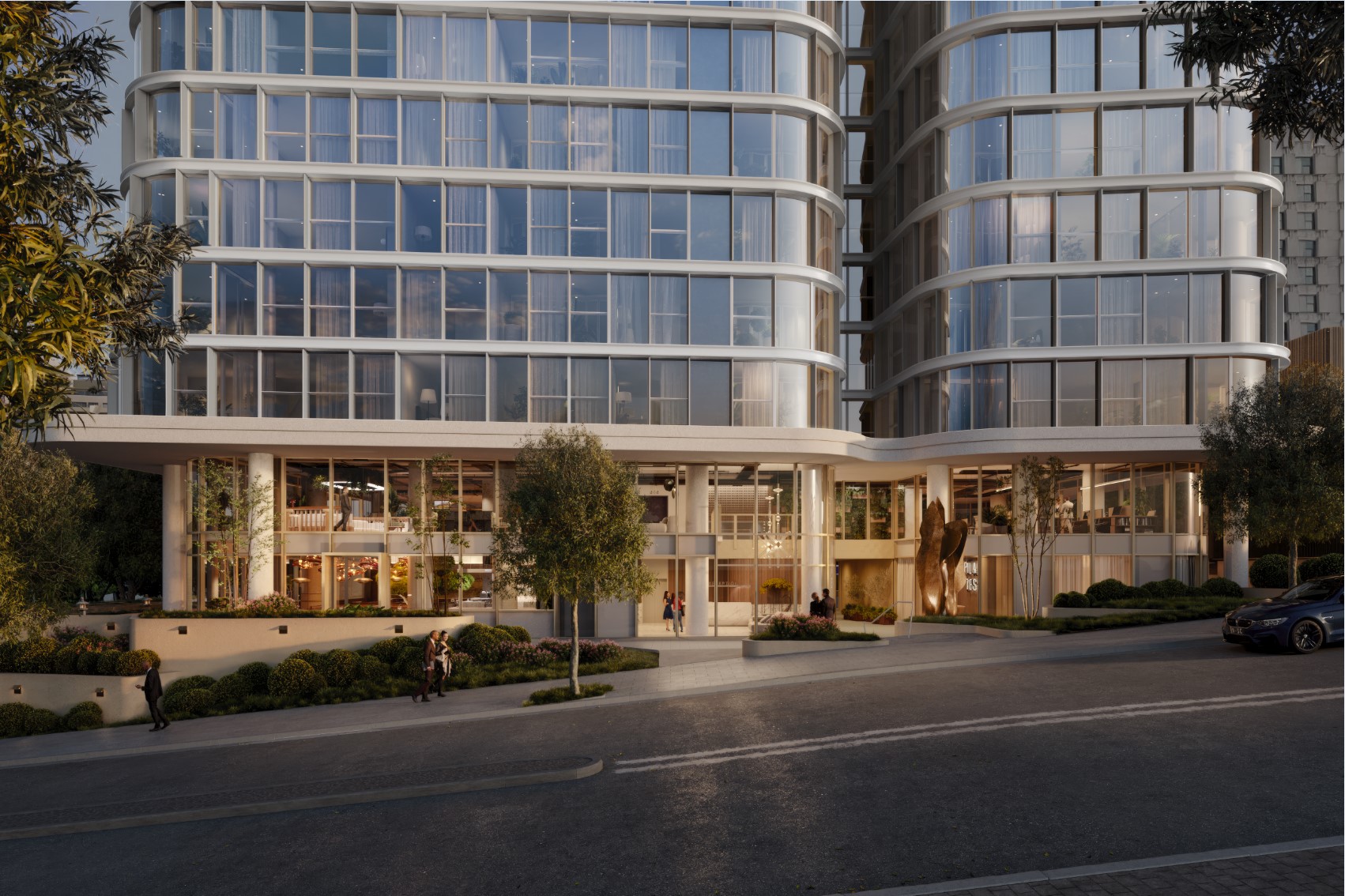 Leading Australian integrated property development group, Aqualand, will pay homage to the distinctive North Sydney landscape on the ground plane of their AURA by Aqualand mixed-use tower, located at 168 Walker Street, North Sydney.
Rising 28 storeys above the streetscape, and in the final stages of construction completion, the $1B Woods Bagot-designed residential community will comprise 386 luxury apartments above a richly landscaped precinct, including a two-storey retail and commercial podium.
Aqualand's collaboration with award-winning landscape architects, Turf Design Studio, has resulted in a design that successfully integrates the project with the unique local environs of the characterful suburb. Landscape works are set to commence in early 2024.
Turf Design Studio Director, Mike Horne, said the design will reflect the North Sydney gully landscape.
"When you're walking around North Sydney, the generously terraced lush green gardens of the traditional cottages and beautiful old houses imbue a gully setting, with its slightly humid air thick with a concentration of cool fragrances.
"We're trying to extend and deepen this character. North Sydney is changing, and has been for years, so we're trying to discover the quintessential character of the place and amplify it.
"On the edge of the city, North Sydney's undergoing a step change in terms of urban growth and density. On the border of this change, this site is interacting with the lower-scape buildings, establishing a ground-level connectivity allowing the senses to connect, as well as rationally bring this experience into the building to make you feel as if you're still in a garden.
"Due to the site's significant level change, a tiered series of curvy sandstone walls, two to three metres high will step down, creating a series of tiered terrace gardens full of cascading plants to immerse you in greenery. This will reflect a gully landscape with the sandstone walls disconnecting you from the actual building structure, making the landscape a device which allows you to exist 'within', to create moments of connection, where people can interact with the plantings.
"The design will continue the North Sydney gully aesthetic up to and into the building via through site links offering an experience in the green landscape setting to welcome people into the precinct. We're not just providing garden beds, but offering the community a landscape experience that begins at the street, and as they move through the sites' threshold and entries it intensifies the landscape experience.
"All the benefits of the classic lower density North Sydney landscape, characterised by its cottages and Federation architecture, will be reflected with the sandstone walls, and a potpourri of delicate cascading plants and climbers with little bursts of colour providing the greenness and coolness this offers. Plantings here will include lush native ferns, begonias, hibiscus, dichondra, philodendrons and cliveas, amongst others. The ground plane will connect to the experience and quintessential character these local homes are holding onto by connecting AURA to the ground and earthing it to that gully-style cultural landscape of old North Sydney.
"We want to be respectful of the original suburb's distinct character with its southern aspect offering shelter from hot north-easterlies. This is a particular landscape that has evolved over time, and we've tried to make the building connect with the place by taking what's around it and bringing it in and embracing it as best we can.
"Although AURA is not a heritage project, we're still respecting the local heritage by wrapping it around the building to create harmony and build a context for living that feels right for the area," said Mike.
Meanwhile, the garden beds immediately outside the hospitality spaces will reflect their individual offerings. For example, outside the contemporary Japanese restaurant, species such as Japanese maples, purple leaf plums, Japanese red pines, camelias, wisterias, azaleas and Japanese box will be used.
Desert species, including curly jade plants, prickly pears, foxtail agaves, kentia palms, cordylines, golden barrel cactuses and succulents, will be planted outside the All Day Diner.
The providore, bakery, café and wine bar's garden beds will feature Mediterranean species, such as rosemary, oregano, thyme, lavender, agapanthus, liriope and lemon and olive trees.
Inside the building, the lift lobbies on each level, being key areas for resident interaction, will carry greenery throughout the building with interior gardens sitting against the glass next to the lifts from levels one to 26. The level 26 Sky Deck will also feature coastal cliff-style plantings.
Aqualand has also commissioned a public art piece from international artist, Richard Sweeney, to adorn the Walker Street entrance. The piece was also inspired by North Sydney's locale, and will feature unique, organic curves inspired by the natural elements of sandstone, water and the landscape synonymous with the harbour-front. The artwork component will be woven into the fabric of the garden in a way that amplifies the arrival experience.
The visually complex piece that appears light and abstract, will have the appearance of layering and weathering by using subtle voids and carefully placed layers that offer variation in both shape and texture.
Aqualand Group Managing Director, Jin Lin, says he's excited by the final landscape scheme as it is testament to Aqualand's commitment to building communities that reflect the local area.
"We're deeply committed to creating projects that not only fit comfortably within their neighbourhood, but also enhance it. We're with our projects for the long-term, well after the final residence is sold, as we retain ownership of the retail spaces, so we need to be in harmony with the local community on an ongoing basis," Jin said.
"These plans will help integrate AURA into North Sydney's beautiful fabric and the network of landscaped laneways will welcome our neighbours into the precinct so they can comfortably enjoy our retail offerings.
"AURA's construction is progressing well and we can't wait to welcome our North Sydney neighbours to our new precinct in mid-2024," added Jin.
To find out more about AURA by Aqualand, please call 1800 207 778, go to aurasydney.com.au or visit the display showroom at Level 5, 41 McLaren Street, North Sydney, daily between 10am and 4pm.