GURNER acquires Prime South Yarra corner site, unveils plans for $800M mixed-use precinct
29 September 2023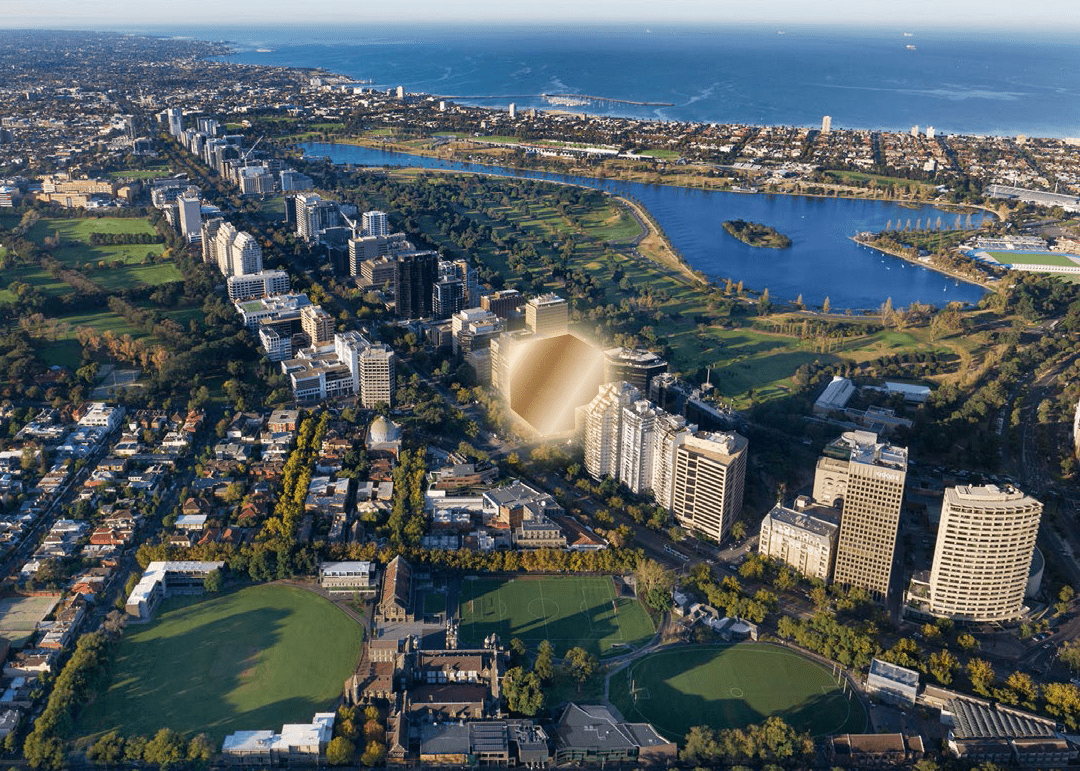 Multi-billion-dollar developer GURNER™ has announced the acquisition of a major 4,651sqm site at 424 – 426 St Kilda Road, Melbourne, with plans to transform the commercial site into 160-180 residences to rival the design and service of Saint Moritz, with a total end value of circa $800 million.

This is the second acquisition in as many months for the developer after its recent purchase of a significant site in 189 Kent Street, Sydney in July for over $200 million, and is the second seed site in GURNER™'s Build-to-Sell fund, which is supported by a global institutional investor.

The iconic corner site – which boasts three frontages on the corner of St Kilda Road, Toorak Road and Queens Lane – will offer uninterrupted views over the Royal Botanic Gardens and Domain precinct, the city skyline and Albert Park Lake.

Once complete, the project will boast walkability to Anzac Station, Albert Park Lake, the Royal Botanic Gardens and Fawkner Park, and be in easy proximity to South Yarra's retail and dining precinct.

Residences will be focused on private nature of the precinct for downsizers and lifestyle upsizers with a focus on wellness, and lifestyle, with plans for on-site retail that would complement the project's prestigious location, and wellness amenities that will promote a healthy lifestyle among residents.

GURNER™ secured the blue-chip property through an off-market negotiation after the site was taken to market by JLL's Josh Rutman & Mingxuan Li and CBRE's Kiran Pillai and Tom Ryan in late 2022.

The site is currently home to two six-storey commercial office buildings joined by a five-level atrium, which will be demolished at the end of the current leases, to make way for the residential building.

The vendors were advised by Lewis Tong of specialist Commercial Property Advisory Firm, Advise Transact.

There is a lapsed permit approval on the site, which allowed for an 18-storey building, 51,000sqm of gross floor area, 339 apartments and 292 car spaces. GURNER™ intends to submit a new planning scheme.

Quotes attributable to GURNER™ CEO Tim Gurner

" I have had my eye on this particular site for over a decade, having cut my teeth with Morry Schwartz on 401 St Kilda Road in 2008 across the road so it's humbling to be able to come full circle with another site now directly across the road some 15 years later, still with the same aspirations to create a new benchmark for residential design just as 401 did at the time.

" Saint Moritz showed us the depth of this end of the market and we are excited to evolve and elevate this concept and take it even further with this project.

" With its prime iconic corner location it will become an iconic landmark for Melbourne so we cannot wait to do this site justice.

" As with all our projects we will be delivering iconic architecture, curated residences and 6-star amenity, all with a world-class wellness and retail offering that will allow residents to live their best life.

" This is a longer-term play for us as the buildings currently house some long-term tenants, so we'll see out those leases before launching when the time is right.


" We are fortunate to be in an incredibly strong position with a large amount of capital ready to deploy in a market that is deeply dislocated so we are taking a counter-cyclical approach to deals that make sense for our business."

Quotes attributable to GURNER™ Chief Development Officer Robert Clarke

" We are actively seeking more opportunities in Melbourne and Sydney, and hope to be able to announce more new acquisitions shortly.

" It's a tough environment for developers and commercial asset owners currently, and the effects of interest rate hikes are still yet to really play out across valuations and interest covenants, so we do expect to see a continuing trend of office assets being put on the market at discounted 2022 prices."