Coles anchored centre and development site offered for sale in Perth's rapidly expanding north-east growth corridor
28 September 2023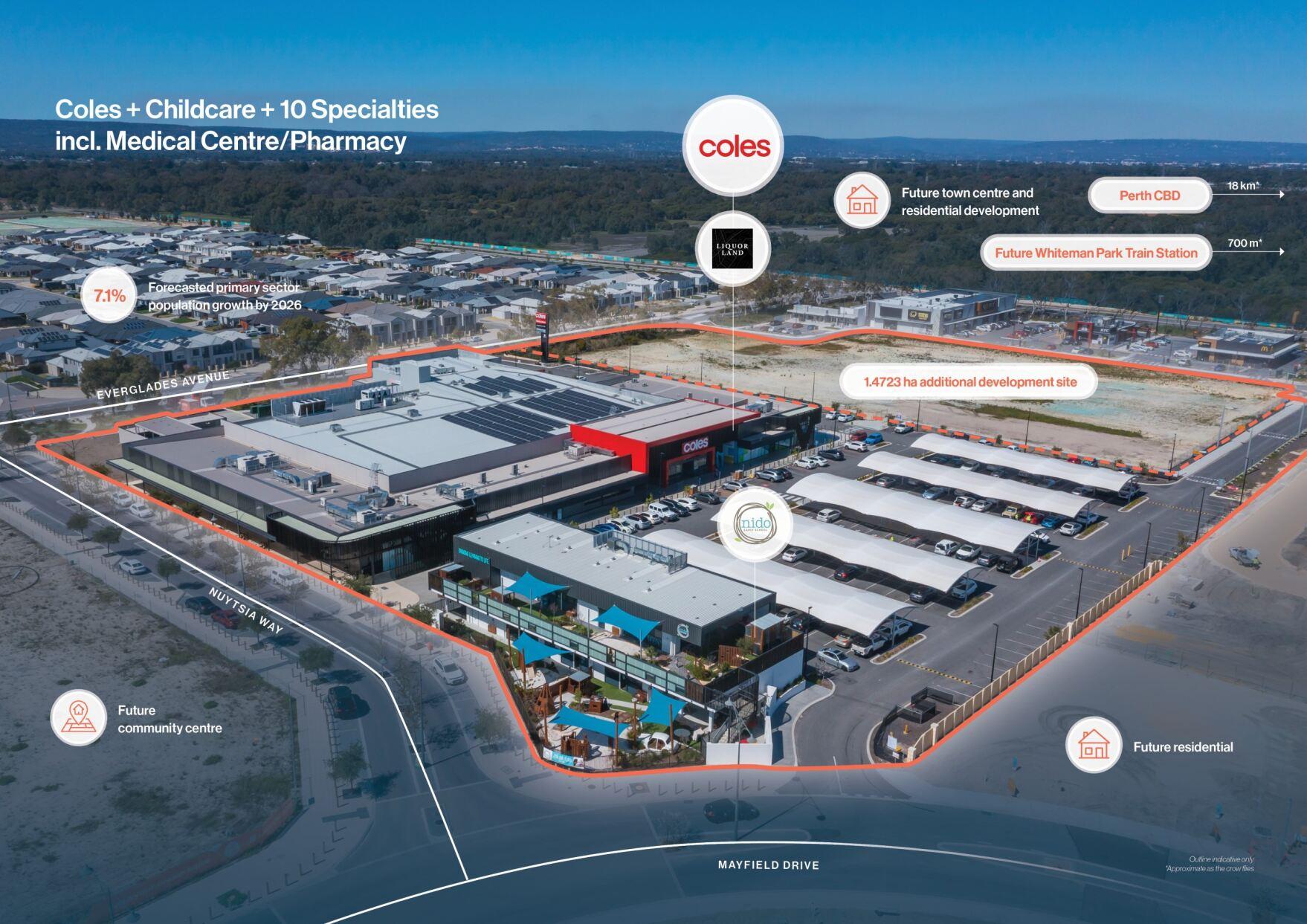 Whiteman Edge Village and an adjoining 1.4723ha town centre development site have been listed for sale, presenting the first opportunity to purchase a Coles anchored centre in the Perth metro area since 2019.
JLL's Sean Flynn, Nigel Freshwater and Sam Hatcher have been exclusively appointed to sell the shopping centre and land at 100 Everglades Avenue, Brabham on behalf of Coles Group Property Developments via an Expressions-Of-Interest campaign.
Whiteman Edge opened in June 2021 and is anchored by a strongly performing Coles supermarket, with a diverse mix of 10 specialty retailers including a medical centre, pharmacy and a large freestanding Nido childcare centre.
The centre is located within the rapidly expanding City of Swan Urban Growth Corridor comprising the suburbs of Brabham, Dayton and Caversham. This precinct is identified as the focal point for residential expansion in the City in coming years.
JLL Senior Director, Capital Markets Transactions Mr. Flynn said: "Whiteman Edge Village is a unique opportunity to secure a highly sought-after Coles covenant in a centre that is ideally positioned to capitalise on very strong population growth projections.
"It's not often we see such a quality offering that's already trading strongly and will also benefit from long-term and significant retail trade catchment growth, with current projections suggesting the main trade area population will grow by an average of around 3.2% per annum over the next 18 years.
"The effect of this robust growth is expected to create an uplift in main trade area retail expenditure from around $394 million today to over $1.095 billion in 2041."
JLL Senior Director, Capital Markets Transactions Mr. Freshwater said: "The neighbourhood centre market in WA is very tightly held. We recently saw a huge response to our offering of the Woodvale Boulevard Shopping Centre.
"Whiteman Edge delivers the benefit of being anchored by one of Australia's leading supermarket operators, but with no existing vacancy risk (100% leased), high depreciation benefits and immediate value-add potential via the accompanying development site.
"Given there is a substantial development opportunity included, we've taken a close look at the retail framework in the location, and we believe it's clear there's room for additional larger format participants, with strong brands like Aldi, IGA, Farmer Jacks and Spud Shed not having stores within at least 5 kilometres of this location."
JLL Head of Retail Investments – Australia, Mr. Hatcher said, "The scarcity of such high-quality neighbourhood shopping centre offerings in 2023 has been experienced nationally with very few new Coles or Woolworths anchored centres having been listed for sale this year. With such low sales volumes, we're expecting a very high level of engagement from prospective purchasers.
"The addition of a substantial value add proposition with such a high-quality neighbourhood centre will deliver a strong point of difference and should bring a broad range of potential buyers into the mix."
Located in Perth's rapidly expanding north-east growth corridor, Whiteman Edge Village sits upon an expansive 2.2089 ha site with an additional 1.4723 ha development site adjacent, representing an unprecedented opportunity to secure control of strategic commercial landholdings in an area primed for further growth.
The critical mass in the location is bolstered significantly by the adjacent Brabham Common development with its strong fast food and automotive services offering which includes a new McDonalds, KFC, Oporto, Subway, Pastacup, 7-Eleven, EG Fuel and AutoBahn stores.
The new Whiteman Edge Train Station, which is currently under construction, will further increase the desirability and focus of the location, making the site more accessible and expand the reach of the precinct.
Perth's north-eastern corridor generally is set to benefit greatly from the significant government and private investment into the Bullsbrook and Muchea Industrial Parks, with both important projects positioned to the north of Brabham, along the nearby $1.02 billion Northlink WA road network.
This rapid expansion will further support local population growth via future employment opportunities and support additional future residential and commercial investment into the Whiteman Edge Village catchment.
Expressions of Interest for the purchase of Whiteman Edge Village and the adjoining development site either together or separately close on Friday, 20 October 2023.