GPT's Retail Continues to drag performance
29 April 2021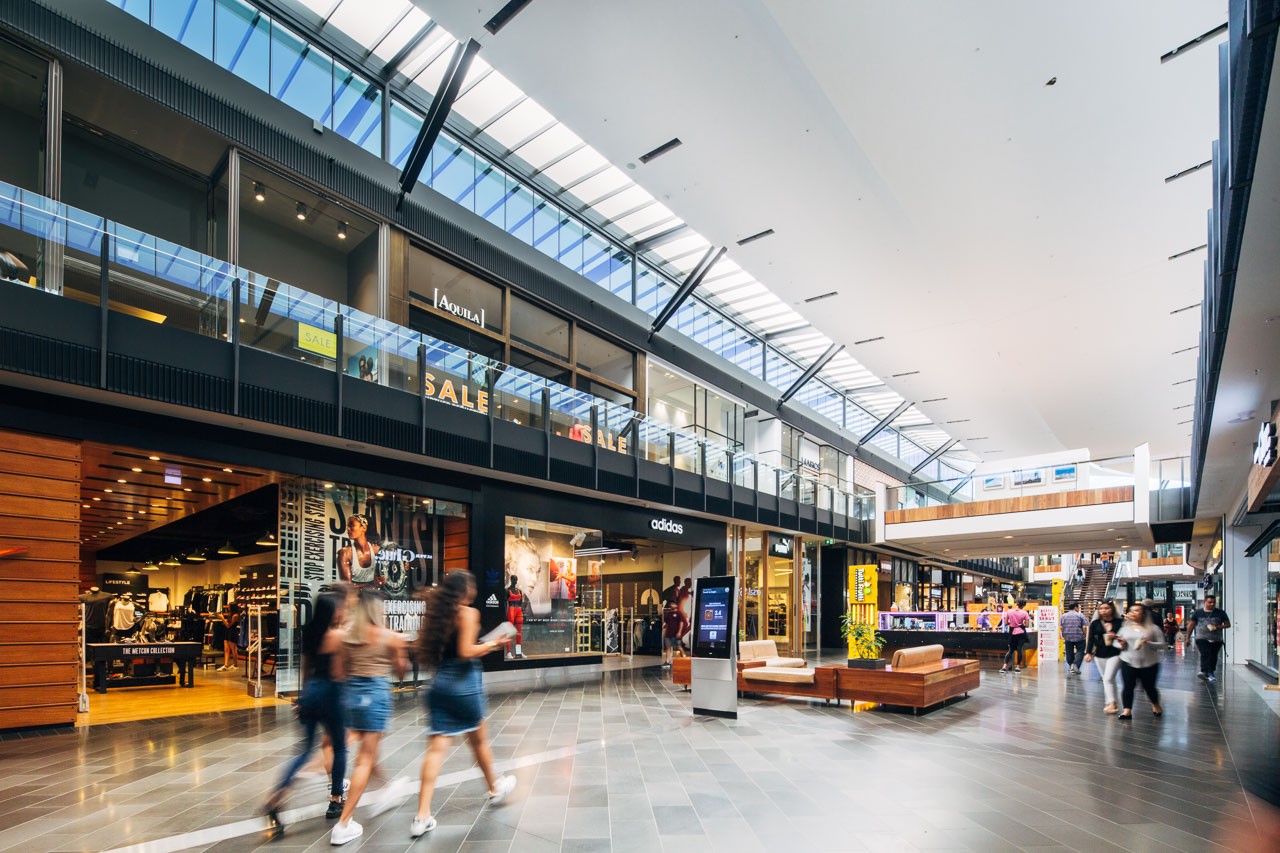 A quarterly update by GPT today, reveal a recovering office and retail market with rental collections exceeding billings, however the COVID impacts on their retail and CBD assets continue to be a drag on performance.
Whilst retail trading conditions are much better than in 2020, retailers continue to feel the pain of the last 12 months with comparable sales down -21%, leading to high occupancy costs and negative leasing spreads of -9%, all of which will lead to falling valuations in the YE end results.
Likewise, leasing in CBD assets, particularly in Melbourne remains well below historical level which is leading to low absorption and the likelihood of over supplied conditions.
GPT's Chief Executive Officer, Bob Johnston, looked to the bright side saying: "The Group's diversified portfolio continues to benefit from the economic recovery currently underway. In logistics, tenant demand for high quality assets remains strong supporting the ongoing rollout of our development pipeline. Leasing activity in the office sector continues to improve as organisations position themselves for the recovering economy, and retail sales momentum has been supported by jobs growth and strong consumer confidence. With the exception of Melbourne Central, our retail assets have seen foot traffic return to approximately 95% of pre-COVID-19 levels. However, the return of workers and visitors to the Melbourne CBD remains well below historical levels and as a result the recovery of Melbourne Central continues to lag the balance of our portfolio. The Group has provided earnings and distribution guidance for the full year with the expectation that we will continue to see the economic recovery sustained and COVID-19 related disruptions minimised."
Key Highlights
• Operating environment strengthening from economic recovery
• Rent collection rates were 105% of net billings
• Office portfolio occupancy reduced to 91.9% (31 December 2020: 94.9%) following practical completion of 32 Smith, Parramatta
• 37,300 square metres (sqm) of Office leasing including Heads of Agreement year to date
• Logistics portfolio occupancy of 96.8% (31 December 2020: 99.8%) following recent lease expiries in Melbourne. Logistics leasing totalling 51,300 sqm completed
• Retail Total Specialty sales were up 12.4% and Total Centre sales were up 8.0%, compared to the March 2020 quarter
• $111.8 million of securities bought back at an average price of $4.52 per security at 28 April 2021
• Full year 2021 guidance for Funds From Operations (FFO) per security growth of 8% and Distribution per security (DPS) growth of 12% on 2020
Rent collection
Strong rent collection outcomes continued across the portfolio during the quarter, with 105% of net billings collected. Collection levels for the Office and Logistics portfolios were 101% and 100% of net billings respectively. Retail rent collections of 110% of net billings reflect the ongoing payment of outstanding debtors from the prior year.
Office
The development of 32 Smith, Parramatta reached practical completion in January 2021, and is reflected in Office portfolio occupancy of 91.9% at 31 March 2021 for the first time. The 6-star Green Star – Design rated office tower is now 72% committed including terms agreed.
Leasing enquiry and inspections have been strong during the quarter. Leasing transactions concluded during the period included renewals with Vocus at 530 Collins Street and Morrows at 2 Southbank Boulevard in Melbourne, and AIG Australia at 2 Park Street in Sydney. GPT Wholesale Office Fund owned Queen & Collins in Melbourne is now 26% committed including terms agreed and is expected to reach practical completion in May 2021.
Logistics
GPT continues to grow its position in the Logistics sector, with the completion of the 17,200 sqm development at 42 Cox Place, Glendenning in February 2021. A 10-year lease to Total Tyres for the entire facility commenced in March 2021.
The 70,000 sqm development at 917 Boundary Road, Truganina, acquired by the GPT QuadReal Logistics Trust in February 2021, is expected to be completed in the first half of 2022. The asset is fully leased to HB Commerce for 10 years. Four additional developments are due for completion in the second half of 2021, including Stage 3 at Gateway Logistics Hub, Truganina which was pre-leased to The Hut Group, which combined will contribute a further 87,200 sqm of prime Logistics investment product to the Group's portfolio.
Logistics portfolio occupancy of 96.8% reflects recent expiries at Austrak Business Park, Somerton, and the inclusion of 42 Cox Place, Glendenning following practical completion.
Retail
Total Specialty sales were up 12.4% and Total Centre sales were up 8.0%, compared to the prior corresponding period. Robust sales growth continues to be evidenced across Specialty categories including General Retail (+25.5%), Leisure (+20.3%), Fashion/Footwear (+17.7%) and Technology (+13.5%), along with sustained momentum in Department Stores (+8.3%) and Discount Department Stores (+18.8%). Cinema sales continue to be impacted by reduced patronage given the lack of new product, while Travel Agencies are also yet to recover given the ongoing international travel restrictions.
A continuation of the positive sales momentum experienced at the end of 2020 has supported leasing activity with 142 Specialty leases completed during the quarter, with an average leasing spread of -9.2% and an average lease term of 4.4 years. Leasing deals continue to include fixed base rents with annual increases.
Mr Johnston said: "While foot traffic at Melbourne Central remains well below 2019 levels, customer visitations in March 2021 were up 36% on the previous two month's average. The Group remains confident the centre will recapture it's former vibrancy as the CBD recovers.
"While 2020 was a challenging year for physical retailing, the recovery we have seen in visitations and sales growth demonstrates the quality and resilience of our assets and the desire for customers to return to our shopping centres. Record levels of household savings and buoyant consumer confidence, coupled with an increasing appetite for a return to normal activities, should continue to translate to broad-based retail sales growth across the entire portfolio over the remainder of the year."
Funds Management
During the quarter, GPT announced an $800 million capital partnership with QuadReal Property Group, as a dual means of accelerating the Group's portfolio exposure to the Logistics sector and expanding GPT's Funds Management platform. More than 20% of capital has already been committed by the joint venture, comprising acquisitions and the purchase of developments in Melbourne and Brisbane, with several opportunities currently under consideration.
Capital Management
The Group maintains a robust balance sheet position and currently has $1.4 billion of available liquidity, which fully funds all current commitments to 2024. At 31 March 2021, GPT had an average debt term of 7.6 years and less than $5 million of debt maturing before December 2021. The Group maintains A and A2 credit ratings from S&P and Moody's respectively.
An on-market buy-back for up to 5% of securities on issue was announced in February 2021. At 28 April 2021, approximately 24.7 million securities have been purchased (1.3% of issued capital) at an average price of $4.52 per security, totaling $111.8 million.
2021 Earnings and Distribution guidance
On 19 April 2021, the Group provided full year 2021 earnings and distribution guidance, with estimated FFO per security growth of 8% and estimated DPS growth of 12% on 2020. Guidance assumes that the economic recovery is sustained and there are no significant disruptions from COVID-19 related restrictions for the remainder of the year.
Our Views
GPT exposure to Retail is clearly an achilles heel for the group. Moving Annual Turnover is down -21%, specialty occupancy costs are high (average 19%) while leasing spreads are heading backwards at -9%.
GPT and Dexus are often compared – both hold similar quality assets across the core real estate markets, however there are two key difference;
GPT hold retail assets unlike Dexus,
Dexus often takes trading profits, unlike GPT
In 2015, both groups had a market cap of about $7bn At the time GPT were favoured by SCLA and others due to the inclusion of the retail assets which were seen to provide a better earnings outlook than for the office market.
Oh how things have changed. The chart below shows the percentage change in the unit price GPT, Dexus and the AREIT Index since 2015.
By the end of 2020, the market capitalisation has changed significantly with Dexus over $11bn and GPT just over $9bn. Their FUM reflects a similarly comparison with Dexus holding $16.5bn of Funds and GPT at $14.1bn. With Dexus now taking control of the $5.4bn AMP Capital Wholesale Fund, their total FUM will now be almost $22bn.
Whilst no one predicted the COVID pandemic, the election by Dexus to extend their office and industrial holdings and to take more trading profits has been a positive factor for investors and the unit price, which has grown 40% since 2015, compared to just 5% for GPT.
Dexus are currently trading at a 5.1% yield whilst GPT are at 4.8% yield.
We favour Dexus over GPT.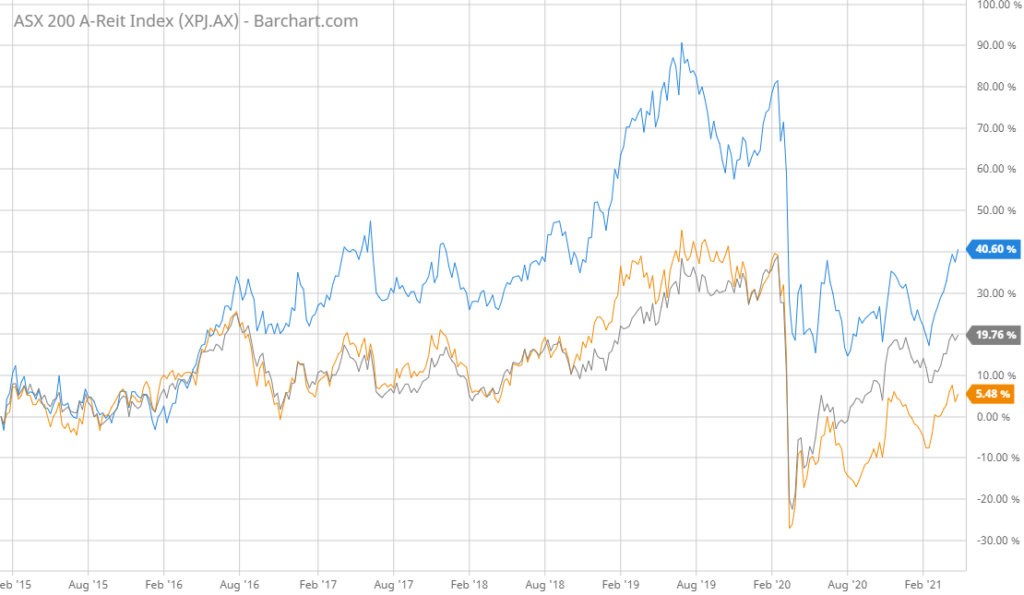 GPT March Update PresentationDownload
Disclaimer: The information contained on this web site is general in nature and does not take into account your personal situation. You should consider whether the information is appropriate to your needs, and where appropriate, seek professional advice from a financial adviser.