Abacus & Charter Hall Join Vicinity at Melbourne Myer
1 July 2021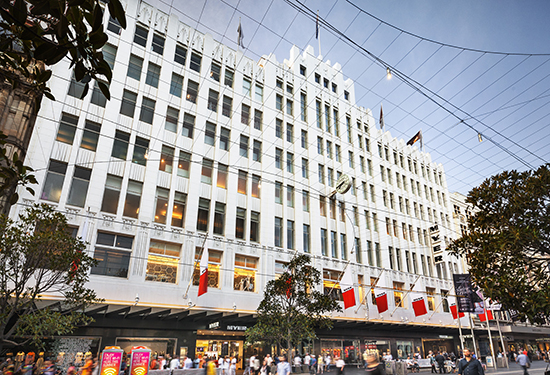 Abacus Property Group and the Charter Hall Long WALE REIT have each exchanged contracts to acquire a 1/3rds interest in the "Myer Melbourne" property at 314-336 Bourke Street, Melbourne VIC. The remaining 1/3 share is being retained by Vicinity who will continue to manage the asset. Settlement is anticipated by the end of July 2021.
Total consideration for the acquisition is $270.4m ($135.2 million each), excluding transaction costs and reflects circa $10,157 per square metre of gross lettable area (GLA) and a 6% passing yield. Both Abacus and Charter Hall's share of the acquisition cost will be funded within their existing debt facilities.
The property is one of Melbourne CBD's best-known buildings and is located in a prominent position on the Bourke Street Mall, with a 61 metre frontage offering nine levels of retail accommodation over circa 40,000sqm of GLA. The building has a weighted average lease expiry (WALE) of 10.5 years and is 100% leased to Myer Pty Limited and guaranteed by Myer Holdings Limited.
Managing Director, Steven Sewell commented "It is pleasing to be able to take advantage of this intergenerational opportunity with longer term repositioning potential. This transaction aligns with our strategic priority of acquiring commercial assets in select locations where we see amenity and infrastructure improvements that we believe will ultimately translate to strong tenant demand. With the potential for a degree of repositioning, this is a great opportunity for the group, together with its partners, to implement active asset management plans and drive superior returns from the asset."
The property was marketed by Nick Willis and Sam Hatcher from JLL and Lachlan MacGillivray from Colliers on behalf of GIC and Nuveen.
Charter Hall Long WALE REIT concurrently announced the acquisition of
a 100% interest in a distribution centre leased to Simon National Carriers in Carole Park, Brisbane for $83.1 million; and
a 100% interest in a Bunnings property in Baldivis, Perth for $49.0 million
Avi Anger, Fund Manager of CLW said: "The Acquisitions are strategically located, high quality industrial and logistics and long WALE retail properties that are leased to national tenants. This includes the Myer Bourke Street Mall property in Melbourne, which together with CLW's existing investment in the David Jones Castlereagh Street store in Sydney, represent two of Australia's most iconic CBD buildings."
"The acquisitions feature an attractive passing yield of 5.1%, long WALE of 11.2 years and favourable rent review structures and demonstrate our focus on securing long leased assets with strong underlying property fundamentals. The Acquisitions are expected to be materially accretive to prior FY22 Operating EPS growth guidance. As a result, we have upgraded FY22 Operating EPS guidance to growth of no less than 4.5% over forecast FY21 OEPS, continuing our track record of delivering strong earnings and distribution growth for our investors."
Further Information
Charter Hall Long WALE REIT also confirmed that the Acquisitions and the property revaluations announced on 7 June 2021, take the REIT's unaudited pro-forma NTA per security is expected to be approximately $5.21. The REIT's pro-forma balance sheet and look-through gearing including the Acquisitions is expected to be approximately 31.9% and 39.9% respectively.
Including the impact of the Acquisitions, and based on information currently available and barring any unforeseen events, CLW also confirmed:
• its FY21 Operating EPS guidance of 29.2 cents per security, representing growth of 3.2% on FY20 Operating EPS; and
• upgrade its FY22 Operating EPS guidance to growth of no less than 4.5% on forecast FY21 Operating EPS of 29.2 cents per security.
Further Details of the Acquisitions are;
Disclaimer: The information contained on this web site is general in nature and does not take into account your personal situation. You should consider whether the information is appropriate to your needs, and where appropriate, seek professional advice from a financial adviser.