World's tallest hybrid timber tower, and one of Australia's first carbon negative buildings
3 October 2023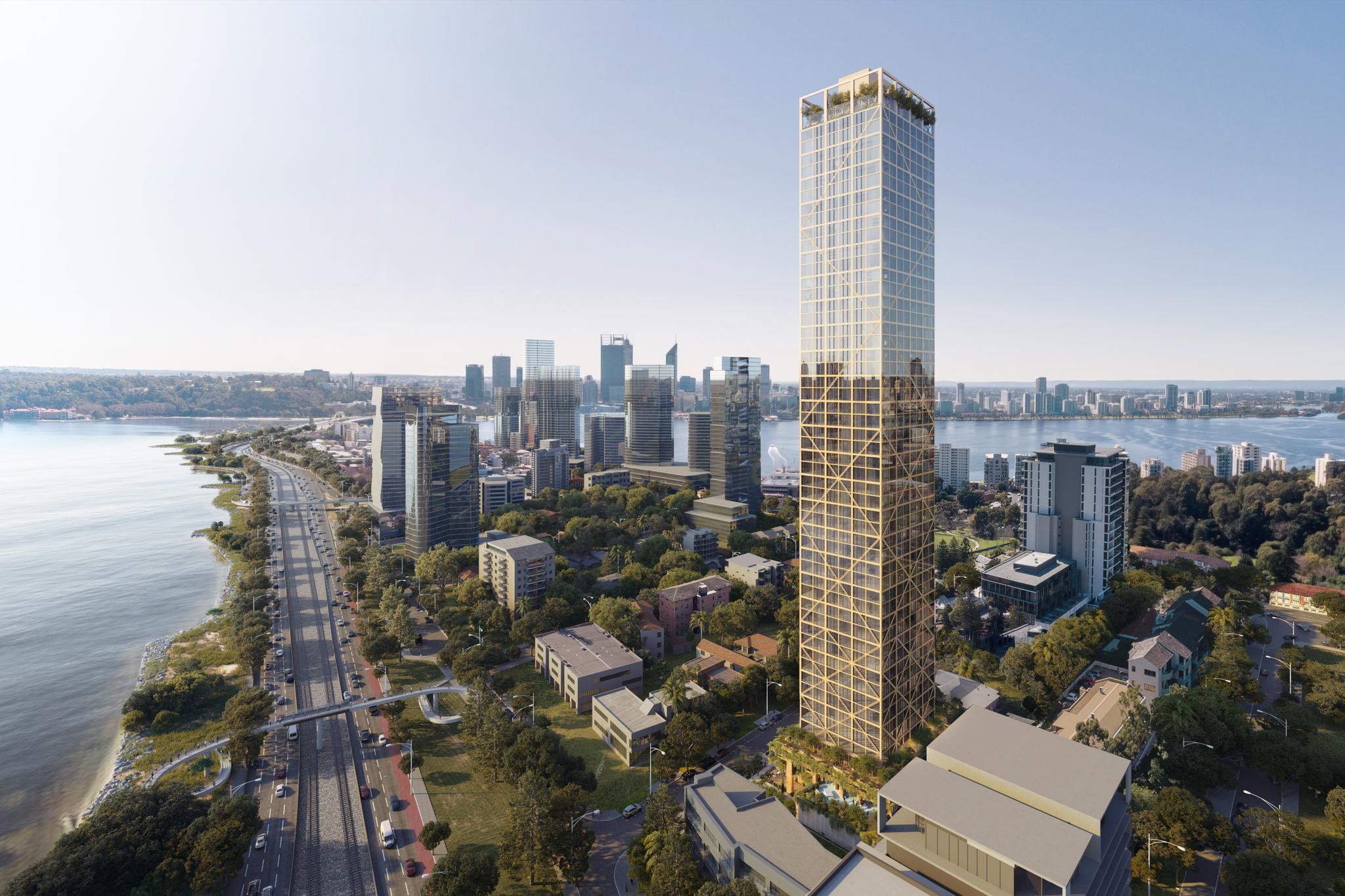 The world's tallest hybrid timber tower and one of the first carbon-negative residential buildings in Australia (and first for Western Australia), the $350 million C6 tower by Grange Development, will now become reality after receiving approval by the Joint Development Assessment Panel (JDAP) in Perth.

This internationally recognised project, designed by Fraser & Partners, the research arm of award- winning architects Elenberg Fraser, has been heralded for its environmentally conscious design since its announcement in 2022.

Its mass timber construction ensures it will sequester 10,497,600 kgCO2eq from the atmosphere, equivalent to the emissions of 4,885 economy class seats on flights from Perth to London.

The 7,400m³ of mass timber needed for the structure, set to become the world's tallest hybrid timber tower, can be regrown in under an hour from just 600 sustainably forested trees. The seeds for these trees can fit within two cupped hands. "We can't grow concrete," said Grange Development Founder and Director James Dibble.
Additionally, the project will feature a rooftop with an edible garden, dining and entertainment spaces, 942sqm of community wellness amenities, as well as a 437sqm ground-floor public realm.

There will also be 3,500sqm of edible, floral, and native gardens and 18sqm of communal space per apartment, which is three times the state planning controls. Other features include an urban farm and a children's mass timber playscape, among other amenities.

The team's dedication to sustainability shines through the developer's commitment to openly sharing all research, design, and construction documentation for C6. This will empower other developers to integrate its insights into their projects, adopting a more climate-conscious approach to the built environment.
Grange Development is also funding 80 new Tesla Model 3 vehicles with full self-driving capabilities, powered by 100% renewable energy. This ensures residents can access transport on demand without contributing to carbon emissions.

On completion, the project will comprise 237 residences spread across 50 storeys.

Key Building Stats:
• 6 Star Green Star
• 7 Star NATHERS
• 80 car Tesla fleet
• 3524 sqm of landscape
• 20% of the site given back to the public realm
• 100% renewable power via embedded network
• 50% reduction in energy use
• 11.2% on site energy generation
• 90% water capture and reuse
• 30% reduction in upfront carbon

Quotes attributable to Grange Development Founder and Director James Dibble:

"The intent of C6 has always been, at its core, a straightforward proposition. The built environment accounts for 39% of global emissions, and our industry is perilously lagging in innovation to address this global challenge. Our aspiration with C6 is to shift the focus towards a more climate-conscious approach to our built environment, rooted in science and engineering," commented Dibble.

"C6 will establish a new benchmark for environmentally conscious design. We're immensely proud of our open-source approach to all documentation and construction details because we genuinely wish for others to understand our methodology and possess the blueprint to emulate, modify, and progress it."

"Today, JDAP and WA more broadly have set a standard of excellence for tall buildings in WA, signalling that we can, and will, strive for better."

"Credit must be given to our world class consultant team, Australia is blessed to have some of the brightest minds in ESD focused development on the planet and we are grateful to have them design C6 with us."