The price of a luxury ski chalet continues to rise despite challenging macro-economic landscape
6 November 2023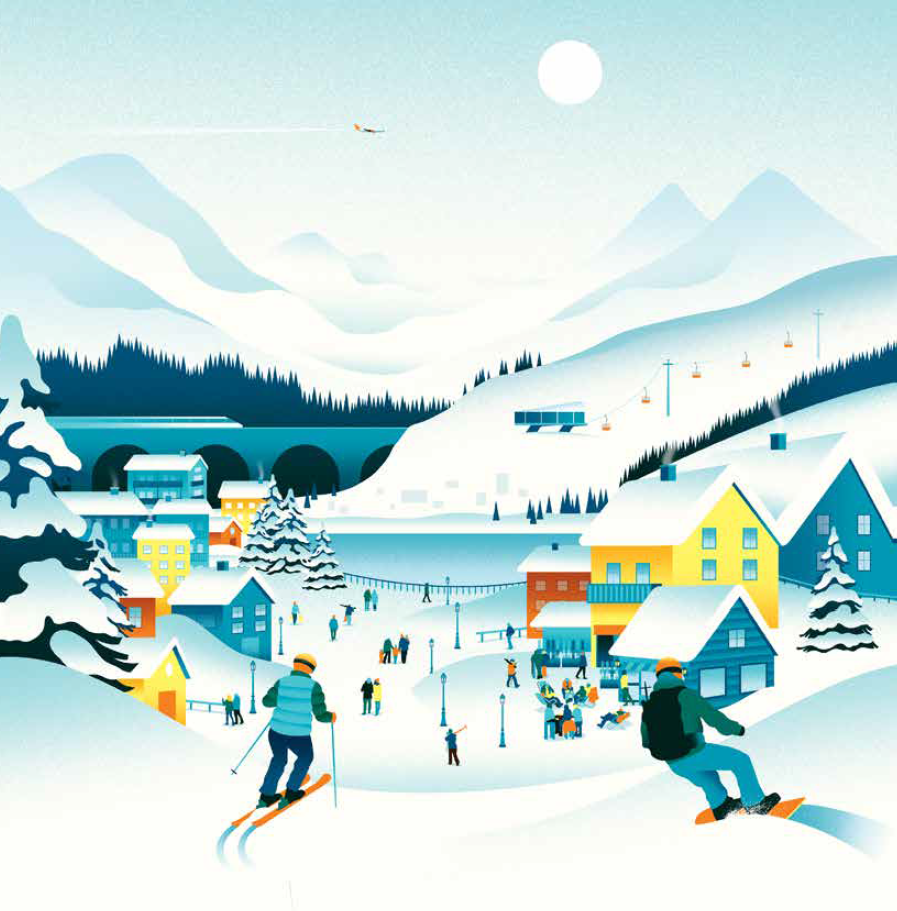 According to Knight Frank's Ski Property Report 2024, the price of a ski chalet increased by 4.4% on average in the 12 months to June 2023. Except for the pandemic years, it represents the strongest rate of growth since 2014.
Ski Property Index 2023
Knight Frank's Ski Property Index reveals that Swiss resorts lead the rankings for the second year running, with three German-speaking resorts – Klosters (16%), Davos (13%), and Andermatt (9%), occupying the top spots. A severe lack of stock and infrastructure improvements in each resort are pushing prices higher.
Chamonix (7%) retains its title as the top-performing resort in the French Alps, a true year-round resort whose population surges from 10,000 to 130,000 during peak season. The resort attracts a broad demographic, from skiers to mountain bikers, and plays host to a busy calendar of sporting events which also drives investor demand.
In 2023, two trends emerged in the Alps, high-altitude resorts (e.g. St. Moritz, Val d'Isère, Courchevel 1850) and year-round resorts (e.g. Chamonix and Verbier) outperformed. Buyers either prioritised snow-sure resorts with longer ski seasons or targeted locations offering a broader mix of ski and non-ski activities and a livelier resort during the summer months.
Kate Everett-Allen, head of global residential research at Knight Frank, said: "The pandemic-induced Alpine mini boom is ending with a fizzle rather than a bang, as limited supply keeps a floor under prices in most markets. Across three key French resorts, listings are down 56% on average compared to before the pandemic and this is set against a backdrop of robust demand.
"There are clear challenges ahead for ski resorts, not least climate change, the need to upgrade infrastructure and strict planning rules. But the market is evolving, attracting buyers from further afield (Asia and the Middle East) and from southern Europe, as recent heatwaves prompt some second homeowners to pivot northwards."
Knight Frank Ski Property Index Results 2023
Based on four-bedroom chalet in a prime central location
Annual price change to Q2 2023
| Resort | Price change (%) |
| --- | --- |
| Klosters, Switzerland | 15.7 |
| Davos, Switzerland | 12.6 |
| Andermatt, Switzerland | 9.3 |
| Nendaz, Switzerland | 8.3 |
| St. Moritz, Switzerland | 7.2 |
| Chamonix, France | 6.8 |
| Courchevel 1850, France | 6.6 |
| Villars-sur-Ollon, Switzerland | 6.6 |
| Val d'Isère, France | 5.3 |
| Morzine, France | 4.8 |
| Les Gets, France | 3.5 |
| Megève, France | 3.2 |
| Méribel, France | 3.1 |
| Méribel Village, France | 2.7 |
| Verbier, Switzerland | 2.5 |
| Crans-Montana, Switzerland | 2.5 |
| Courchevel Village (1550), France | 1.2 |
| Gstaad, Switzerland | 1.2 |
| Kitzbuhel, Austria | 1.1 |
| Courchevel Moriond (1650), France | 0.9 |
| Zermatt, Switzerland | 0.5 |
| St-Martin-De-Belleville, France | 0 |
| Grimentz, Switzerland | 0 |
| Champery, Switzerland | 0 |
Alpine Homes Sentiment Survey
As part of the Ski Property Report, Knight Frank has run its second annual Alpine Homes Sentiment Survey, which represents the views of over 320 Knight Frank clients, located across 34 countries and territories. Respondents include existing homeowners, prospective purchasers, and those with a passion for the mountains.
Key findings include:
Buyer motivations are diverging. Both the proportion of buyers wanting a base purely for skiing and those just wanting a base to enjoy the mountains has increased year-on-year.
72% of survey respondents say the resilience of a ski resort influences their decision on where to buy.
52% of respondents are seeking a second home that they plan to rent out, up from 48% last year.
78% of respondents say the energy efficiency of a home is important or very important to them, yet only 28%would be willing to pay a premium for such a home.
60% of survey respondents expect the price of an Alpine property to rise in the next 12 months.
39% of prospective buyers say the cost-of-living crisis has impacted the budget they will allocate to an Alpine home.
Resilience & evolution
A number of resorts across the French and Swiss Alps are taking steps to develop their sustainability features and increase their long-term resilience in response to climate change.
Some of the steps these resorts are taking include:
Linking up:
Several resorts such as those in Portes du Soleil and Four Valleys are linking up to offer multi-pass access, creating larger ski domains giving skiers access to more pistes.
Following the science:
The Compagnie du Mont-Blanc is working with scientists to produce snow forecasts for the next three decades. Rocks will be removed, and new grass planted, which keeps snow intact longer, on the snow slopes.
Investing in green tech:
Resorts have adopted renewable energy to power ski lifts and snow cannons in some capacity. Solar energy is now a staple on public infrastructure, and electric buses the norm in resorts such as Verbier and Val d'Isère. Gstaad has a waste centre in the valley that supplies heating for over half of the resort.
Greener fuel:
The Compagnie des Alpes has committed to converting all of its 130 snow groomers to HVO fuel (hydrotreated vegetable oil manufactured from renewable and sustainable waste). Remaining carbon emissions will be stored in "carbon sinks" created through reforestation.
Summer Idylls
The draw of the Alps in the summer is close to eclipse its winters. Data from the Compagnie du Mont-Blanc reveals around 40% of Chamonix's ski lift revenue is earned from May to October. Similarly, in Crans-Montana 44% of overnight stays in 2022 took place in the summer months, according to the local tourist office. Aside from the multiple sports offers, music, art, food and yoga festivals are also driving investor demand.
Wellness has also become key in attracting visitors to the Alps. According to Grand View Research, the global wellness tourism market size is expected to reach US$1.02 trillion by 2030. From the new Six Senses in Crans Montana, to the Four Seasons in Megève, visitors and luxury brands are recognising the restorative benefits of the mountains.
Area focus
Alex Koch de Gooreynd, head of Swiss sales at Knight Frank, commented: "In St. Moritz, Verbier and Crans-Montana enquiries are strong, off-market sales are on the rise and buyers are having to prepare finance and paperwork in advance in order to move quickly when a suitable property comes to market."
Roddy Aris, head of French Alps sales at Knight Frank, said: "Chamonix and Megève are likely to outperform the other French Alpine resorts in the coming years. These mid-altitude resorts set the benchmark for year-round appeal and have the added benefit of being within 75 minutes of Geneva Airport. Val d'Isère's recent strong performance is set to continue due to its excellent snow record, tight pool of properties and strong public and private investment."
The report also shines a light on Colorado. Overall, the market in Aspen and Snowmass has been generally flat year-on-year in terms of the number of transactions and average price per sq ft. The exception is the segment below US$10 million, which saw sales decrease 31% on an annual basis and a 9% decrease in prices. Between January and August 2023, sales above US$10 million accounted for 39% of total sales. In the same time span, the average price per sq ft of homes sold in Aspen reached US$3,000. While inventory has grown over the last nine months, it is still at relatively low, creating upward pressure on prices, especially in Snowmass Village.
Riley Warwick at Douglas Elliman, Knight Frank's residential partners in the US, commented: "A trend that will shape the Aspen real estate market in the next five years is that Pitkin County is undergoing downsizing – reducing the density of homes. Existing homes over 9,250 sq ft will have upward pricing pressure because of this. Build costs are also steadily increasing, which will increase the value of existing, turn-key properties potentially put downward pressure on vacant land."