Melbourne CBD retail leasing market springs to life
6 November 2023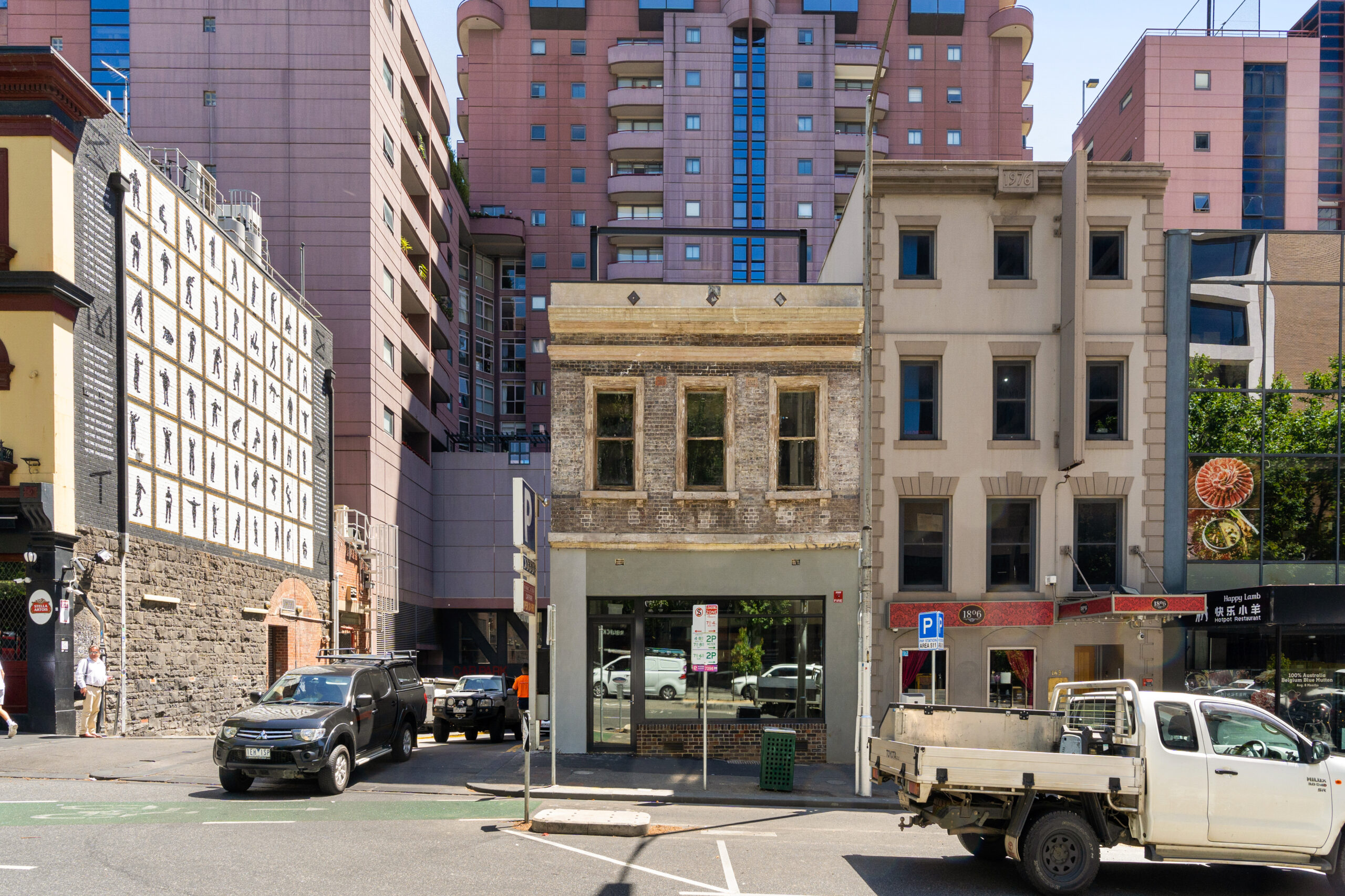 Melbourne's CBD hospitality leasing market has blossomed this Spring, with tenants from the city and the suburbs all taking up buildings and spaces for new ventures, including in a deal that heralds a new life for the historic Shakespeare Hotel.
Fitzroys' CBD Leasing Team of Franklin Gikas and James Lockwood negotiated the leases.
In one of the larger deals, Gikas and Lockwood leased the three-level building at 167 Exhibition Street – the former Shakespeare Hotel – on behalf of owners The Lee Superannuation Fund, to an all-star Filipino hospitality crew with that will set up "Askal", a contemporary restaurant and bar concept serving exciting Filipino and South East Asian-inspired food alongside bespoke cocktails and a diverse wine list.
Among the group are John Rivera, a Filipino-Australia-Kiei chef born in Cabanatuan City, Nueva Ecija, Philippines, and now based in Melbourne, who has worked in some of Australia's most acclaimed kitchens – Rockpool, Lûmé, Amaru and Sunda – as well as placing in the Global Top 5 in the 2018 S. Pellegrino Young Chef Academy competition. He now owns and operates Footscray's Kariton Sorbetes, making artisanal gelato inspired by the ice cream carts that iconically roam the streets of the Philippines.
Also in the group are Kariton Sorbetes owner and partner and food retail fit-out specialist Michael Mabuti; Jose Carlos Consunji, a somellier who has worked at hatted restaurants; chef Dhenvirg Ugot, who has worked iconic CBD restaurant Florentino and Society by restaurateur giant Lucas restaurants, and is currently at Kariton Sorbetes, as well as Ralph "Bruno" Anthony Libo-on, currently Beverage Manager for modern Filipino restaurant, Sera.
The 7+7-year deal was struck at $200,000 plus outgoings and GST per annum.
"The property's in a great location, in the heart of Melbourne CBD's entertainment district, and at the gateway to Chinatown. Boasting distinctive heritage features, it stands out as a one-of-a-kind three-storey offering in the city, offering uniqueness and charm," Lockwood said.
The 327sqm building with roof terrace was originally the mid-19th century establishment The Shakespeare Hotel. According to the City of Melbourne's Melbourne Planning Scheme1. The Shakespeare Hotel had its origins in the late 1860s at a time in which this northern part of the CBD was a "region known for its prostitutes, criminals and cheap lodgings", and the The Shakespeare Hotel "illustrates this phase, its painted advertising for 'Rooms at 3p' still visible on a side wall".
"The deal represents the beginning of yet another new CBD hospitality venture as Melbourne city undergoes another historic phase of change," Gikas said.
"The recession of the 1990s was followed by innovation and new business activity in the CBD. Small bars opened, laneways were activated and inner-city living took off. We're seeing something similar happening now post-COVID."
"We're getting a lot of enquiry from operators looking to be part of another period of renewal for the Melbourne CBD, and be part of its world-famous café, dining and nightlife culture."
A block-and-a-half over, Gikas and Lockwood have leased a distinctive Chinatown building that will now become a new bar called Lost Bar, with the owner Lou aiming to create a futuristic bar space that embodies the essence of a cyberpunk theme, that will also be ideal for hosting private events.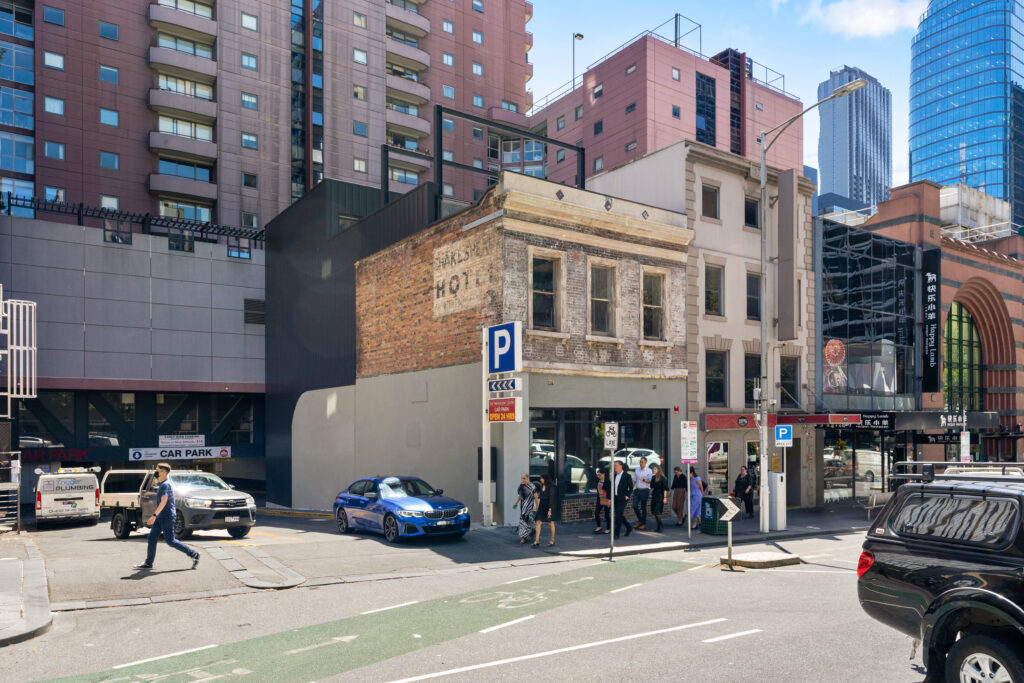 Lou owns and operates other venues including Lonsdale Street restaurant Sao Bar & BBQ.
The long 10+10-year deal was negotiated at $160,000 plus outgoings and GST.
"We've seen major hospitality deals struck on very long and secure terms. They're massive votes of confidence in the direction of the CBD, particularly from operators with experience in the CBD that have seen what it can offer and the seen the rebound of the city up close," Gikas said.
Another operator taking up space in the CBD is Tsunagu Group, which has leased 203 Queen Street for 5+5 years at $75,000 plus outgoings and GST. They plan to turn the corner tenancy – previously occupied by Telstra – into a dessert bar.
Tsunagu Group also operates 279 Coffee & Musubi, Le Bajo Milkbar, Hareruya Pantry, Leonie Upstairs, and Chiaki.
"Tsunagu Group jumped at the opportunity to be in a popular area that is also home to renowned restaurants such as Palermo, Osteria Illaria, and Tipo 00," Gikas said.
Meanwhile, multiple groups are making their move from the suburbs into the CBD.
At 303 Exhibition Street, a new Sri Lankan restaurant providing service from early morning to late night will open up as the first CBD venture of the operators of Centre Road, Bentleigh's The Fab Curry and Hoppers.
The 3+3-year deal was struck at $80,000 plus outgoings and GST.
Lockwood said the property presented well and benefits from being adjacent to the 60-level Sapphire by The Gardens development, comprising of residential apartments and the new Shangri-La hotel that is set to be completed in 2023.
At 405 Bourke Street, at tenancy R18 fronting Makers Lane, the founders of Windsor and Hawthorn's The Cookie Box, Rod and Gabi will set up a new flagship for the operation that will allow them to cater to many of their consumers.
"The position in the Lane provides great exposure to Little Collins Street and positions them amongst other established tenants in the complex including Le Yeahlow, SuperNova Coffee and Brother & Co.," Gikas said.
Meanwhile, culinary school AdvisU is taking on further space in Southbank due to an increase in demand from people looking to get into the industry. AdvisU currently has three other schools in Melbourne and is expanding at the World Trade Centre on Siddeley Street in Docklands. The lease runs for a five-year term with a five-year option, at $118,000 plus GST.
The location is close to amenities and the tenancy has an existing fit-out to be used as a teppanyaki.
"Hospitality venues have seen increased bookings through the week and Thursday has become the new Friday as workers begin to wind-down from their week in the office, bumping up trade at bars, eateries and restaurants. We're then still seeing the usual influx of visitors to the CBD on Friday nights and across the weekends, with Saturdays attracting bigger crowds than before COVID2," Lockwood said. Thursdays and Saturdays are also higher than 2019, and Fridays in-line with pre-COVID numbers, according to the most recently-reported Melbourne City Council data.
"We're expecting office occupancy to continue increasing as workers find their work-week groove, and together with the ongoing return of international students this will further boost day and night trade in the CBD," he said.
1 https://www.melbourne.vic.gov.au/sitecollectiondocuments/heritage-precincts-history-significance.pdf
2 https://www.afr.com/companies/retail/sundays-now-busier-than-mondays-in-melbourne-20230811-p5dvsn