Q3 Commercial Real Estate Deals Show Some Recovery
18 October 2020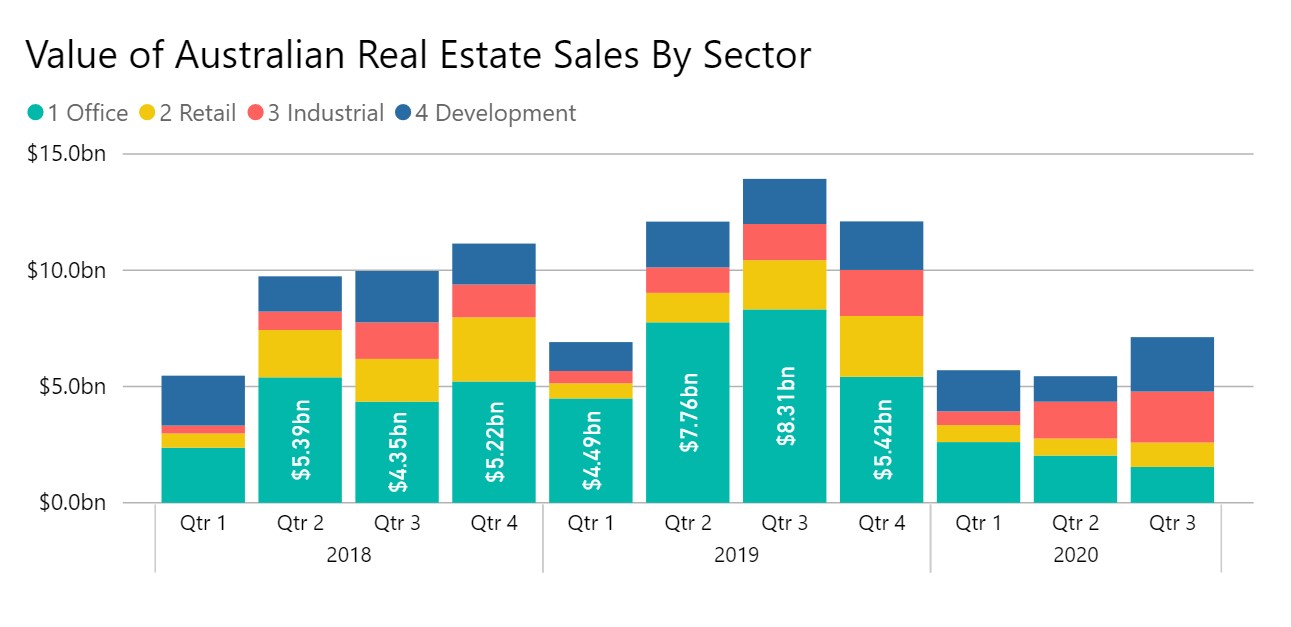 The COVID19 pandemic continues to decimated real estate markets with year to date activity in 2020 down -44% on the same period last year.
Data collected by RESourceData reveals that transactions of office, retail, industrial and development sites for the 3-month period ending in June, reached $7.1bn, down from $13.9bn in Q3, 2019.
Office transactions, which usually comprise almost 50% of all transactions fell -81% in volume to just $1.5bn and reduced to comprise just 21% of all transactions in the quarter. Two key transactions in the quarter dominated the Office sector. The acquisition in September by Deka Immobilien of 451 Flinders Lane for $450m was the largest transaction of the quarter followed by Keppel REIT's acquisition of Pinnacle Office Park in Macquaire Park for $306m. The weighted average cap rate across the Office sector soften by 50Bps from 5.1% to 5.6%.
The industrial markets have been the flavour of the quarter with transactions again up 41% on last year, (which was starved of stock). Industrial transactions typically comprise 12% of the market data, but increased to represent 30% of the market in the 3rd Quarter. The weighted average cap rate tightened by 10bps from 5.1% last quarter to 5.0%. The acquisition by Centuria Industrial REIT of the Telstra facility in Clayton for $417.2m was the largest deal of the quarter, reflecting a 4.3% yield, whilst Charter Hall's acquisition of a facility in Minto from Qube at $203m was completed at a 4.8% cap rate.
Retail transactions were high in number but low in volume with -50% less value changing hands in Q3, representing 14% of the market. Cap Rates for retail assets softened by 30bps from 6.0% in 2019 to 6.32%. The acquisition of the Pines in Doncaster East for $160m by Haben at a 7.8% yield and the sale by Stockland of their Baulkham Hills Centre for $140m at a 7.0% cap rate demonstrate the softening of interest in Centres with discretionary retail. The more favoured Neighbourhood Centres continued to show resilience with 9 transactions during the quarter worth, reflecting a weighted average cap rate of 5.7%.
Unlike last quarter, development transactions picked up this quarter to be 20% above the same period last year. Several groups continued to invest in large residential projects and industrial developments with $1.1bn in transactions recorded by ReSourceData.
The Yield Spread to 10-year bonds for Core Office assets continues to be at the upper end of the long-term average of 200 – 400bps, reflecting the higher than usual risks associated with tenant demand. With an average yield of 5.6% in the office sector and a 10 year bond rate of 0.9%, the current spread is circa 370bps, at the high end of the long term average.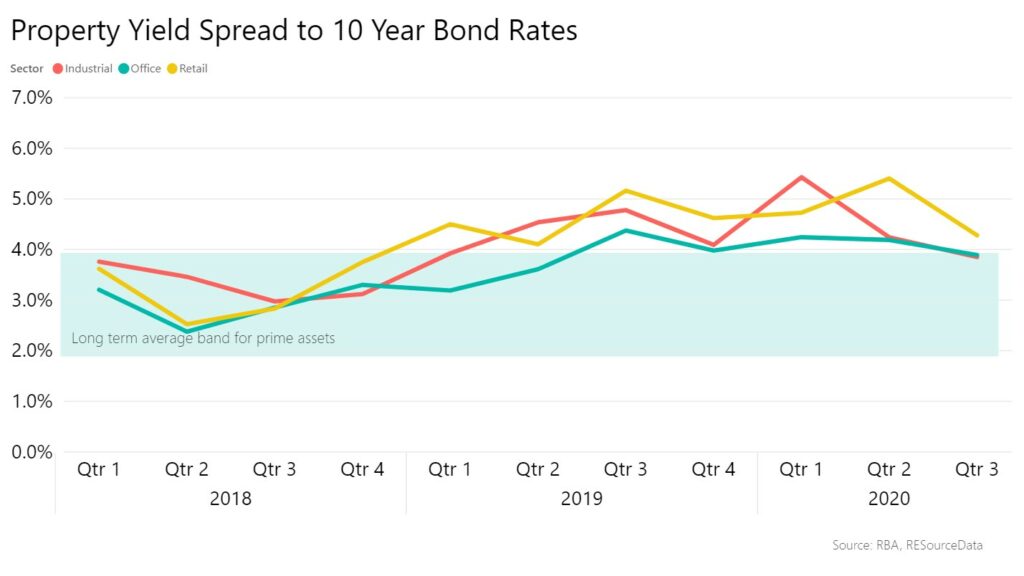 RESourceData has collected a comprehensive database on close to 5,000 real estate transactions since 2015 across all retail, office, industrial and development sectors in Australia, providing invaluable data mining capabilities to clients.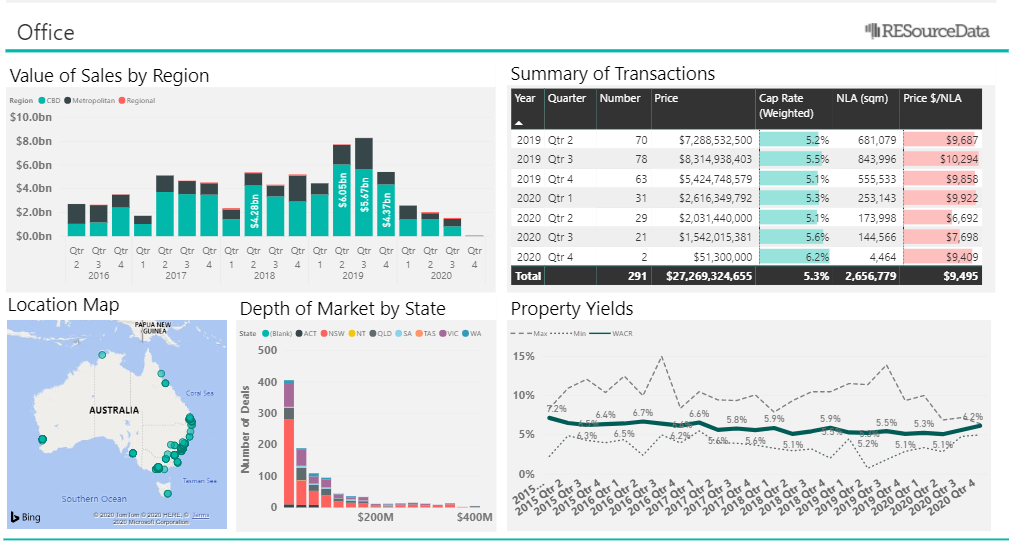 Interestingly, Colliers International also reported transaction data for the 9 months of 2020, reporting $4.3bn of office deals (compared to $6.2bn from RESourceData), retail deals worth $2.7 billion (compared to $2.5n from RESourceData) and $3.6bn of Industrial deal (compared to $4.3bn from RESourceData).
Cushman & Wakefield were also quoted to have recorded $2.24 billion of industrial transactions in the three months to September ($2.2bn for ReSourceData), while quarterly investment into the office market totalled $2.12 billion ($1.5bn for RESourceData).
Neither group appear to track Development deals which account for $5.2bn in transactions so far this year. These results bear testament to our claim to have the most comprehensive and truly independent database of real estate transactions in the country.