Mungo Scott Building in The Flour Mill of Summer Hill comes up for sale
5 October 2023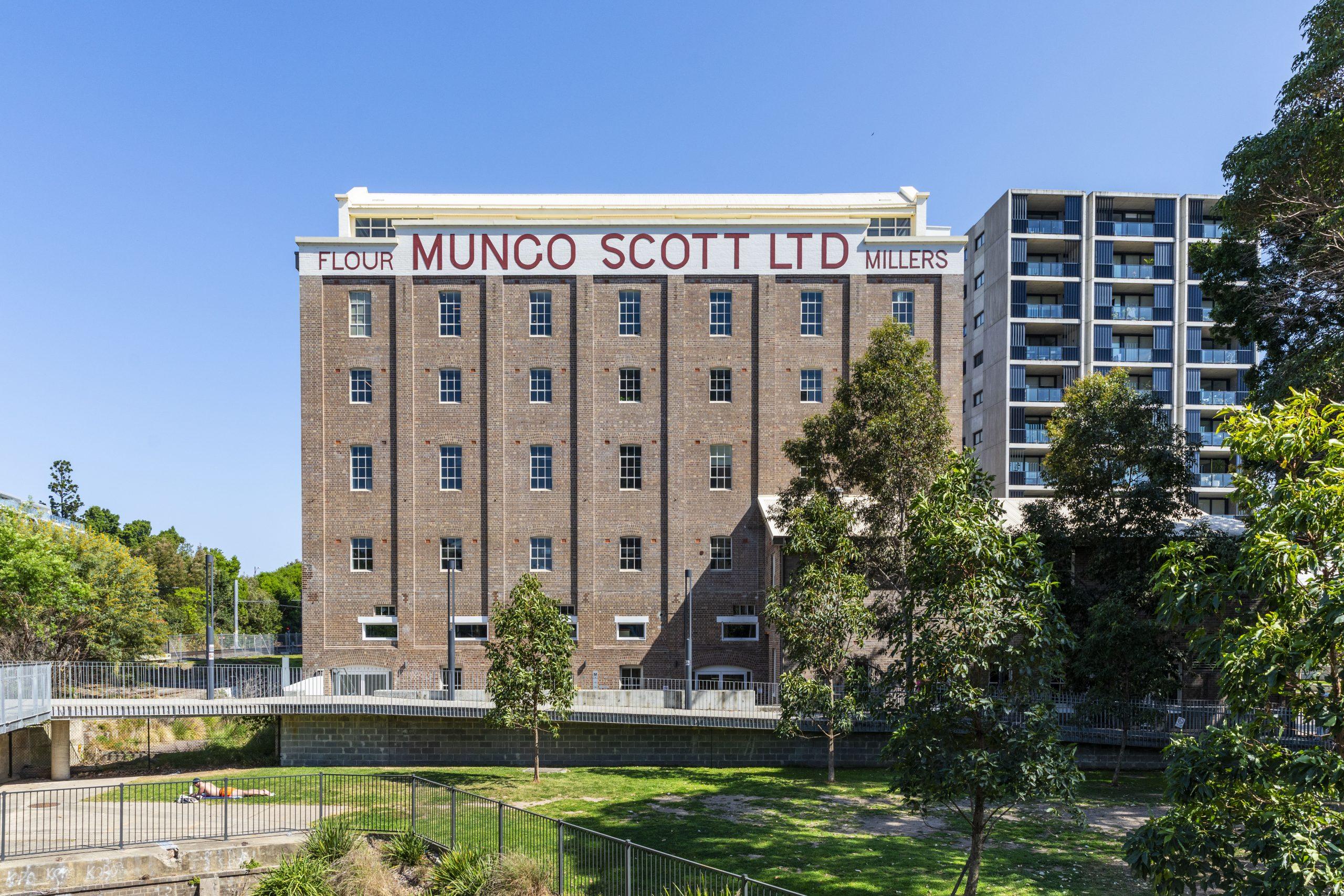 A CHARACTER office building providing some of the most creative office space in Sydney's inner west is up for sale.
The award winning six-storey property at 18 Flour Mill Way, Summer Hill, known as the Mungo Scott Building, is the centrepiece of the recently redeveloped The Flour Mill of Summer Hill master planned community.
Originally constructed in 1922 and operated as a flour mill and silo, the Mungo Scott Building presents a stunning restoration and conversion of an iconic heritage building into a modern commercial office building, with retail on the ground floor.
It underwent a $10.5 million base building refurbishment in 2018, with improvements including new air conditioning, mechanical services, toilet amenities, modern stairs and a lift. Additionally, circa $2.3m has been spent on speculative fitouts throughout the building to date.
It is now being taken to the market by owner EG via an Expressions of Interest campaign run by Knight Frank's Jonathan Vaughan, Anthony Pirrottina and Demi Carigliano and GJS Property's Jason Wright, Chris Bailey and Liz Assadourian.
The building is more than 84 per cent occupied by 15 tenants, all of which are small to medium enterprises, including COPOSIT, Jannawi and MS Australia, with a coffee roaster (Tank Stream Roasters) leasing the ground floor space with supplementary café (STCA).
It has a 3.66 year WALE by income with a net passing income of $1,218,675 and a potential fully leased net income of $1,608,986.
Knight Frank's Anthony Pirrottina said the Mungo Scott Building was a suburban unicorn, offering buyers the opportunity to acquire one of the few true creative office buildings in the inner west.
"The asset is a timeless investment proposition with immediate and long-term upside," he said.
"It will provide an incoming purchaser with the perfect opportunity to leverage the growth of Sydney's inner west and the creative office market going forward, all the while benefitting from a bankable WALE of 3.66 years, a diversified tenant base and defensive income with significant rental reversion and value-add opportunities in the near and long-term future.
"A large outdoor forecourt forms part of the title and presents opportunities for future value add at the property, including an additional boutique commercial building, subject to approval.
"There may also be future strata subdivision and sell down of the building, providing an additional exit strategy for an incoming purchaser."
GJS Property's Jason Wright said the Mungo Scott Building presented as a brand new asset following refurbishments, with minimal forecast capital expenditure required over the next decade.
"When compared to other neighbouring suburban markets, Mungo Scott presents a superior office product at a substantially lower rental rate, which has been a key driver in its success in securing tenants," he said.
"Rental take-up over the past 12 months has been amongst the best in Sydney, with 65 per cent of the building leased since speculative fit outs were commenced in July 2022.
"Not only is this cool office space sought after, but the location in the fast-gentrifying Summer Hill is appealing, with plenty of amenity and connectivity."
The Lewisham West light rail station directly adjoins the property, with Summer Hill and Lewisham train stations a short walk away.
Widespread Government investment in Inner West Sydney continues to improve its connectivity and access, namely via WestConnex and Metro West, both of which immediately benefit the asset.
The Expressions of Interest campaign for the property will close at 4pm (AEDT) on Thursday, 2nd November 2023.