Mirvac's Development Pipeline Faces Challenging Supply Chain
28 April 2022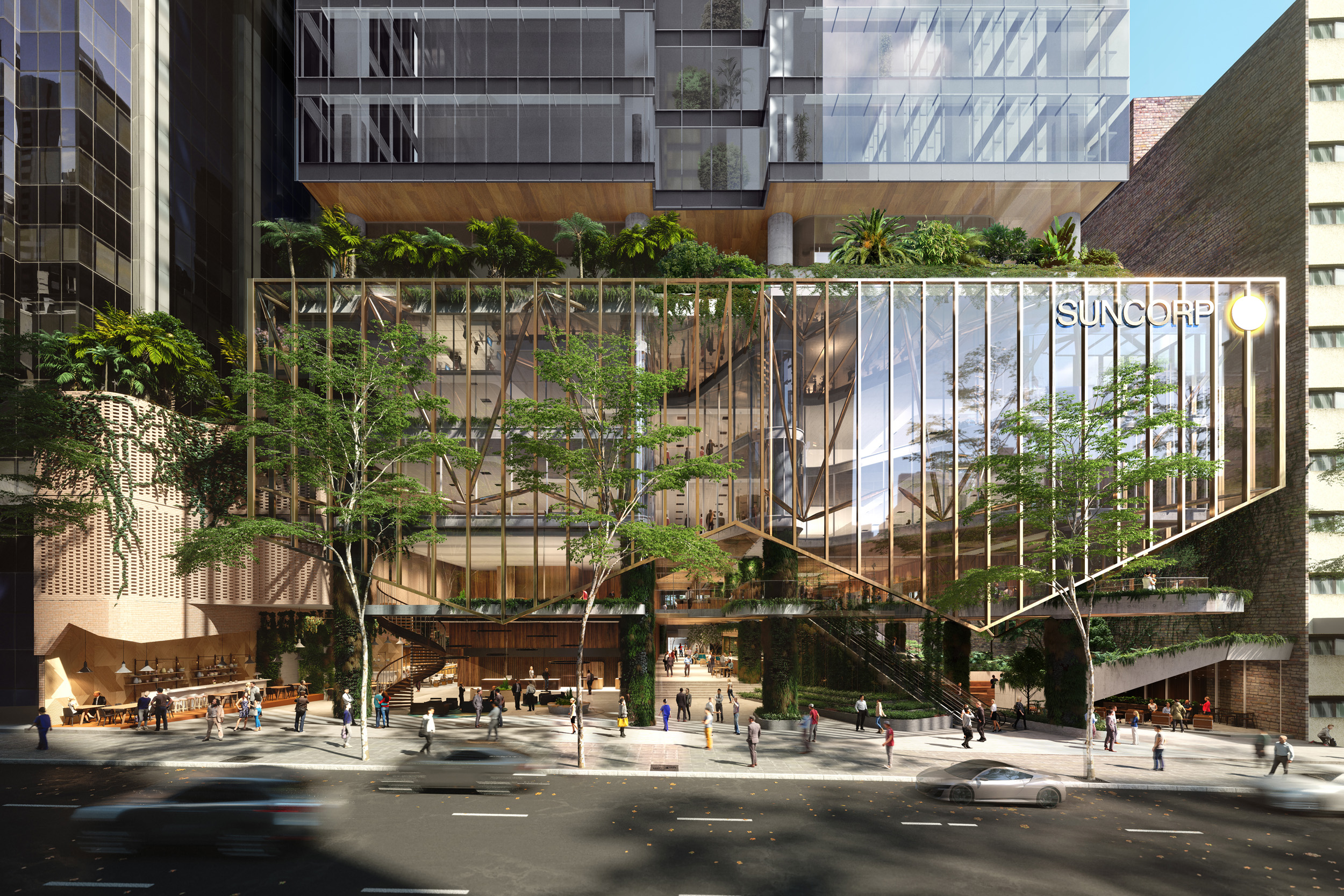 Mirvac's $29bn development pipeline – the engine room of the business is facing cost pressures from construction delays and supply chain disruptions which risk the Groups ability to deliver ongoing earnings growth.
Whilst Mirvac were keen to state that project costs were locked in for committed projects, there remains a substantial forward book of uncommitted work in pre-construction mode which is likely to be impacted.
Mirvac's Development activity contributed almost 40% of the groups EBIT in the first half up 67% on the previous corresponding period yet it remains to be seen whether the 2nd half of the financial year, or indeed subsequent years, can match the same success.
Despite these concerns Mirvac has reaffirmed operating EPS growth guidance of at least 7.1%, DPS growth of 3% and expect residential lot settlements of >2,500.
Mrivac shares rose marginally by 0.4% after the news at $2.39scpu, however the market has already priced in lower expectations with the REIT trading at -20% below the January peak of $3.10cpu and well below the pre-covid peak of $3.50cpu.
Mirvac's CEO & Managing Director, Susan Lloyd-Hurwitz, said "We have managed construction delays and supply chain risks, with trade costs associated with 100% of development projects for FY22 and 75% for FY23 are already locked in. Progress across our ~$29bn development pipeline included the commencement of construction at Switchyard Industrial Estate in Sydney, nearing practical completion at 80 Ann Street, Brisbane, and the successful launch of three new apartment projects.
"Our experience, scale, and internal integrated design and construction capability, combined with a forward-planning approach, continues to be a key competitive advantage in the execution of our pipeline, creating value and growth for our securityholders over the coming years."
Key Highlights
2,332 residential sales FYTD (3Q22: 518), with pre-sales increasing to ~$1.6bn;
settled 1,645 residential lots FYTD (3Q22: 342),
and expect to settle >2,500 lots in FY22;
completed 247 leasing deals across ~75,600sqm in the Integrated Investment Portfolio (IIP);
maintained high occupancy in IIP at 97.1% and LIV Indigo now leased to 98%;
cash collection improved to 94%, impacted by restrictions in Sydney and Melbourne and remained concentrated in Retail;
progressed ~$29bn development pipeline, with further leasing success achieved at
80 Ann Street in Brisbane (~97% pre-committed), commencement of ~$277m industrial development at Switchyard, Auburn (~40% pre-committed) and continued pre-construction momentum at Aspect Kemps Creek (~63% pre-committed);
integrated construction model invaluable in current climate, with 100% of anticipated trade costs associated with development completions locked in for FY22 and 75% secured for FY23;
ranked number one in the world in Equileap's Global Report on Gender Equality, leading a global field of 4,000 companies;
awarded number one in the 2022 AFR BOSS Best Places to Work List for the Property, Construction and Transport sector; and
released our third environmental plan, Planet Positive Water, which sets out how we intend to reduce and reuse water, as well as influence consumption behaviour, to achieve net positive water well ahead of our initial 2030 target.
Residential Update – Solid Sales Activity & Normalised Apartment Market
Head of Residential, Stuart Penklis, said, "We were pleased to see continued solid sales activity over the quarter, with our masterplanned communities projects in Victoria continuing to perform particularly well. Our apartment launch program remains on track with demand from owner-occupiers, with pre-sales lifting to ~$1.6bn, and expected to rise further as our launch program progresses. We have seen a normalisation of apartment sales volumes over the quarter, and we remain confident on the sales outlook for these apartment developments with tight residential vacancy, compelling relative affordability and upcoming supply shortage. We continued to actively manage the challenges associated with cost inflation, supply chain constraints, COVID related absenteeism and wet weather over the quarter and maintain our expectation to settle >2500 lots in FY22."
Key Results include;
settled 1,645 residential lots FYTD, including 342 lots in 3Q22 and expect to settle >2,500 lots in FY22;
achieved 2,332 lot sales FYTD (3Q21: 2,282) including 518 in 3Q22 (3Q21: 897), with a further 482 deposits ($219m);
residential pre-sales increased to ~$1.6bn (3Q21: $1.0bn), with owner-occupiers continuing to drive sales, representing 75% of total pre-sales;
default rates at 2.9% (0.2% excluding Voyager Yarra's Edge, VIC);
released 2,321 lots FYTD (3Q22: 728), with strong sales momentum in MPC resulting in 74% of released lots sold;
released the highest level of apartments since FY17, with the launch of The Langlee Waverley and Montage & Overture at NINE Willoughby (both in Sydney), and Charlton House, Ascot Green, Brisbane (see table);
received development approval for Isle, the next premium apartment building at Waterfront Newstead Brisbane; and
residential rental vacancy fell to <2.3% across east coast major cities (no vacancy across our managed assets) and is likely to remain low with FY23/24 east coast apartment supply expected to be 45% lower than 2018.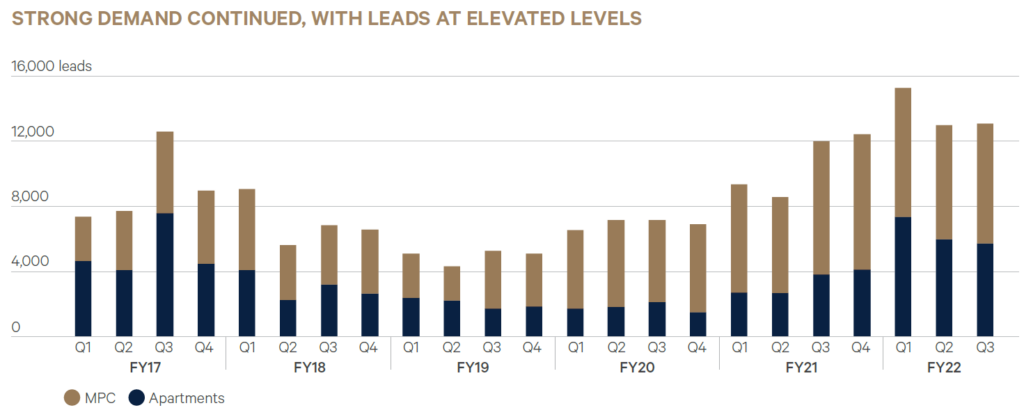 Investments Portfolios
Office Update – Leasing Activity Lifts
Head of IIP, Campbell Hanan, said, "We saw an uplift in leasing activity across the office market in March, and we expect this to continue as people once again return to the workplace, further supported by strong employment growth. There is evidence that tenants are retaining or growing their CBD office requirements, with a strong structural preference towards modern, well-located sustainable buildings. With 98% of our portfolio weighted to Prime assets, an average age of 11.8 years and a 5.3 Star average NABERS Energy rating10, our portfolio is well-placed to benefit from this trend."
Key results include;
occupancy of 95.3% and a WALE of 6.2 years, with lease expiry for 4Q22 of 1%;
cash collection rate of 98% (1H22: 97%);
executed leasing deals across ~31,400sqm FYTD; and
continued our asset disposal program with Quay West Car Park, Sydney settling in April, and Allendale Square, Perth being marketed for sale.
Industrial Update – No Vacancy Brings Rental Growth
"We maintained 100% occupancy in our industrial portfolio during the quarter. Tight vacancy in the Sydney market under 1% and continued robust demand for space is bolstering rental growth and underpinning our development led growth strategy," said Mr Hanan.
Key results include
strong fundamentals remained across the sector with vacancy at 0.8% in Sydney;
occupancy of 100% with a WALE of 6.9 years, with lease expiry for 4Q22 of 0% ;
cash collection rate of 100% (1H22: 99%); and
executed leasing deals across ~14,000sqm FYTD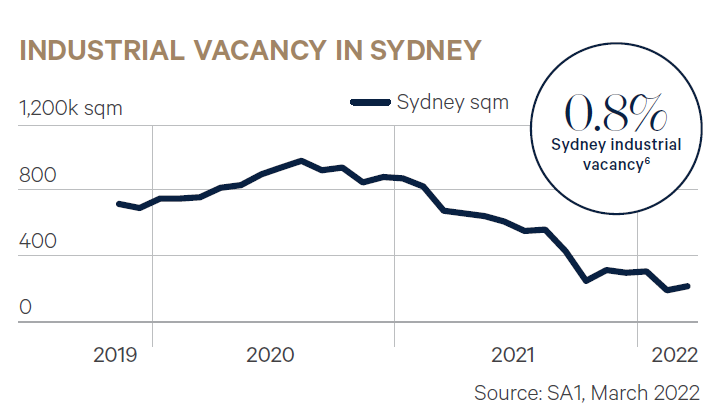 Retail Update – Good Recovery But Floods Impacted Toombul
Mr Hanan said, "We are seeing promising signs of a recovery across our retail portfolio, with eight of our twelve operating assets reporting growth on last year and five showing sales growth on pre-COVID levels. Cash collection has improved, and we expect this to gather pace in the fourth quarter. Our urban based retail assets are well placed to benefit from the re-opening of borders and normalised trading conditions"
Key results include
March monthly portfolio sales grew by 6.3% on March 2021, with convenience assets exhibiting sales rates above pre-COVID levels. Improvements are also evident across CBD centres but remain below pre-COVID levels;
cash collection improved over the quarter to 87%, however the extension of some elements of the code of conduct into June this year has muted the speed of this recovery;
executed 204 leasing deals across ~30,200sqm FYTD;
completed the disposal of Tramsheds Sydney settling in February, at a 53% premium to book value; and
Toombul in Brisbane experienced significant flooding in March and the centre is currently closed. There will be no impact to FY22 operating earnings.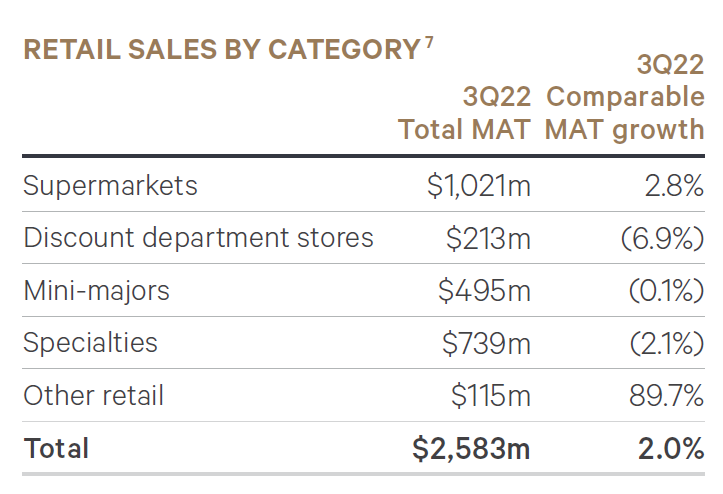 Build to Rent – Future Look Good
"Conditions across the BTR sector are buoyant with residential vacancy rates at 16 year lows and renters as one of the fastest growing cohort of the residential segment helping to accelerate rental growth. Benefiting from this thematic, our pilot project LIV Indigo in Sydney is now 98% leased. The outlook remains positive and we expect limited forecast apartment supply and the recent re-opening of international borders will help drive demand in the sector in the near term, which bodes well for our ~$1bn 9 build to rent assets under construction," said Mr Hanan
Key Results include;
strong market fundamentals with residential vacancy rates <2.3% across east coast major cities, supporting strong rent growth in Melbourne, Sydney and Brisbane;
leasing momentum continued over the quarter, with LIV Indigo, Sydney Olympic Park 98% leased; and
progressing the capital partnering process, with positive inbound interest to date with domestic and offshore parties.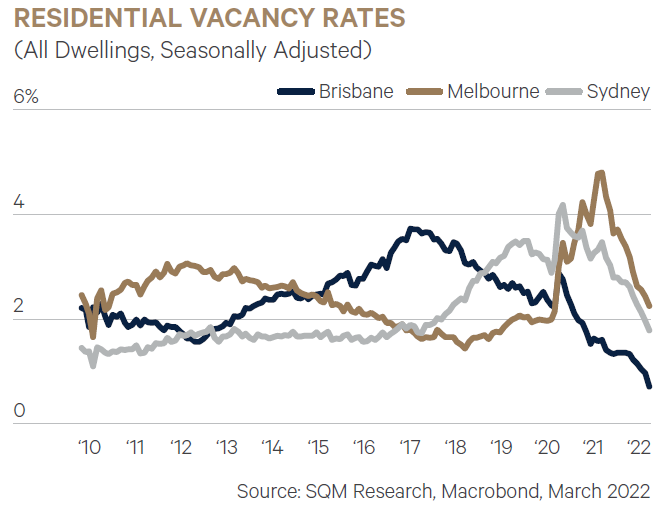 Development Pipeline – Engine Room for Future growth
Brett Draffen, Chief Investment Officer, said, "Our integrated design, development and construction platform is particularly valuable in today's climate. We celebrate the success of the recent completion of Locomotive Workshop, Sydney and impending completion of 80 Ann Street, Brisbane. I am particularly excited about the next round of development projects that will drive future NOI growth, development profits, asset revaluations and funds management fees. We commenced construction on Switchyard Industrial Estate in Auburn during the quarter, which is set to become a state-of-the-art last-mile industrial facility, along with Aspect in Kemps Creek, where strong pre-leasing success pave the way for the commencement of our first carbon neutral construction in 1H23.
Our ~$1bn 2 of BTR assets currently under construction are on track to complete into a favourable leasing market, while the trend towards modern, sustainable well-located assets should underpin demand for our upcoming office assets such as 55 Pitt Street, Sydney".
practical completion nearing at Heritage Lanes (80 Ann Street), Brisbane, with the building ~97% pre-committed (1H22: 93%);
progressed the redevelopment of Harbourside, Sydney, with the issuing of vacant possession notices commencing;
demolition continued at 55 Pitt Street, Sydney, with active leasing discussions underway. Development consent has been attained from the Central Sydney Planning Committee;
received DA approval on 200 Turbot Street, Brisbane for a ~55,000sqm, A-grade office building, with demolition underway. Mirvac has the option to purchase the site, with commencement subject to appropriate pre-commitment;
lodged a planning permit to transform 90 Collins Street, Melbourne, with plans to refurbish the existing 21-storey building and increase the floor space by 15 levels, adding an additional ~15,000sqm of premium commercial space above the existing building. The end value of the completed development is expected to be ~$650 million;
commenced construction at Switchyard Auburn, Sydney, with positive leasing momentum increasing pre-commitments to ~40% of the estate (1H22: 38%). The development is targeting a 5 Star Green Star rating, with completion expected in FY23;
progressed initial development application and leasing enquiry at Aspect Kemps Creek, Sydney, with the estate ~63% pre-committed (1H22: 63%). Aspect is targeted to be Mirvac's first net positive embodied carbon development, with target 5 Star and 6 Star Green Star ratings on the first two buildings. Construction is expected to commence in 1H23;
welcomed Lineage Logistics as a key partner at Aspect Kemps Creek, Sydney, selling 7ha (of the 56ha estate) to develop a ~36,000sqm automated cold storage facility;
progressed initial DA at Elizabeth Enterprise Badgerys Creek, Sydney, with the Western Sydney Aerotropolis Precinct Plan finalised in March 2022; and
across the ~$1bn of BTR developments currently under construction, LIV Munro, Melbourne (490 apartments) continued to progress, with construction completion on track for the end of CY2022. Pre-leasing is expected to commence in August. LIV Anura, Brisbane (396 apartments) and LIV Aston, Melbourne (474 apartments) are also underway. Planning approval was received from VCAT for LIV Albert Fields, Melbourne with the number of apartments increased to 498. Upon completion, Mirvac will have 2,173 apartments across its BTR platform.