Kervale celebrates the completion of luxurious project ESSENCE, defying construction industry challenges
26 October 2023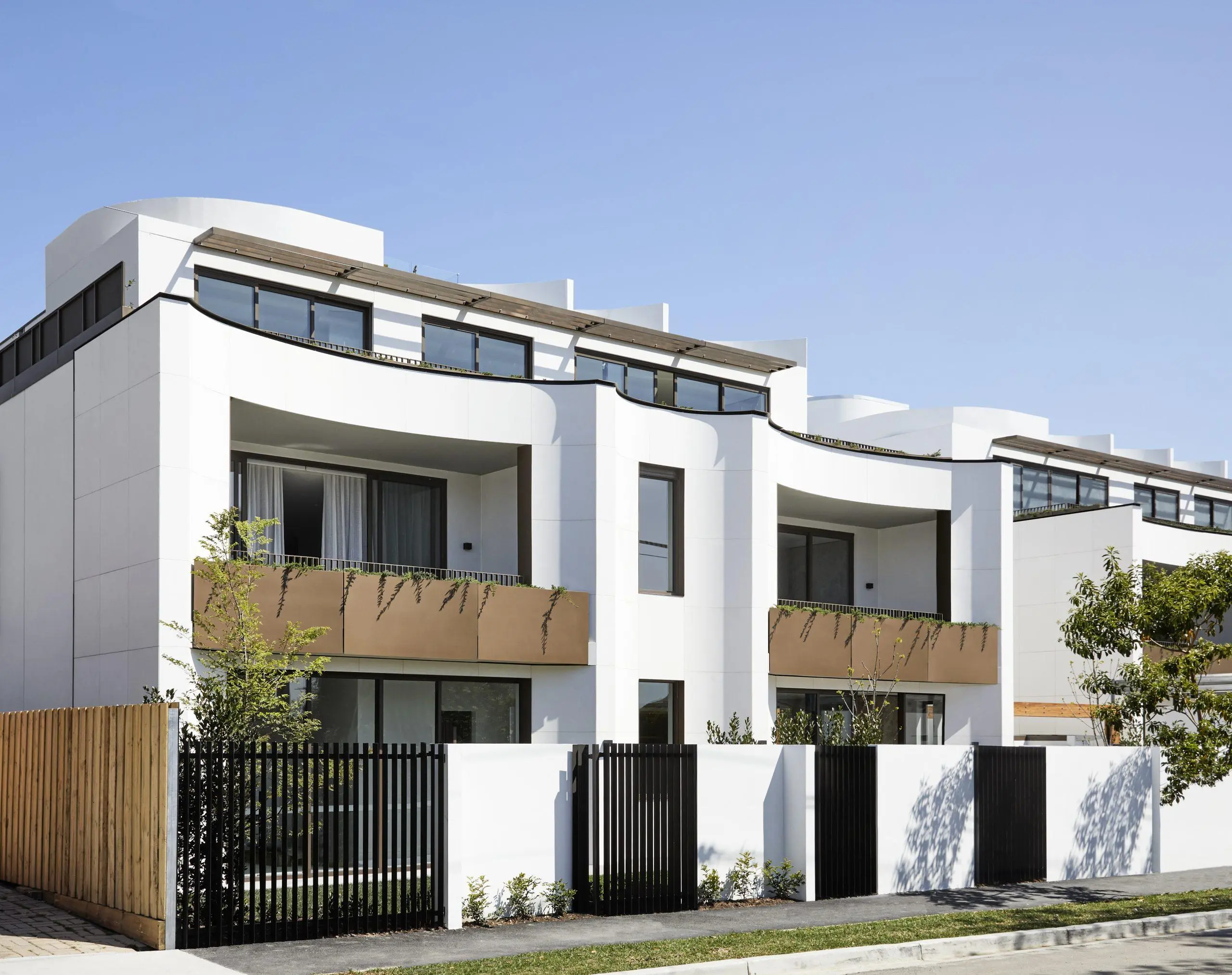 Kervale is pleased to announce the successful completion of their much-anticipated project, ESSENCE Brighton, a testament to innovative design and luxury living. Situated in the heart of Black Street Brighton, this newly completed development promises to redefine urban living with its exceptional features, wonderful resident amenities and stunning aesthetics.
ESSENCE comprises two buildings with 11 residences in each. The state-of-the-art residences are designed with discerning owners in mind. The building intertwines elegant contemporary design with refined liveability. Spacious comfort, considered amenities and forward-thinking design are prioritised above all else.
Designed by the renowned Bruce Henderson Architecture & Interiors, and brought to life by Markscon Construction, the expansive resident amenities and facilities include a wine cellar, a serene lounge area, a private dining room, a state-of-the-art gym, and a yoga haven, as well as thoughtfully integrated dog and car care facilities, inclusive of EV charging stations and more.
Internally, interiors are designed to celebrate and embrace open space and are inspired by the remarkable external facade. Each room encapsulates sophistication via a clean, neutral palette within, while adding modern, exciting touches with natural stone, quality joinery, tapware, lighting and appliances such as VZUG and Liebeherr.
Bruce Henderson Architects Managing Director & Corporate Director, Graham Morrison, said the amenities on offer are reminiscent of a 6-star hotel.
"The idea behind the design was to be able to provide people with large homes a downsizing option, but still have the facilities they're used to. The types of amenities on offer are luxuries often reserved for larger homes, meaning purchasers can downsize without compromising their lifestyle, rather they can elevate it.
"The project is not just a vision anymore, it has beautifully transitioned from render to reality, with each meticulously planned and executed design element infused into the final product – a true testament to all the collaborators involved in bringing ESSENCE to life," said Graham.
While the property industry is facing construction delays due to material shortages and supply chain issues, the successful completion of ESSENCE demonstrates Kervale's commitment to delivering on its promises in the face of adversity, and confidence in the real estate market's long-term potential. Rob Moolman, Director of Kervale said it was the team's hands-on approach from the beginning and collaborative synergy that drove ESSENCE to emerge as a pinnacle of luxury design in the Brighton community, embodying Kervale's philosophy of delivering remarkable spaces for discerning clients.
"Completing ESSENCE is a proud milestone for us. A true reflection of the harmonious collaboration with Kervale, Bruce Henderson Architects & Interiors, and Markscon Construction. Together, we've created a remarkable space that will stand the test of time," said Rob.
The last four apartments have just hit the market, through Kervale's newest 'Lux Living Collection', consisting of the ultimate in refined luxury standards. These exclusive residences embody exceptional luxury and exclusivity.
Kervale is on its way to delivering another exceptional Brighton project, with construction on track at their newest Brighton residence, Mode de Vie. Promising to be a highly sought-after development, offering a stunning fusion of Parisian sophistication and contemporary Australian design.
The Luxe Living Collection within ESSENCE are priced from $2.4 million and are all three-bedroom, north-facing apartments.
For more information, please visit www.essencebrighton.com.au.