Industrial Market Remains Strong for Centuria REIT
26 October 2022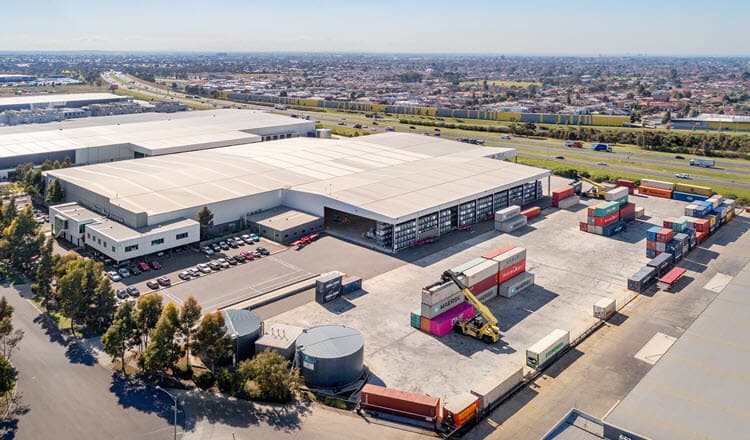 Centuria Industrial REIT provided its Q1 FY23 update and reaffirmed its FY23 distribution guidance at 16.0 cpu, reflecting an annualised distribution yield of 5.9%.
Jesse Curtis, CIP Fund Manager and Centuria Head of Industrial, said "Strong industry tailwinds for Australia's industrial real estate market continue with strong tenant customer demand. Record low national industrial vacancy, coupled with limited supply of industrial space, continues to create a divergence between supply and demand resulting in accelerated industrial market rental growth across the country.
"These metrics support CIP's strong portfolio occupancy and, with significant tenant demand, we look to leverage opportunities to further add value for our investors. To this end, CIP achieved re-leasing spreads of 18% over the near 50,000sqm of leasing achieved during the quarter.
"We are also capturing strong tenant demand through our new development pipeline within supply-constrained urban infill markets. Our Southside Industrial Estate will reach Practical Completion and open in November with 100% occupancy. Furthermore, site preparation works have commenced at our developments in Campbellfield VIC and Canning Vale WA with construction to commence in the coming months."
During Q1 FY23, 49,209sqm of lease terms were agreed. Positive re-leasing spreads averaging 18% were achieved across 10 deals, demonstrating the rapid growth in industrial market rents, as a result of high tenant demand, coupled with current low vacancy and limited forecast supply of new industrial space.
Key deals included:
82 Rodeo Road, Gregory Hills NSW: terms agreed over 22,481sqm on a new 8.5-year term
Strong leasing outcomes were also achieved across a number of value-add and development projects, including:
Southside Industrial Estate, Dandenong South VIC: A new three-year lease to global packaging company, Orora Group, was secured across 13,610sqm bringing the 40,380sqm property to 100% leased prior to practical completion.
CIP progressed its development pipeline during the period with Southside Industrial Estate, located at 95-105 South Gippsland Highway, Dandenong South, VIC due to reach Practical Completion in November 2022.
Site preparation works are underway on two further developments and CIP will break ground during Q2/Q3 FY23 at:
204-208 Bannister Road, Canning Vale WA. Construction of the 12,300sqm industrial facility worth $31.1million will commence in early November 2022.
90-118 Bolinda Road, Campbellfield VIC. Demolition of the existing property and further site preparation works are expected to be completed during Q2 FY23. The new industrial estate, named M80 Connect, is anticipated to start construction in Q3 FY23. When complete, it will comprise five modern industrial units totalling c.45,000sqm.
CIP acquired 119 Studley Court, a strategic $12.35million industrial facility within the urban infill market of Derrimut, VIC. The acquisition adjoins three other CIP holdings along Studley Court and expands on CIP's land consolidation strategy, increasing the Derrimut sub-portfolio to 11 assets over 26ha worth $258million. The 5,419sqm acquisition is considered under-rented and, with a 0.9year WALE, it provides the opportunity to access positive rental reversion in the short term.
CIP is committed to Centuria's sustainability framework, which details Environmental, Social and Governance (ESG) initiatives. All CIP development projects strive to meet a five-star Green Star rating. CIP recently participated in the National Australian Built Environment Rating System (NABERS) pilot programme, which evaluated warehouse and cold storage rating criteria for the industrial real estate asset class. The REIT's 82 Rodeo Drive, Gregory Hills NSW property has received an initial 4.5-star NABERS energy rating following completion of the pilot programme.
As previously reported, CIP has worked in partnership with Woolworths Group on a new 1.5-megawatt solar project at 2 Woolworths Way, Warnervale NSW. In October 2022, the c.3,300 solar panel system was completed and is expected to offset 2,088 megawatt hours of electricity in the first year, avoiding more than 1,500 tonnes of carbon emissions.
Centuria's recently published 2022 Sustainability Report details initiatives undertaken by the Group, including those by CIP.
Jesse Curtis concluded, "CIP remains Australia's largest listed pure-play industrial REIT and moves into Q2 FY23 in a strong position. While inflation and interest rates continue to rise, our cash rate assumptions originally adopted in setting FY23 FFO guidance remains consistent with central bank rate movements. The industrial leasing market continues to be supported by strong fundamentals with CIP's urban infill portfolio expected to benefit from the rapid rise in market rents."
CIP reaffirms its FY23 FFO guidance of 17.0 cents per unit (cpu). Distribution guidance is also reaffirmed at 16.0 cpu, reflecting an annualised distribution yield of 5.9%5 to be paid in equal quarterly instalments.