GPT focused on Delivering Existing Assets
11 May 2022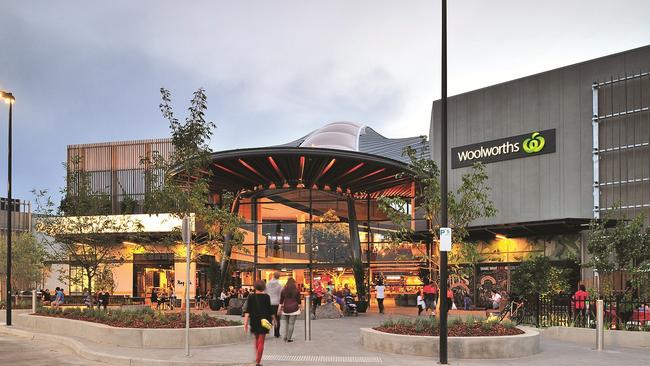 The GPT Group have put off acquisitions during the last quarter, instead focusing their efforts on recovering their retail and office assets whilst pursing opportunities to improving their existing Logistics assets.
Speaking to the March quarter results, GPT's Chief Executive Officer, Bob Johnston, said: "GPT continues to be well placed to deliver on earnings and distribution growth in 2022. Despite the impacts of Omicron during January and February, retail sales are recovering with March sales across our portfolio generally well above 2019 levels with the main exception being Melbourne Central. We anticipate Melbourne Central will continue to recover during the course of the year as the CBD is reactivated.
"Office leasing enquiry was relatively subdued during the quarter but is expected to improve as businesses seek out high quality space to help encourage staff back to the workplace. While the leasing market remains competitive, we anticipate that leasing activity will continue to improve during the course of the year as conditions normalise. GPT's office portfolio occupancy remained relatively stable during the quarter.
"Our Logistics portfolio continues to deliver strong results for the Group and we are making solid progress with our development projects despite some delays due to extreme weather conditions during the quarter. Tenant demand remains strong and the Group is well placed to deliver further growth in the Logistics sector.
"Funds Management remains a key focus for the Group and in late-April UniSuper Ltd engaged with GPT on a proposal to transition the management of its portfolio of real estate investments from AMP Capital to GPT. The portfolio of four retail and two office assets has a value of approximately $2.8 billion and includes the 110,000sqm Karrinyup Shopping Centre, Perth, along with a 25% interest in the 75,000sqm Brookfield Place, Sydney. The transition of management is expected to complete during the September quarter."
Retail
Retail portfolio occupancy was 99.2% at 31 March 2022 (December 2021: 99.1%), with solid leasing enquiry translating to 231 lease deals during the quarter. Specialty leasing spreads of -5.0% have continued to improve (December 2021: -8.5%), with average annual increases of 4.2% and an average lease term of 4.4 years.
Total Centre sales for the March 2022 quarter were up 4.6%, with February up 10.2% and March up 8.7%, compared to the same period last year. Total Specialty sales for the quarter were up 3.9% on the March 2021 quarter. Specialty sales productivity for the portfolio was $9,181 per square metre at 31 March 2022, representing an 8.4% increase on the prior year.
Portfolio retail sales for the month of March, excluding Melbourne Central, were up 11.9% on 2019. Melbourne Central experienced a strong improvement over the quarter, with customer visitation up 17% and sales up 22% on the prior corresponding period.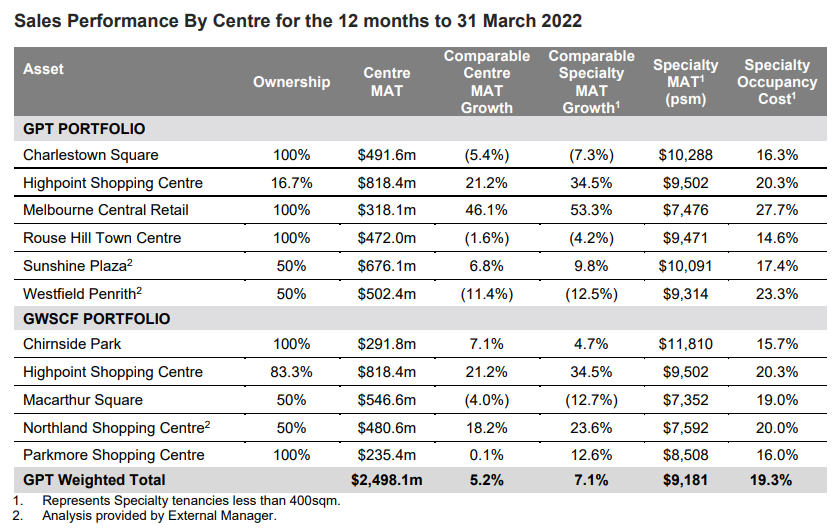 Highpoint Shopping Centre, with recent retailer remixing and new flagship stores, delivered strong Total Specialty sales growth in the quarter of 7.6% on the prior corresponding period. In March, Rebel Sport opened its new 2,500sqm Rebel rCX store at the centre, the largest Rebel store in Victoria.
Cash collections progressively improved over the March 2022 quarter, as markets reopened following the peak of the Omicron outbreak in January, with 81%, 87% and 97% of gross billings collected in January, February and March respectively. In April 2022, cash collections increased to 110% of gross billings.
The sale of Casuarina Square (jointly owned by GPT and GPT Wholesale Shopping Centre Fund) settled on 31 March 2022, with net sale proceeds of $397 million to be redeployed into new opportunities to generate long-term value for investors.
GPT Wholesale Shopping Centre Fund revalued four assets during the quarter, resulting in a portfolio valuation uplift of $33.4 million or 1.0% for the Fund. The Fund's Weighted Average Capitalisation Rate (WACR) firmed by seven basis points to 4.95% over the period as a result of the divestment of Casuarina Square.
Office
Office portfolio occupancy at 31 March 2022 was 92.0% (December 2021: 92.9%), with a weighted average lease expiry (WALE) of 4.9 years. During the quarter, 7,800sqm of signed leases were achieved, with an additional 12,100sqm of terms agreed.
| | | | |
| --- | --- | --- | --- |
| Total Leasing Volume March 2022 Qtr (Signed Leases & Heads of Agreement) | Total Area (sqm) | Ownership Area (sqm)1 | Weighted Average Lease Term (years)1 |
| 550 Bourke Street, Melbourne | 4,100 | 4,100 | 4.2 |
| 60 Station Street, Parramatta | 4,000 | 4,000 | 3.3 |
| 2 Park Street, Sydney | 2,500 | 1,200 | 5.0 |
| Melbourne Central Tower | 2,100 | 2,100 | 4.0 |
| All other leasing | 10,800 | 8,500 | 4.3 |
| Total | 23,500 | 19,900 | 4.1 |
Office leasing markets remain challenging with negative net absorption recorded in the March quarter, however total market vacancy rates improved across Sydney, Melbourne and Brisbane CBDs as a result of reduced sub-lease vacancy and withdrawals.
While office leasing enquiry was relatively muted during the first quarter, it is expected that activity levels will increase as people once again return to the workplace. Strong employment growth and ongoing economic activity will support further demand for high quality office space with excellent amenity. GPT has undertaken significant investment in lobby upgrades, technology and amenities to ensure its portfolio is well positioned for the future. There is an increasing preference from tenants to be accommodated in buildings with leading sustainability credentials and GPT remains on track to have all operational office assets certified as operating carbon neutral by 2024.
The GPT Wholesale Office Fund (GWOF) revalued nine assets during the March 2022 quarter (45% of the portfolio), resulting in a portfolio valuation uplift of $24 million for the Fund. GWOF's WACR held steady at 4.71% over the period.
Logistics
The Logistics portfolio maintains a long WALE of 6.3 years, with occupancy at 31 March 2022 of 97.5% (December 2021: 98.8%). Signed leases of 75,000sqm were achieved in the quarter and an additional 18,600sqm of terms agreed.
| | | | | |
| --- | --- | --- | --- | --- |
| Key Leasing Transactions March 2022 Qtr (Signed Leases & Heads of Agreement) | Tenant | Status | Total Area (sqm) | Lease Term (years) |
| Keylink Estate (Stg 1), Keysborough, VIC | Early Settler | Signed | 37,900 | 10 |
| Wembley Business Park (Stg 3), Berrinba, QLD | JB Hi-Fi | Signed | 15,100 | 7 |
| 396 Mount Derrimut Road, Derrimut, VIC | Mesh & Bar | Signed | 10,700 | 2 |
| 143 Foundation Road, Truganina, VIC | Calibre Furniture | Signed | 10,600 | 7 |
| Metroplex Place, Wacol, QLD | Bulk Group | HoA | 8,300 | 7 |
The Group continues to advance its Logistics development pipeline, with four developments totalling 76,600sqm of gross lettable area underway in Melbourne and Brisbane. Leasing is progressing well, with 62% of the space leased or under heads of agreement to date. The GPT QuadReal Logistics Trust (GQLT) is due to complete its first development at Wacol in Brisbane later this month, after a one quarter delay following recent weather events. A lease across 8,300sqm of the 17,000sqm development will commence on practical completion, with active enquiry on the remaining space.
In addition, three fund-through developments held within GQLT are on track to complete in 2022. These facilities are fully leased with an estimated value of approximately $280 million on completion. The first facility, located in Bundamba, Brisbane reached practical completion in early May 2022 and is leased to Saab for a 6-year term.
Tenant demand was dominated by transport and warehousing users together with retail and wholesale trade, accounting for approximately 75% of market demand in the March quarter. This has resulted in strong market rent growth in eastern seaboard markets, averaging 2.9% in the quarter.
Investor demand continues to underpin investment values, with $2 billion transacted nationally in the first three months of 20222.
Capital Management
GPT continues to maintain a strong balance sheet position with $1 billion of liquidity. In April 2022, the Group further diversified its funding sources and extended debt maturity, issuing A$128 million of 10-year Hong Kong Dollar Medium Term Notes at BBSW +1.44%.
The Group remains 60% hedged on average over the next 12 months.
Guidance
While uncertainty remains in our trading environment, including rising interest rates, GPT continues to expect to deliver 2022 Funds From Operations in the range of 31.7 to 32.4 cents per security and a distribution of 25.0 cents per security in-line with guidance provided to the market on 14 February 2022.