Billbergia lodges DA for Rhodes most sustainable Residential Tower
12 October 2023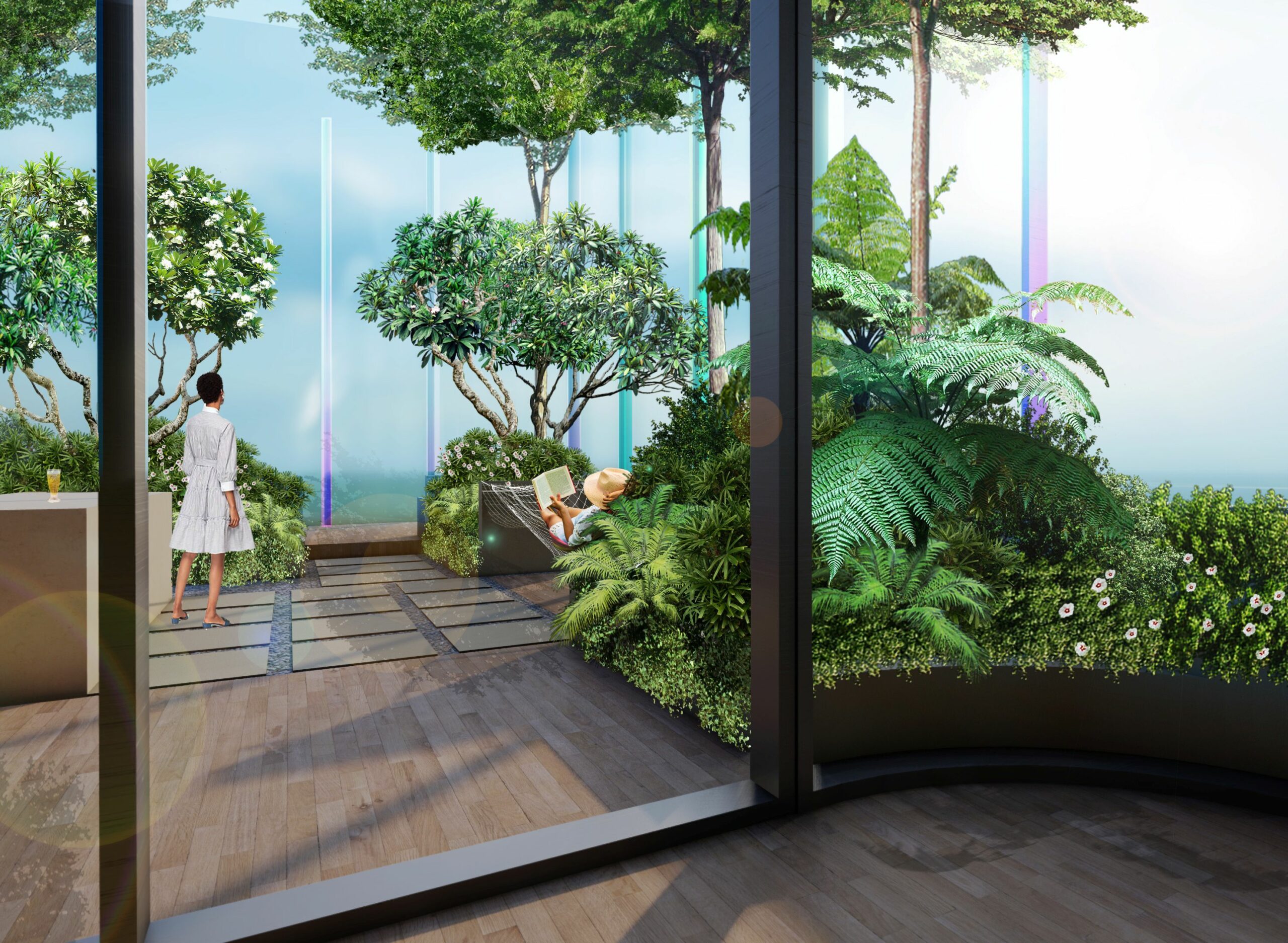 Leading developer Billbergia has lodged a Development Application with City of Canada Bay for a sleek new 37-level mixed-use residential tower at 9-13 Blaxland Road, Rhodes in Sydney's inner-west.
The proposed new tower features a striking slender form designed by architects GroupGSA in collaboration with innovative Singaporean landscape studio Salad Dressing – whose exterior design concept earned them first place in a design excellence competition for the site.
Aligned with the principles of the Rhodes Place Strategy, the proposed new tower sits within the Rhodes Station Gateway East precinct that was rezoned by NSW State Government in 2021 following extensive community consultation. The tower has also been designed to meet the Development Control Plan guidelines of Canada Bay Council.
With a small tower footprint of just 680 square metres, the site currently houses Rhodes Business Centre, a four-level commercial office building.
The proposed tower will provide a new, 'green' ground plane connection between Blaxland Road, Rhodes Station, Churchill Tucker Reserve, McIlwaine Park and Brays Bay.
Set to deliver 244 apartments in a range of configurations, the proposed new tower sits above a mixed-use podium with nine levels of basement car parking below. The podium will be activated by a café, while an extension of the hardscape at the park junction will facilitate outdoor seating.
"Our plan for the Blaxland Road project is aligned with our philosophy of delivering high-quality transport-oriented housing supported by infrastructure and community amenity," Mr. Saul Moran, Development Director of Planning and Design at Billbergia, said.
"Billbergia has been part of the Rhodes community for more than 15 years delivering major developments such as the national award-winning Rhodes Central project and Village Quays on the western side of Rhodes station."
Through a planning agreement with City of Canada Bay Council, Billbergia is currently delivering a new $70M Community Recreation Centre and Child Care Centre, set to open in 2025.
Billbergia has also delivered Rhodes Central Shopping Centre, the 1.2-hectare Phoenix Park and the 330 metre Bennelong Bridge from Rhodes to Wentworth Point.
Mr. Moran noted that Billbergia's involvement in the Blaxland Road development commenced after the Government had rezoned the Rhodes East precinct.
Many apartments within the new tower will have a dual aspect with natural cross-ventilation, while vertical biophilic gardens will soften the building's façade.
Resident amenity also includes 424 square metres of premium communal spaces within the residential tower, including a dining and alfresco area on Level 20, with a rooftop tree canopy and infinity pool crowning the tower.
In addition to the lush rooftop garden, Billbergia's design features a two-storey high suspended Ficus tree at its entrance, a nod to nearby remnant giant Ficus trees that date back to the early 1900s.
Importantly, significant open space will also be delivered as part of the proposal, with 428 square metres of open space and a further 1,537 square metre landscaped area enhancing public amenity and facilitating greater connectivity to the nearby Rhodes Train Station.
Boasting a ground-breaking 7.4 Star NaTHERS sustainability rating, the proposed tower will set a new benchmark for sustainable living, delivering the most highly sustainable new apartments in Rhodes.
The proposed tower is testimony to Billbergia's commitment to sustainability, with thermal comfort, water, energy, waste, materials, transportation, management, and landscaping all designed to surpass leading sustainability benchmarks.
The tower has been designed to ensure a high level of performance is achieved for its passive efficiency characteristics. ESD features include low-water gardens, high-tech swimming pools, Photo Voltaic solar power, efficient lighting and air-conditioning, and smart building sensors (and BMS). Strong emphasis has also been placed on waste minimisation, recycling, green-transportation, landscaping, climate-adaptability, and eco-materials.
With an innovative biophilic design – described by Group GSA as a "vertical forest" – the proposed tower is earmarked to redefine the Rhodes enclave with elevated architectural design. The green façade provides acoustic and urban heat mitigation, in addition to its striking aesthetic appeal.
GroupGSA Design Lead Lisa-Maree Carrigan said the contemporary design was conceptualised in partnership with Salad Dressing, as an architectural expression to "rewild the sky".
"The integration of the landscape into the architecture takes inspiration from the site's rich natural history and surrounding mangrove and wetland ecosystems to create a 'biodiversity highway' through generous vertical greenery and sky gardens which rise above the tower," Carrigan said.
The DA will be on public exhibition with Canada Bay Council.