Balaclava gets a slam dunk with 94 Feet's new state-of-the-art commercial offering
5 October 2023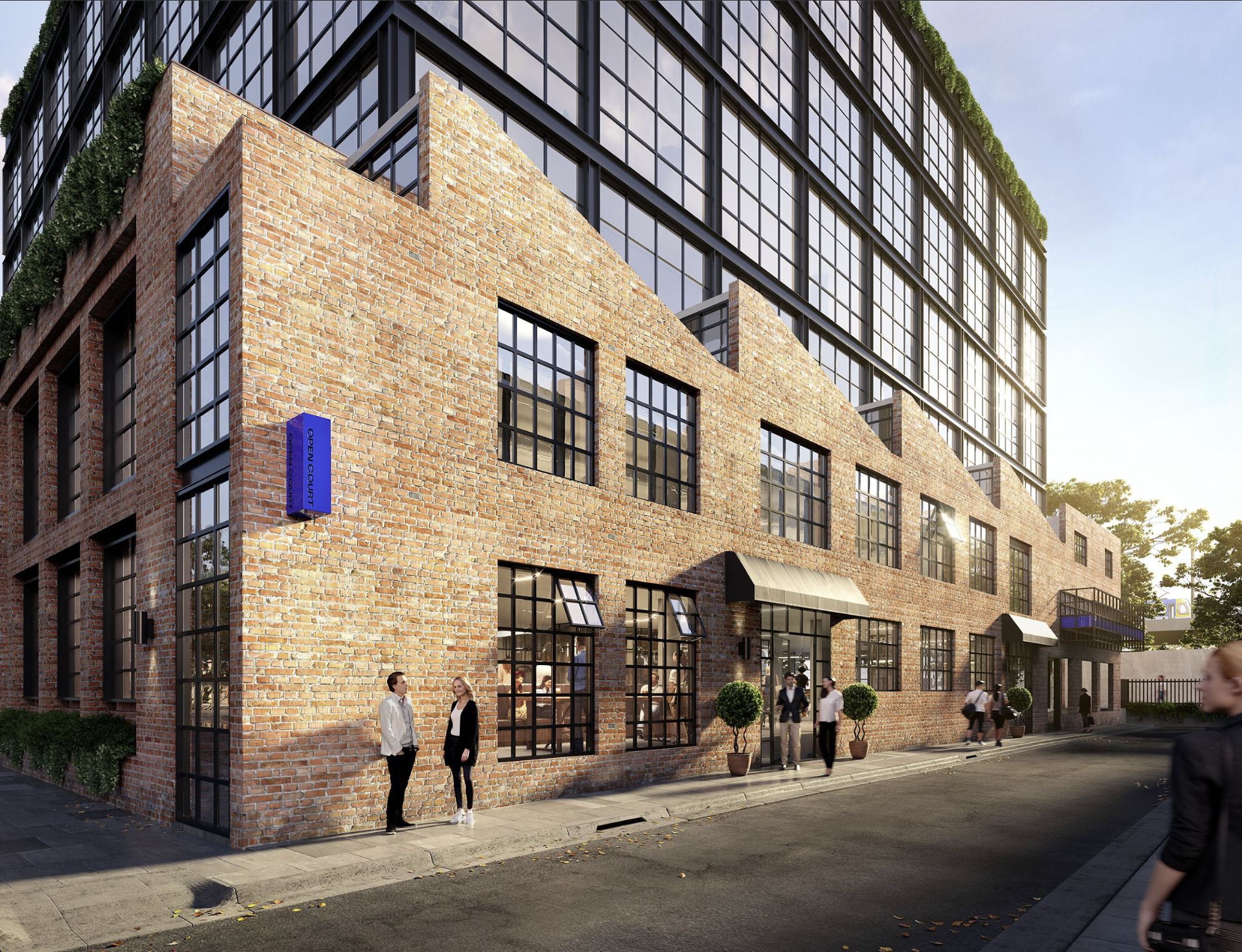 Pioneering property developer 94 Feet has revealed the first look at its state-of-the-art commercial building in Balaclava, a vertically integrated community that puts sustainability and wellbeing front and centre.
Known as Open Court, the six level building plus rooftop is the first new office project of its kind in Balaclava, offering future tenants a wealth of amenities including a rooftop basketball court, produce garden, EV charging bays and five-star end-of-trip facilities.
Designed by WMK Architecture with interiors by Technē, Open Court's architecture featuring exposed steel structures, warm timbers and plenty of light greatly captures Balaclava's industrial history, whilst drawing inspiration from the energetic multiculturalism of Brooklyn, New York. A captivating blend of old-world charm and modern sophistication that permeates every facet of the building, the design element creates an environment that not only pays homage to the past, but also embraces the dynamic spirit of the present.
Located at 21 – 23 William St, Open Court sits 7km from the CBD and has direct access to Balaclava train station, offering businesses direct access to an all-encompassing commercial office space without having to travel far to the CBD. The location seamlessly adjoins the thriving central strip of Carlisle Street that is home to a range of esteemed cafes, restaurants, bars, including all the essentials from banks, fitness studios to supermarkets.
Dean Rzechta, Managing Director of 94 Feet, said the project is paving the way forward for a new wave of commercial buildings that seamlessly blend work, wellbeing and sustainability.
"A key driver for the team when designing Open Court was to create a valuable space that undoubtedly serves the community and makes a genuine contribution to the area. There are no commercial buildings of this calibre within Balaclava and surrounds, making it the perfect location for professionals who live in the Bayside and want to be closer to home," he said.
Open Court's innovative design fosters collaboration through flexible co-working areas, an auditorium, an activated communal rooftop decorated with a basketball and pickleball court, perfectly aligning with the prevailing trend of cultivating workplaces that inspire social connections. 94 Feet's vision for the building extends beyond the wellbeing of the internal vertical community with the auditorium and communal rooftop opened up to the rest of the community, allowing local residents to enjoy the amenities and reserve it for special events.
The project is listed with Vincent Tran and Ben McKendry of Cushman Wakefield, in conjunction with Matt Cosgrave and Lachlan Fitzpatrick of Colliers. The agents said the demand for workplaces offering employees benefits with convenient public transport access and high-quality amenities in Melbourne metro locations, further elevates and influences the commercial office market outside of the CBD.
"Today's decision-makers recognise that collaborative work environments drive heightened innovation and boost productivity. We are also starting to see more tenants gravitating to newly-established, non-traditional office developments that benefit from surrounding services and amenities."
Future tenants will be given the opportunity to care for a garden plot, with additional community benefits including a partnership with Helping Hoops – a charity that helps disadvantaged children access basketball training opportunities – by providing access after hours to the rooftop half-court.
The local community will also benefit from large-scale artwork by Melbourne-based artist, Kevin Gold, prominently displayed at the rear of the building's exterior — making a significant contribution to the urban neighbourhood with the sports-themed illustration.
The project puts an emphasis on sustainability, achieving a 5 star GreenStar benchmark rating along with power savings for tenants with over 65 rooftop solar panels and six EV charging bays in the basement. Open Court offers flexible floorplans ranging from 130sqm to 2500sqm.
To learn more, visit 94feet.com.au and opencourt.melbourne