Australia's first commercial property window cleaning service using drones
21 November 2023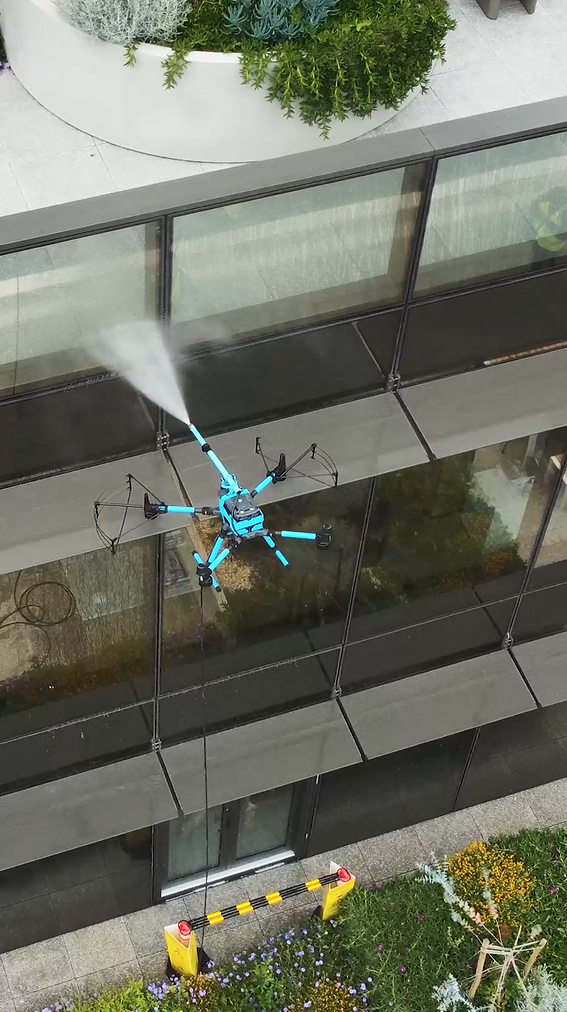 Melbourne-based developer Vicland is the first developer in the country to utilise drones to perform window cleaning at their premium office building, St Germain, at 505 Toorak Road, Toorak. Coordinated by Colliers' Real Estate Management Services team, the service was performed by Famaso Facilities Services backed by Norwegian company KTV Working Drones, Australia's first company to perform window and facade cleaning.

Colliers Senior Property Manager Elyse Latella said, "We are constantly challenging the market, finding more advanced technology to better service the buildings we represent."

"More landlords and tenants have started to demand more sustainable and environmentally friendly property solutions, and Colliers is excited to have been the first agency in Australia to have introduced this groundbreaking technology."

"Traditional façade washing is a slower process resulting in more water wastage. Drones have the ability to wash the façade and glass at the same time, which allows for better building maintenance over time compared to the traditional method," explained Famaso's Managing Director, Mikhil Kotak.

"Powered by rechargeable battery packs, these drones are as environmentally friendly as they come, using minimal water and no harsh cleaning agents. They also eliminate the need for risky maneuvers, ensuring worker wellbeing."

Vicland's $300 million, fully leased office development, St Germain, located in Melbourne's affluent suburb Toorak, was highly anticipated from inception and reached full occupancy prior to practical completion with notable names, including Kay & Burton, Deague Group, Kennedy and Cecconis having relocated and expanded to the premium asset.

Designed by awarded architects Hassell, the 13,500sqm of high-end office and retail spaces, which spans eight levels, has a strong emphasis on current market demands, focusing on workplace wellbeing with high-end tenant amenities and ESG features, more suited to how offices are being utilised by tenant's post-pandemic.

"Vicland's Jake Steinhart said, "We're always looking to challenge the status quo and try new things with our buildings in the hope of improving user experience for our tenants. When the opportunity presented itself to try something different, we jumped at it and are really pleased to be involved in something like this.

"In the current market tenants want the newest and most technologically advanced things. They now have a vested interest in all elements of the building from ESG to window cleaning and they're proud to be tenants in a building like this," added Mr. Steinhart.

Vicland's confidence in the Melbourne metro office market remains, with construction currently underway of their latest office venture at 31 Cremorne Street, in the city-fringe office hotspot of Cremorne, which Colliers has been appointed to manage the leasing of the future premium office offering.