Aria Property celebrates the completion of Kangaroo Point project, Riviére
25 September 2023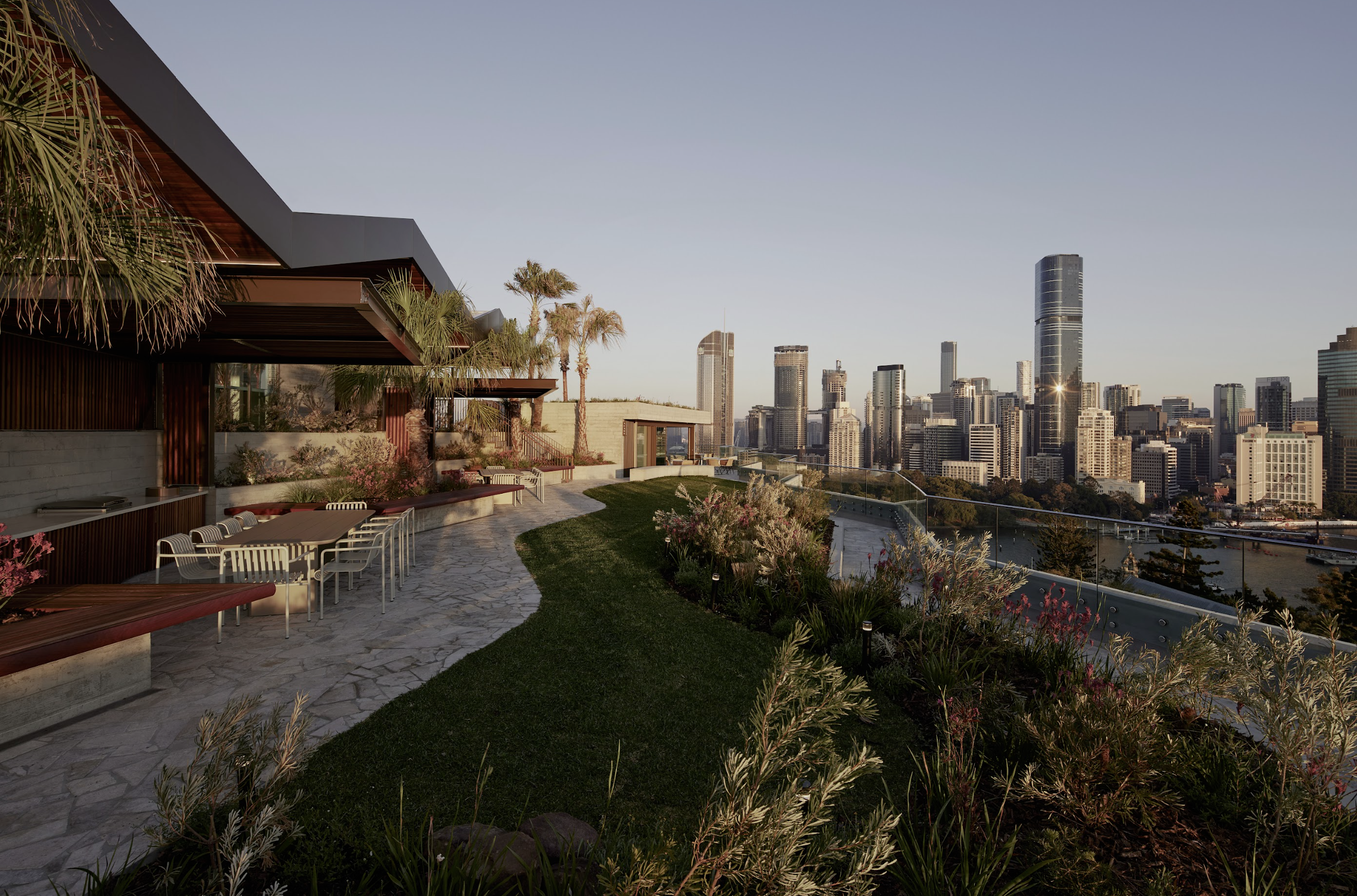 Construction is complete on Aria Property's Riviére project. Located in the picturesque inner-city suburb of Kangaroo Point, the project embodies its unique location in Brisbane, personifying geometric patterns of the Kangaroo Point Cliffs.
Designed by Bates Smart and reaching 12 storeys high, Riviére is home to 122 apartments and features a mix of two, three, and four-bedroom residences, with state-of-the-art residential amenities. In just 4 weeks from settlement, the property has achieved full occupancy, with impressive leasing statistics to support its success:
● Enquiries: 1,688
● Tenants Inspected: 373
● Applications received: 108
● Applications received and declined: 88
● Leases Secured: 84
These leasing statistics underscore the high demand for Riviére's units. Furthermore, the average yields to date for the whole building stand at a strong 6.45%.
The sold-out units have not only met but exceeded expectations, with property valuations witnessing remarkable increases, with units now fetching up to $800,000 more, showcasing the exceptional value and quality of the project.
As part of its commitment to delivering extraordinary designs, Aria Property engaged in a design competition with four of Australia's top architects for the project. Renowned architectural firm Bates Smart emerged as the winner, presenting a design that pays homage to the majestic Kangaroo Point Cliffs' angular shapes.
Aria Property Development Director Brent Liddell attributed the success of the partnership to Bates Smart's and Aria's mutual inspiration.
"Our vision was to create a geometric façade that strategically accentuated volume and space. Bates Smart's understanding of our brief resulted in a visually captivating masterpiece that elevates the skyline of Brisbane," said Brent.
Riviére stands as an architectural marvel with its striking façade that steps in and out, offering captivating views of the city and river. The exterior boasts custom bricks imported from Valencia, Spain, creating a mix of matte and gloss finishes that shimmer in the light.
Inside the units, meticulous attention to detail is evident through the incorporation of breezeblocks, timber soffits, and open corridors, allowing for natural airflow and ventilation. Luxurious finishes, such as terrazzo stone bench-tops, timber-lined balcony finishes, and Miele European appliances complement the premium living experience.
"The features and finishes in Riviére are unlike anything seen before in residential living. The 'liveability factor' achieved through open corridors, oversized units, and exceptional rooftop amenities is truly phenomenal," said Brent.
The Riviére project encountered challenges when the original builder faced liquidation at level 3. However, Aria Property's commitment to excellence shone through, as they took over the project and completed it seamlessly despite a difficult construction market with rising costs.
Riviére is also a testament to Aria's commitment to sustainable living. A Cleanaway partnership makes Riviére Australia's first multi-composting residential project, fostering eco-conscious living.
The project features 65kW solar panels on the rooftop, complemented by nine Tesla battery walls to store renewable energy.
Two beehives on the ground floor also produce approximately 80kg of honey annually, while native Australian plant species across 1,860m2 of landscaping contribute to the project's green ethos. Furthermore, the EV-ready basement empowers residents to embrace electric vehicles and cleaner transportation options.
"By incorporating sustainable practices into our developments, we can make a positive impact on the environment and enhance the well-being of our residents. Partnerships with organisations like Cleanaway are just some of the ways we are actively working towards a greener future. We are proud to lead the industry in sustainability and are committed to pushing boundaries and setting new standards for environmentally responsible development," said Brent.
The 2023 UDIA National award winning developer looks forward to leaving a lasting legacy, not only in the realm of residential development but also in shaping Brisbane's landscape for the 2032 Olympics and beyond.
To find out more about Riviére, please visit https://ariaproperty.com.au/project/riviere/.