Absolute riverfront luxury apartment development opportunity hits the market
10 October 2023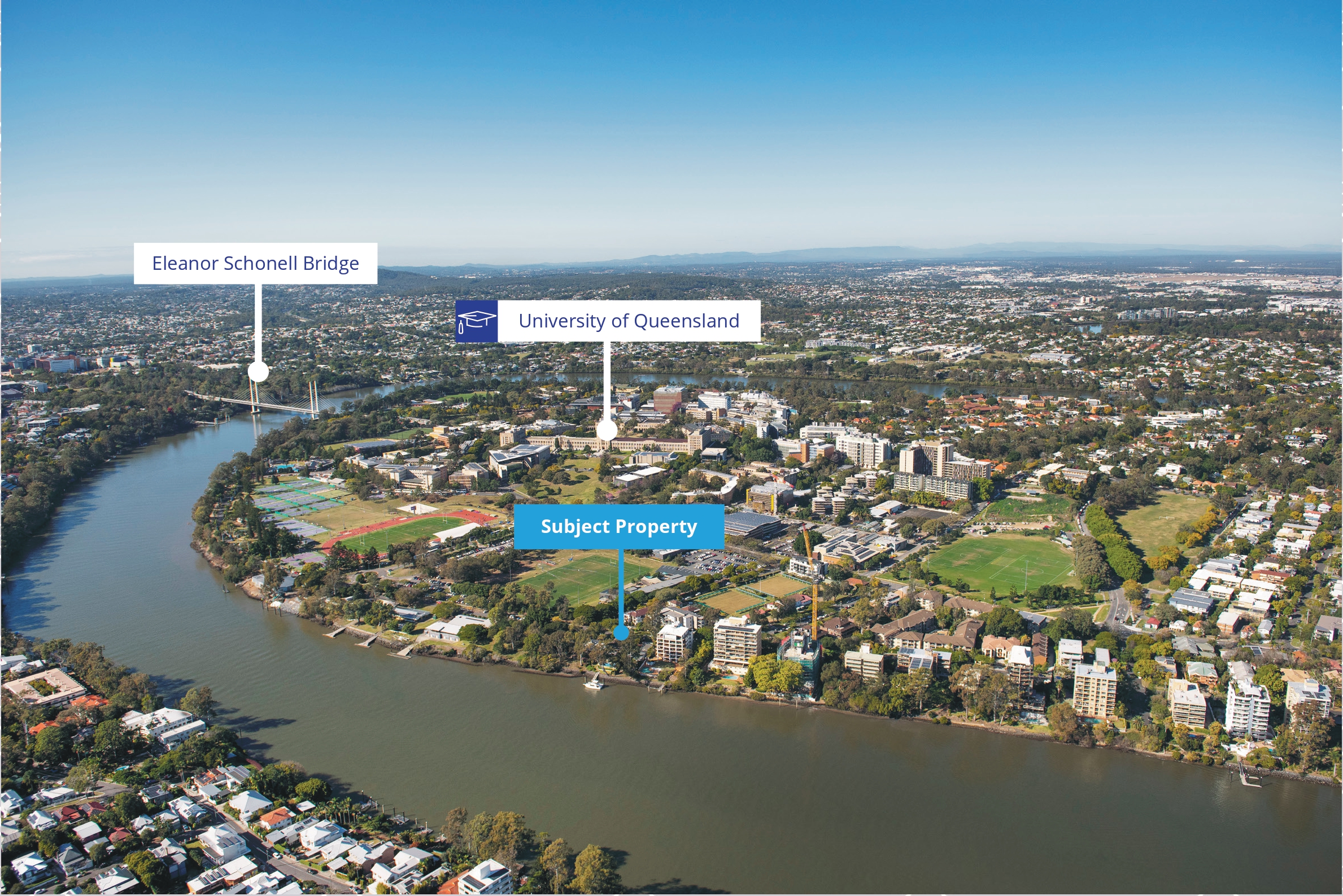 With the current undersupply of new apartments in Brisbane, a 1,513 sqm development site on the picturesque Brisbane River offers an extremely rare opportunity for a new 15-storey residential development.
With no comparable development sites with absolute river frontage available in this reach of the Brisbane River, the site at 178 and 180 Macquarie Street St Lucia offers a once in a generation opportunity in this the blue-chip residential suburb.
Colliers Queensland Director Residential Development Sites Brendan Hogan said the property had the potential for a prestige residential development with the site having a code assessable height limit of 15-storeys with potential upside, subject to Council approval.
"With a northerly aspect and expansive 360 views over the river and city and only 2.5 kilometers from the Brisbane CBD, this presents a once in a generation opportunity," Brendan Hogan said.
"The site is located within walking distance to the world-renowned University of Queensland and only minutes away from the Toowong Village Shopping Centre and bustling retail and dining precincts of Brisbane's Inner-West.
"It is located within a quiet residential enclave and sites with these attributes present the rarest of opportunities and will satisfy the unrivalled demand for premium riverfront residential product.
"At June 2023, the median price for new apartments across Brisbane reached $1,313,418 and continues to rise, emphasising the trend in demand for premium owner occupier product and the lack of supply in the market.
"St Lucia's median unit price has continued to increase over the past 5-years to $716,500 in Q2 2023," Brendan Hogan added.
Colliers Queensland Director Residential Development Sites Troy Linnane said the under supply of new apartments in inner Brisbane was now well documented.
"The latest population data released by the ABS unequivocally highlights Queensland's prominent position as the national leader in terms of net interstate migration and overall population growth," Troy Linnane said.
"Queensland accounts for 57 per cent of the nation's total net interstate population growth emerging as a highly sought-after living destination for people moving from New South Wales and Victoria.
"Based on historical demand and likely anticipated supply, inner Brisbane will experience a shortfall of 16,000 new apartments over the next four years.
"This issue is more chronic in the inner west precinct, with only 756 apartments currently under construction across 8 projects, including apartments already sold off-the-plan.
"Housing supply issues will continue throughout 2023 as construction costs continue to rise.
"Due to the limited supply and strong demand, Colliers expect prices for new and established apartments will continue to increase.
"The inner-west apartment market is poised for strong capital growth, with supply in this precinct being the second smallest in the Brisbane local government area, representing 19 per cent of all apartment supply.
"Demand for riverfront residential property continues to out strip supply, which is demonstrated by the significant absorption and price escalation from off-the-plan and re-sales of apartments within premium inner-city localities, such as St Lucia, Toowong, New Farm and Newstead.
"With continued strong demand and limited supply of prestige riverfront apartments, this opportunity really is the best in market currently.
"There are no comparable development sites with absolute river frontage available in this reach of the Brisbane River, this really is a once in a generation opportunity." Troy Linnane added.
The property at 178 and 180 Macquarie Street is for sale via an Expressions of Interest campaign closing Thursday 12 October 2023 at 4.00pm (AEST).