Vicinity Transforming a Major Regional Centre
30 June 2021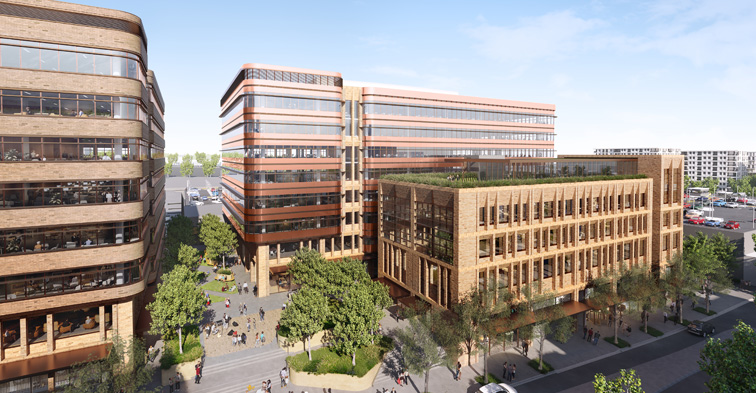 Vicinity Centres and CIP Asset Management have revealed the evolution of the first stage of their 2050 Masterplan to transform 11.4 hectares at Bankstown Central by redeveloping it into a vibrant mixed-use community, that could emerge as a major new health and education innovation precinct for Western Sydney, following the world-class precedent set at Westmead where a health and knowledge district has been created.
The new project will create up to 10,000 new jobs in the Bankstown area by 2036, facilitate the creation of new A-grade commercial office and research spaces, residential buildings, student accommodation, short term accommodation, plus new public spaces, improved retail and an entertainment precinct. Vicinity submitted a Master plan for the project to Council back in 2019 and have recently submitted a DA for the first stage of the redevelopment which deals with three office buildings, a refreshed retail offer and public plaza and all-new 'Eat Street', providing new meeting and dining areas for the Greater Bankstown community.
Vicinity's Chief Development Officer, Carolyn Viney, said the first stage of Vicinity and CIP Asset Management's Bankstown redevelopment of Bankstown Central will revitalise the Bankstown CBD and provide the foundations for the creation of a new health and education innovation precinct – delivering on the NSW Government's vision for the area and securing a profound economic and jobs boom for Bankstown.
"Bankstown Central's location and strong public transport links, including the new Metro station, to be delivered in 2024, represent the perfect platform to support a future health and education innovation precinct, and the town planning applications made reflect the first stage in evolving Bankstown Central to meet expected future demand for these uses.
"Our plans integrate office and retail space, providing a place where residents of Sydney's south-west can live, work and play close to home, while providing the opportunity to transform the area into a true city of the future."
Vicinity and CIP Asset Management's masterplan reflects their confidence in the Bankstown CBD in the context of plans outlined by NSWs' Greater Sydney Commission.
Taking advantage of its location in the heart of Bankstown's CBD, the town planning applications include:
Two eight-level mixed-use commercial office buildings overlooking Jacobs Street and Rickard Road, including a ground floor mix of retail, wellness and food and beverage tenancies
A five-storey mixed-use commercial office building fronting Jacobs Street with ground level retail, food and beverage tenancies, and a private rooftop terrace
New 'Eat Street' with cafes and restaurants
New landscaped public open space including a garden boulevard and kids play area
Repositioning the existing bus interchange between The Mall and North Terrace, closer to the Bankstown train and future metro station and the centre's fresh food precinct, and
New basement car park for 320 cars and 240 ground floor bicycle racks and end of trip facilities