ISPT Completes $135 Million Transformation of 477 on Pitt Street
17 August 2023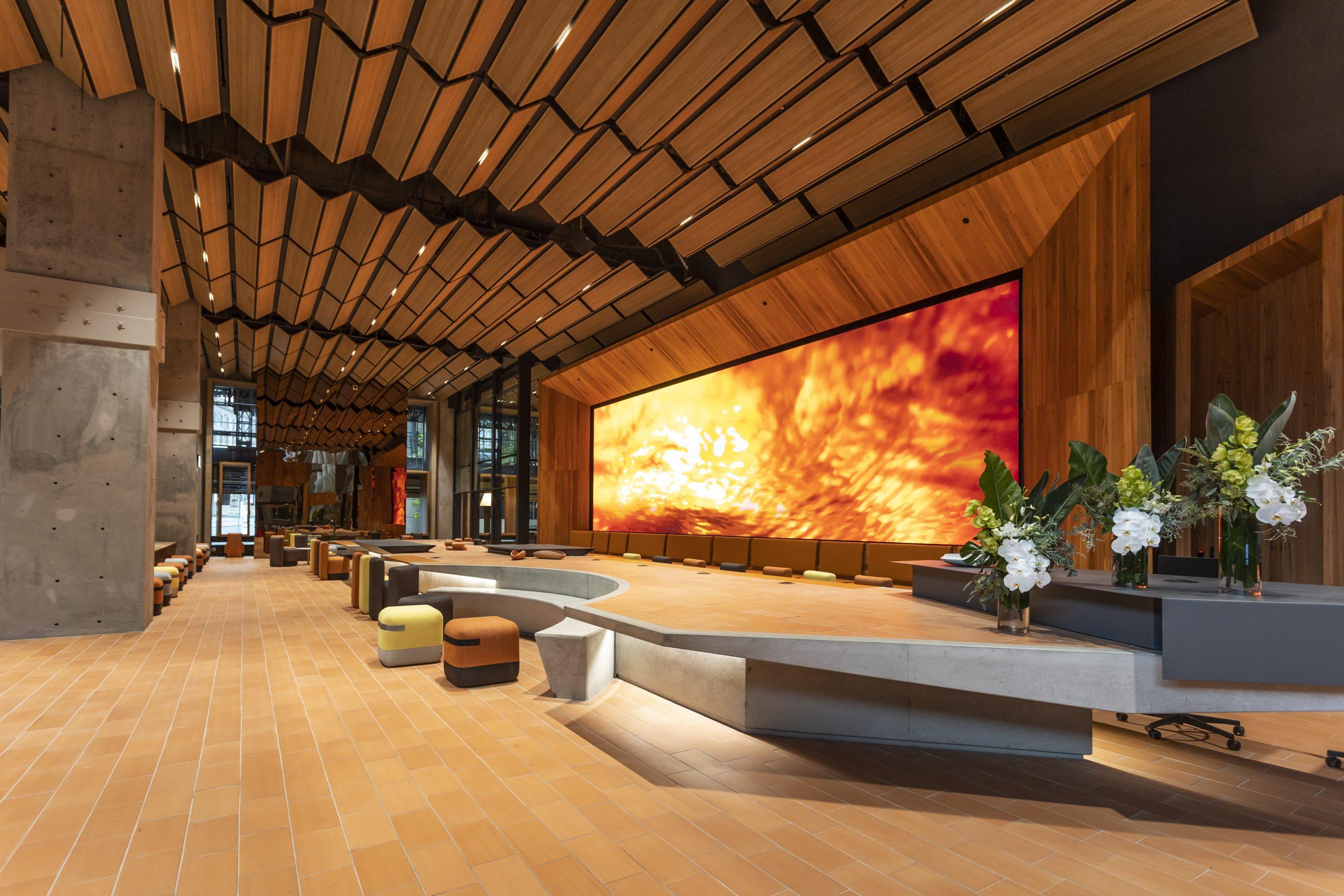 Industry superannuation fund-backed property investor ISPT has unveiled the new 477 on Pitt Street after a major $135 million redevelopment to reposition the precinct as a next-generation, A Grade asset, taking advantage of its location at the gateway to Sydney's new $3 billion Tech Central precinct.
The revitalised 30-storey mixed-use tower includes 43,500 sqm of commercial space, and 1,850 sqm of retail space and floorplates spanning up to 2,500 sqm, with recent tenant commitments including legal firm Moray & Agnew, fintech firm Hnry and Canadian manufacturing company BRP, who are joining Sydney's first government supported scale-up hub, operated by Stone & Chalk, taking the building's tenant commitments to over 70 percent.
Stone & Chalk's tenancy is a significant six-level, 8,000sqm hub for tech scale-ups; the hub represents a joint initiative by Investment NSW, providing subsidised office and collaboration space as part of the government's commitment to deliver 25,000 sqm of affordable space for startups, scale ups and other innovation-driven businesses in the Tech Central district.
A centrepiece of the tech-focused redevelopment is a huge 19-metre-long, hand-crafted collaborative table and 12-metre-wide digital LED display, taking pride of place in the centre of the ground floor lobby – one of the largest in Sydney – which can be seen from Pitt Street, and will be used to showcase a commissioned digital art piece from artist Jacob Nash.
The revitalised precinct encompasses three heritage buildings – the original 1922 Australian Gaslight Co (AGL) showroom, a historic Presbyterian house and Sydney's first ever fire station, incorporated into the modern public ground floor plane and office tower.
With its classical columns, ornate ceiling and expansive dome-lit skylight, the original AGL building has been reimagined into a collaborative work and events space called Collider. Available to tenant partners and the wider public alike, Collider invites visitors to interact with a rich piece of Sydney's history, providing a flexible and inspiring setting for private events, gala dinners, conferences and presentations for up to 250 people; its art deco design paying homage to the domed room's 19th century origins.
Aspects of the precinct's shared amenity, being the Collider, the expansive ground floor plane and collaboration spaces – dubbed 'third spaces' – will be able to be enjoyed by both tenant partners and the wider community, representing an activity hub that encourages collaboration and connection.
Nicole Ward, Head of Portfolio – Office, said the transformation of 477 reflects ISPT's commitment to creating people-centric environments, marking a new era for the asset and reinstating Pitt Street as a destination for the brightest minds and industry leaders to achieve, innovate and grow.
"Far from a traditional workplace, the new 477 is a dynamic, next-generation space where flexible floorplates and premium, collaborative amenity have been designed to suit the needs of pioneering companies looking to scale, while also granting them access to vibrant professional networks and a buzzing atmosphere that brings ideas to life.
"477 sits at the anchor point to Tech Central and is one of the first of these next-generation assets to reach completion within the precinct, allowing companies to establish themselves in one of the most innovative and progressive tech precincts in the world. We are proud to be leading this charge and playing such a key role within this $3 billion precinct.
"This redevelopment of 477 reinforces ISPT's commitment to creating places that inspire people to reach their full potential, adding value and diversity to the ways that people work, think and connect.
"We are in the business of creating spaces for people, and we have a reputation for long-term investment, quality product and trusted, long-term tenant partnerships. Our reinvestment into 477 on Pitt Street reinforces this commitment."
This is ISPT's second major repositioning of an existing asset in as many years, with another $150 million investment currently underway to redevelop its 500 Bourke Street building in Melbourne.
"With a portfolio spanning in excess of $22 billion we are acutely aware of our impact as an investor, property owner and developer so repositioning our portfolio into one that aligns with our values around ESG is critical.
"Where possible, we are focused on repositioning, rather than demolishing, existing assets to unlock value without the associated environmental impact of knocking down large structures which releases significant amounts of embedded carbon. This is a key driver in all of our investment decision making," Ward said.