Stronghold Precincts Property Fund
9 November 2021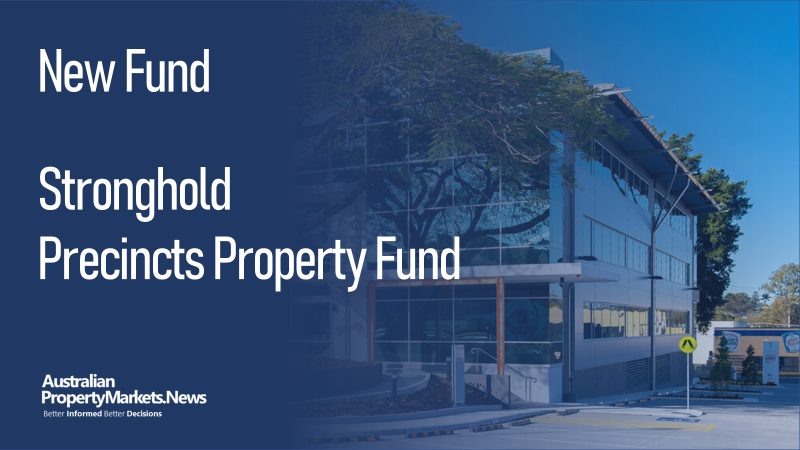 Stronghold Property Group is raising further capital for its unlisted real estate fund that invests in commercial office assets in metropolitan business parks.
The Fund currently holds three assets ($33.3M) in the Brisbane Technology Park, Eight Mile Plains QLD, the largest commercial business park precinct in Queensland covering 33 hectares. Stronghold 's parent company, Graystone Property Group manage c35% of the assets in the park. The Fund's also owns a fourth asset ($14.0M) located in the Westlink Green BTP, Darra QLD, a new business park located next to the Darra train station. All the properties are fully occupied, with a portfolio Weighted Average Lease Expiry (WALE) of 3.3 years.
The Fund was established in 2019 and currently has $48.1M of assets, with the Manager targeting to grow the Fund to $400M over the medium to long term. This growth is expected to be delivered via the Graystone relationship which develops and manages properties in the Brisbane Technology Park, assets sourced from other business parks, and the potential to acquire other Stronghold investment trusts as they reach maturity.
Stronghold was established in 2013 in conjunction with Graystone Group, a fully integrated development, construction and property management group with a 30-year track record of developing integrated business precincts across southeast Queensland. Graystone Group maintains a majority ownership in Stronghold, in conjunction with management. The relationship with Graystone is a key feature for Stronghold, providing an alignment with a recognised development manager within the southeast Queensland business park sector.
The fund is open ended with monthly distributions forecast to deliver a 6.9% yield in FY22 and 7.1% yield in FY23, based on the current Issue Price.
The Fund has a target Loan-To-Valuation Ratio (LVR) range of 35% – 45%, with a maximum LVR of 50%. The Fund currently has total drawn debt with St George of $21.5M with $14.7M held in the main Fund and $6.8M held in the Westlink sub trust. The facility are for a term of 2 years and the estimated all in cost of debt is 2.08%.
Further Information
Responsible Manager
Foundation Funds Management Limited
Fund Manager
Stronghold Commercial Investments Pty Ltd
Fund Size Target
$47.3M
Fund Term
Open Ended
Distributions
Target 6.9% for FY21 based on current unit price
Target Return
8.0% – 9.5% p.a IRR (pre fees, pre tax)*
Liquidity
Illiquid
Investor Type
Wholesale
Existing Assets
33 Brandl Street, Eight Mile Plains QLD
3 Hi-Tech Court, Eight Mile Plains QLD
7 Hi-Tech Court, Eight Mile Plains QLD
1 Westlink Court, Darra (Westlink Green) QLD
Target Assets
The Fund may seek to acquire other properties in
the Brisbane Technology Park, and other assets
sourced from other business parks.

The Fund may also make investments into other
unlisted property trusts managed by Stronghold,
as well as listed property investments on the ASX
Investment Strategy
The Fund's objective is to deliver monthly income distributions from a portfolio of office assets
located in metropolitan business precincts of Australians major capital cities.
As mentioned above, the Fund aims to provide investors with a pre-tax and pre fee IRR of 8.0% – 9.5% per annum on equity invested (inclusive of a targeted income distribution of 6.9% per annum (FY21) and capital gain).
The Fund is at the beginning of its investment lifecycle with $47.3M of assets invested in four properties in the Brisbane Technology Park (three properties) and the Westlink Green Technology Park (one property) in southeast Queensland, originally developed by Graystone.
The Fund is targeting the current portfolio of $47.3M to increase to around $100M of properties in 2-3 years and ultimately reach $400M in 5+ years. The Fund's portfolio is expected to grow through various opportunities, including the acquisition of properties within the Graystone network of properties, further developments (including up to four new developments at Westlink Green BTP) as well as Stronghold's existing portfolio of $93M of properties in unlisted funds, which are expected to reach the end of their initial fund term during this time.
Property Portfolio Overview
The three properties in Eight Mile Plains Business Park were acquired when the Fund was established in 2019, while the Darra property was acquired in July 2021 from a related Stronghold Fund which reached the end of its fund term. The majority of tenants are large national or international businesses, diversified across the two business parks.
| | | | | |
| --- | --- | --- | --- | --- |
| Portfolio | Cap Rate % | Value | % Portfolio | WALE |
| 33 Brandl Street, Eight Mile Plains | 6.75% | $15.0M | 31.7% | 3.2 yrs |
| 3 Hi-Tech Court, Eight Mile Plains | 7.25% | $10.7M | 22.6% | 3.4 yrs |
| 7 Hi-Tech Court, Eight Mile Plains | 7.25% | $7.6M | 16.1% | 2.4 yrs |
| 1 Westlink Court, Darra | 7.00% | $14.0M | 29.6% | 3.7 yrs |
| Total Investment Portfolio | 7.02% | $47.3M | 100% | 3.3 yrs |
33 Brandl Street is a two level, modern A-grade commercial office building located in the Brisbane Technology Park. Constructed around 2017 the building provides 2,519 sqm of NLA, which is predominantly leased to Johnson & Johnson (78% of net income), an international healthcare company, with the balance leased to Axial Training Group, (15% of net income) and Debt Cutters Group (7% of net income).
3 Hi-Tech Court is a semi-modern two-level building that provides office, warehouse and laboratory space within the Brisbane Technology Park, Eight Mile Plains QLD. The building provides 2,507 sqm of NLA and is fully leased to two tenants – Micreo Limited (60%, office space) and Mazda Australia (40%, warehouse space). The building holds 71 open air car parking bays.
7 Hi-Tech Court is a semi-modern commercial style office warehouse, which has been retrofitted to provide 1,549 sqm of NLA spread across two levels of office and laboratory accommodation. Constructed in circa 1990, the property is located within the Brisbane Technology Park, and benefits from street frontage to Logan Road. The property has 60 open air, on-site car spaces, and is fully leased to L3 Harris (Micreo), a leading multinational technology company. Micreo holds a 10-year lease term with annual CPI reviews, expiring in Oct 2023.
1 Westlink Court is a three-level office building located in the developing Westlink Green Business Technology Park in the southern Brisbane suburb of Darra. Constructed in 2014 the building provides 2,404 sqm of office accommodation with 105 parking bays (with a basement car park, on grade bays and a parking station situated within the estate). The building is 100% occupied, leased to BTP Services (65% of net income), Centacare (23% of net income) and Cement Australia (12% of net income). The property is positioned near the intersection of the Centenary and Ipswich Highways, with close proximity to the Darra Train Station.
Liquidity
The Fund provides a limited withdrawal facility to investors on a quarterly basis, capped at 5.0% of Gross Assets Value per annum (maximum 1.25% of GAV per quarter).
Fund Fees
Stronghold are entitled to receive fees in consideration for establishment and management of the Fund including;
Acquisition Fee equal to of 1.5% of the Acquisition Price
Management Fees based on 0.25% of the Gross Asset Value (GAV) of the Fund
Fund Expenses equal to 0.35% of the Gross Asset Value (GAV) of the Fund
Ongoing Management Fee: 8.5% of the distributable income. Estimated to be ~0.33% of GAV
Development Management Fee of 5.0% of the total development costs
A Disposal Fee equal to 2.5% of the sale proceeds (in place of an agents selling fee)
A Performance Fee of 20% of the Fund's performance above a benchmark return and subject to a highwater mark to ensures that any underperformance is required to be earned back before any outperformance is paid
The Performance Fee benchmark is based on the returns from
Direct & Indirect Property: PCA/MSCI Unlisted Property Fund Index
Listed Investments: ASX S&P 300 A-REIT Accumulation index
Cash & Cash Deposits: RBA Official Cash Rate (adjusted to quarterly)
Core Property Group has reviewed the Fees and estimate that Stronghold is entitled to 7.6% of the total cash flow. Core Property considers the fees paid to the Manager to be low in comparison to similar products, which are typically around 7% – 9%.
Recommendation
The Fund is recommended for further consideration by investors seeking an above average distribution yield from a mix of office & industrial tenancies and where there is no required investment horizon. The prospects of capital growth from cap rate compression are less certain in the current cycle and the near term expiry of the currently leases poses some risk to the cash flow. The limited liquidity provisions also present increased risk to certainty on the return of funds.
Disclaimer: The information contained on this web site is general in nature and does not take into account your personal situation. You should consider whether the information is appropriate to your needs, and where appropriate, seek professional advice from a financial adviser.