New $17m Murdoch Hospital Oncology Facility Steps Closer to Opening
29 November 2021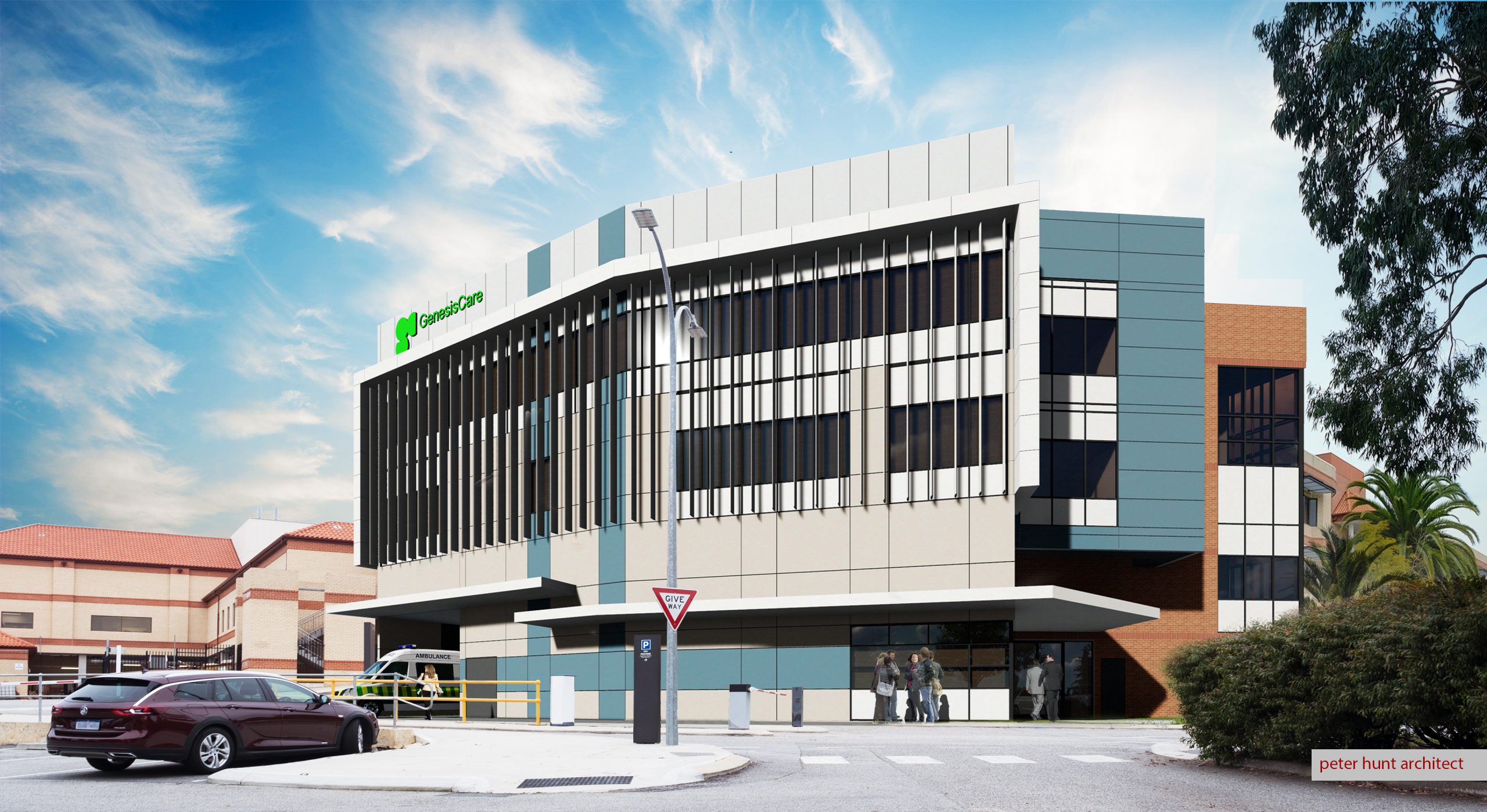 Construction of the new $17m oncology facility at St John of God Murdoch Hospital has received practical completion and the keys to the new cancer treatment centre have been handed over to leading integrated oncology provider GenesisCare, in preparation for its opening in December 2021.
The developer, Centuria Healthcare, and construction partner, Built, have completed a 60-week building programme, which included specialist requirements such as lead-lined radiation bunkers and purpose-built spaces to provide radiation therapy (Versa HD Linac and MR-Linac), theranostics and imaging capabilities including PET-CT.
Through a combination of precision and finite engineering and construction, 500 cubic meters of concrete was poured, and over 20 tonnes of radiation shielding was installed, with very intricate irrigation systems in place to maintain optimum temperatures throughout the build.
The three-level building features two radiation bunkers, first and secondary recovery rooms, imaging and consulting suites across 1,845sqm with a direct link bridge to the St John of God Murdoch Hospital.
Most recently, the facility received delivery of Western Australia's first MR-Linac equipment, which provides groundbreaking, targeted radiation treatment for oncology patients. The 10-tonne equipment was installed throughout an eight-hour process, with the full construction complete over 18 weeks.
Jon Stone, Built Director WA, said, "The installation of the MR-Linac was the final piece of the jigsaw to complete development of this game-changing facility. Utilising our expertise in solving complex challenges and delivering specialist projects across the healthcare sector, we were proud to collaborate with Genesis, Centuria and St John of God to deliver this much-needed piece of health infrastructure for the community.
Andrew Hemming, Centuria Healthcare Managing Director, said "We currently have more than c.82,000sqm of committed and future pipeline healthcare development projects, worth more than $700million. We are dedicated to delivering new state of the art healthcare properties across specialist centres, such as this new oncology facility, as well as medical centres, and short-stay and day hospitals.
"The building completion of the new private Murdoch oncology facility is a feather in our caps. It illustrates how closely we work with top-tier healthcare providers, such as GenesisCare and St John of God Health Care, as well as reputable, experienced construction specialists like Built, to deliver much-needed healthcare real estate across Australia. We are proud to be associated with such a significant project that will positively impact Perth's southern metropolitan area."
GenesisCare will open its radiation oncology and theranostics service at the new centre in December 2021 and will treat approximately 1,000 patients at the new facility annually.
The property is located within the St John of God Murdoch Hospital campus, providing good accessibility via the Murdoch Railway Station, Kwinana Freeway and is a c.15-minute drive from Perth's CBD.
Key contractors appointed to the development include: Project Directors Australia (PDA), Hunt Architects, BPA Engineering (Civil and Structural works), ETC (Electrical Engineering), Steens, Gray & Kelly (SGK) (Mechanical) and Jacobs (Hydraulic Engineers).