Multiplex to deliver CBUS Property's $1 billion sustainable office tower in Melbourne CBD, 435 Bourke Street
22 November 2023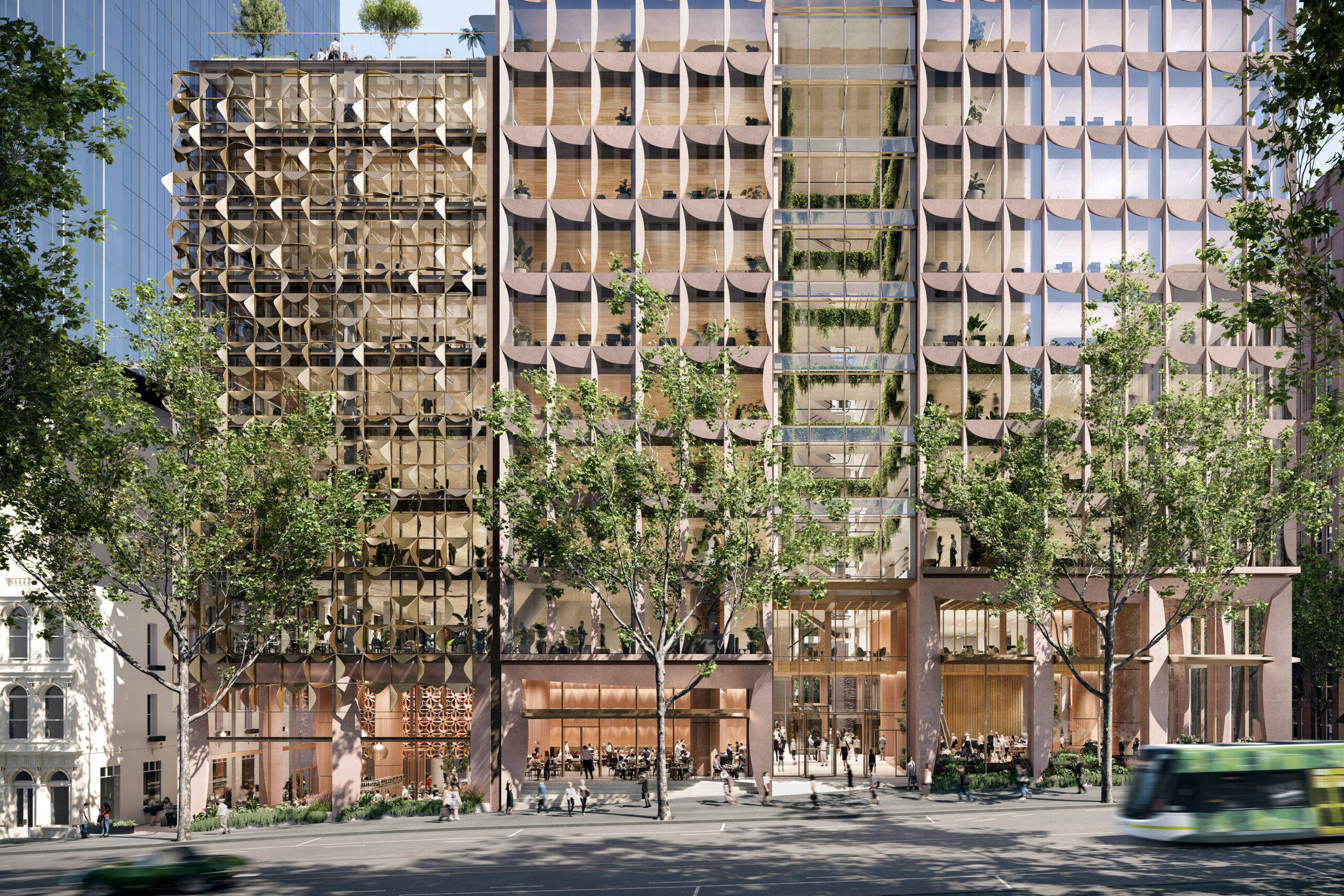 Global construction company Multiplex has been appointed by national award-winning integrated property investor and developer, Cbus Property, to deliver the $1 billion, cutting-edge commercial office tower at 435 Bourke Street in Melbourne's CBD.
Set to revitalise the heart of the CBD, the 48-storey tower will be one of the most sustainability-focused builds Multiplex has delivered, with the first use of Hydrotreated Vegetable Oil (HVO100) renewable diesel in the state, and the largest application of an innovative 'solar skin' façade in Melbourne's CBD to date. 435 Bourke Street will also be one of the first office towers in the world to feature this 'solar skin' façade.
435 Bourke Street follows several projects built by Multiplex for Cbus Property across Australia, including the Collins Arch precinct in Melbourne and 83 Pirie Street in Adelaide.
The construction process at 435 Bourke Street targets an ambitious reduction in embodied carbon emissions of at least 30 per cent, a new benchmark for sustainable development in Melbourne's CBD. The power procured to run the site will be 100 per cent renewable energy, using HVO100 renewable diesel on site, and the building's structure will be built with low-carbon concrete and low-carbon reinforcement.
Cbus Property has also set a net zero carbon in operation target for the building upon completion, supported by its innovative solar skin. The solar skin will contribute to the building's total electricity needs and is a key contributor to the all-electric building's targeted 5.5 star NABERS Energy rating and 6 Star Green Star Buildings rating.
Designed by award-winning architecture firm Bates Smart, the 211-metre-high tower will deliver a total of 60,000 square metres of premium office space, 1,300 square metres of retail space at street level and a five-level basement with flexible car spaces and state-of-the-art end-of-trip facilities.
435 Bourke Street will cater to hybrid work patterns and the post-COVID tenant wish list with a 'vertical village' structure, capable of accommodating more than 5,500 city workers.
"We are pleased to continue our partnership with Cbus Property and set a new benchmark for sustainable construction," said Ross Snowball, Regional Managing Director at Multiplex.
"As a business we've committed to having a positive and material impact on the environment, and on our projects that means finding ways to reduce embodied carbon. We've been able to do that at 435 Bourke Street with our low-carbon structural solution, and in addition we are introducing HVO100 fuel to power the tower cranes, which is expected to provide a 90 per cent reduction in carbon emissions compared to regular diesel fuel.
"The scale, complexity and sustainability credentials of 435 Bourke Street will combine to deliver a truly world-class tower to Melbourne's skyline."
According to Multiplex, 435 Bourke Street is set to be complete in Q4 2026, and approximately 3,500 jobs are expected to be created over the life of the project, with a focus on supporting employment of underrepresented cohorts and training and upskilling the next generation of skilled trades persons in the industry.
The building's architectural façade is a signature feature of the design, comprising multiple unique façade types, incorporating mass monolithic materials of glass reinforced concrete and terracotta combined to create a fascinating and complex external structure.
With a site footprint of 33,000 square metres, 435 Bourke Street will be amalgamated with the recently demolished 40 and 150 Queen Street and 27 McKillop Street sites to deliver new pedestrian connections in line with the city's signature laneway culture. The building will accompany neighbouring landmark 405 Bourke Street, which was delivered by Multiplex in 2021.
"Our vision is to create another world-class commercial building that represents Cbus Property's leadership in resilient and sustainable people-centric development, while enabling a diversity of experiences and working environments that respond and adapt to dynamic and evolving customer requirements," Cbus Property's Chief Executive Officer, Adrian Pozzo, said.
"435 Bourke's industry-defining sky garden, ground plane and mixed-mode terraces will set an incredible new benchmark for diverse and naturally ventilated extensions of traditional workspaces.
"Contributing to this new idea of a vertical campus in the heart of Melbourne's CBD with atrium-style physical and visual connectivity, 435 Bourke will meet customer demand for a holistic and collaborative work-life approach as a truly world's-best-practice office tower."
Multiplex's appointment as contractor represents its global commitment to a net zero carbon future, having been the first contractor in the world to sign the World Green Building Council's Net Zero Carbon Buildings Commitment in 2019. Cbus Property is also a signatory of the Net Zero Carbon Buildings Commitment.
In addition to the industry-leading NABERS and Green Star ratings, the development is targeting WELL Platinum certification.
Multiplex is renowned for delivering some of Melbourne's most complex and iconic CBD projects. In recent years, these have included the $2 billion West Side Place for Far East Consortium, the iconic, cantilevered 405 Bourke Street for Brookfield and ISPT, and the $1.25 billion dual-tower Collins Arch at 447 Collins Street for Cbus Property, which was completed in 2020.