Mirvac Lodges plans for next Brisbane Tower
6 August 2021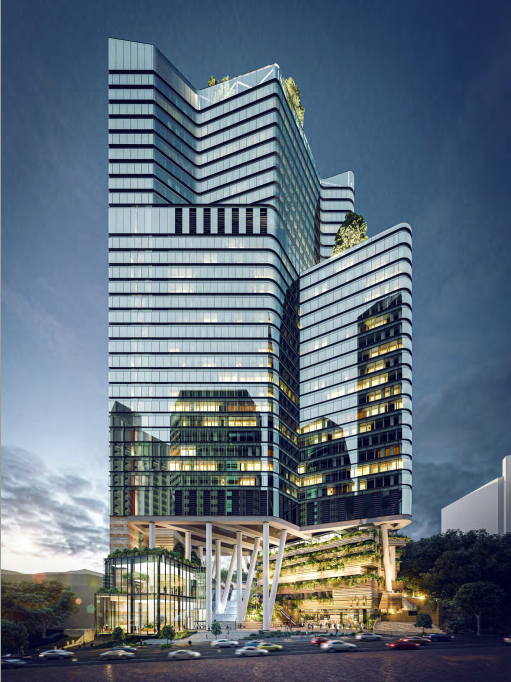 Mirvac has lodged plans for a $670-million commercial tower in Brisbane's CBD, a 29-storey, A-grade office tower across an amalgamated site fronting Turbot Street.
The 8900sq m site, which includes 200 and 168 Turbot Street, is one the largest in Brisbane's CBD sites currently occupied by the three-storey heritage-listed Dental Hospital Brisbane and College at 168 Turbot Street, and a four-storey commercial building at 200 Turbot Street with an adjoining two-storey annex.
The Development Application seeks approval for 66,000sq m of office space across large floorplates of up to 2,500sqm. It will also include 6000sqm of open space, 170 car parks and 745 bicycle parking bays. The design of the tower has been split into three distinct zones – low rise, medium rise and high rise – which has been achieved through the provision of sky gardens at Podium Level 8, Level 19 and the roof.
The site is position well with respect to access to the future Brisbane Live development precinct (situated above the Roma Street train station) and which is likely to become a focal point for the 2032 Brisbane Olympics.
Mirvac will be hoping to secure tenants off the back of their nearby $836-million development of 80 Ann Street which is a similar 60,000sqm premium-grade office building predominantly leased to Suncorp and due for completion in 2022. The tenant market in Brisbane is however thin and a number of major projects are competing for any pre-commitments in the market.
The Property Council's Office Market Report released this week indicated that Brisbane's vacancy had declined marginally to 13.5% but with 467,920sqm of mooted supply which includes;
Dexus' Eagle Street Pier (135,000sqm),
Charter Hall & Investa project at 360 Queen Street (60,935sqm),
Charter Halls' 343 Albert Street (50,000sqm)
Charter Hall's 60 Queen Street (27,000sqm),
25 Mary St (51,528sqm),
Cbus Property and Nielson Properties North Quay (62,000sqm),
Just the above list represents approximately 18 years of supply at the historical absorption rate of 21,000sqm per annum, suggesting that many of these projects will not proceed with their current owners.
Further Information
Disclaimer: The information contained on this web site is general in nature and does not take into account your personal situation. You should consider whether the information is appropriate to your needs, and where appropriate, seek professional advice from a financial adviser.