Kangaroo Point development site with approval for 130 luxury apartments and strata retail hits the market
14 November 2023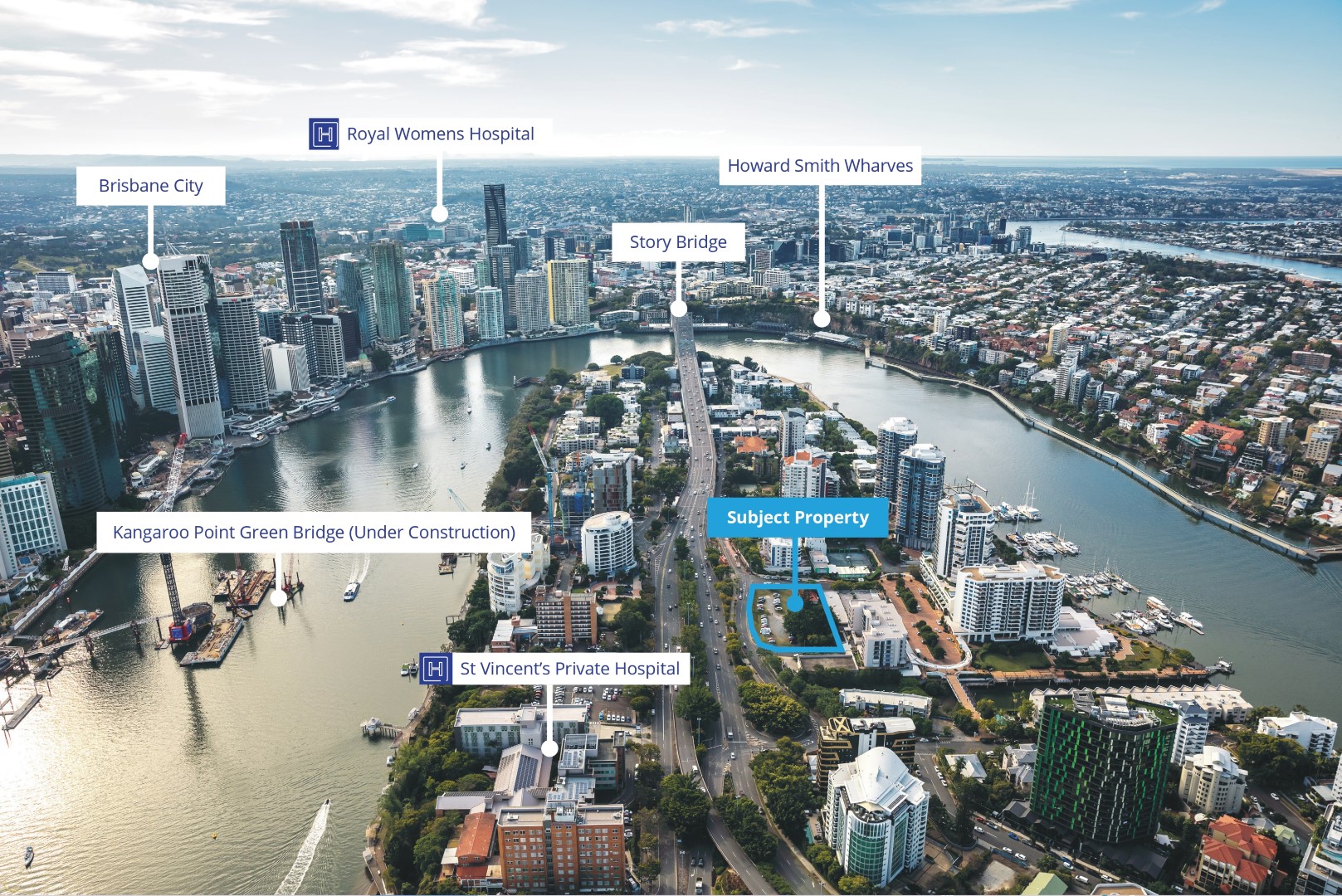 A prominent 3,069 sqm site in the inner-city suburb of Kangaroo Point, with development approval for a mixed-use scheme comprising a ground floor retail strata leased to Woolworths for 10 years (plus 10 x 5-year options) and 130 luxury residential apartments within a 15 storey tower, has hit the market.
Located in one of Brisbane's most desirable inner-city localities at 25-31 Ferry Street and 16-30 Prospect Terrace Kangaroo Point, close to the Brisbane River, CBD and 'Kangaroo Point Green Bridge', this is a once in a generation opportunity to change the face of Brisbane.

Designed by Cottee Parker architects, the entire retail strata has a lettable area of 2,579m2 and will include a Woolworths supermarket, BWS and café. On completion this will be the first supermarket in Kangaroo Point.
Colliers Queensland Director Residential Development Sites Troy Linnane said currently South East Queensland, and more particularly inner-Brisbane, had a critical housing supply shortage.
"There is exceptional demand for apartments, especially in the inner-city, this development will offer 130 luxury apartments, with over 90% comprising 2 and 3 bedroom unit types," Troy Linnane said.
"The huge demand for apartments both existing and off-the-plan has seen the weighted average sale price for Brisbane off-the-plan apartment stock hit $1,313,418.
"The riverfront nature and amenity of Kangaroo Point has seen some of the highest prices paid for apartments in inner Brisbane.
Colliers Queensland Director Residential Development Sites Brendan Hogan said development approved sites of this scale are very rare and esepcially in Kangaroo Point.
"The property is located at the corner of Ferry, Deakin and Prospect Streets, Kangaroo Point, and is close to the Brisbane River, CBD and the Howard Smith Wharves dining precinct," Brendan Hogan said.
"The plans include a rooftop recreation area on Level 15, with an infinity swimming pool, gymnasium, seating and BBQ area. The panoramic views from this building will include the Brisbane CBD, Botanic Gardens at Gardens Point, Brisbane River and bay islands.
"The site is within short walking distance to the Kangaroo Point Green Bridge which is currently under construction and due for completion next year, which will significantly enhance connectivity between the CBD and Kangaroo Point.
"The location has access to walking and cycling routes along the Brisbane River, and links to ferry terminals that connect to the CBD and other inner-city suburbs," Brendan Hogan added.
Colliers Queensland Director Residential Development Sites Troy Linnane said there was a significant under supply of new apartments being delivered within inner Brisbane.
"The inner-east precinct has only 145 apartment completions forecast over the next 2 years.
"As a result of low future apartment supply and continued strong demand, despite recent interest rate rises, we anticipate good fundamentals for price growth and sales rates.
"The development site market in Brisbane has excellent fundamentals which are seen as having the best growth prospects of any city on the eastern seaboard of Australia," Troy Linnane added.
For Sale via Expression of Interest closing Wednesday 21 November 2023 at 3:00pm (AEST).