Industrial Rents Expected to Surge
19 November 2021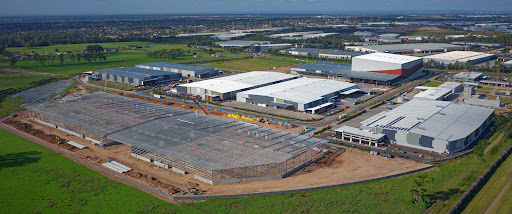 Consumer demand in ecommerce is exceeding logistics capacity, leading to incredible desire for additional industrial property in Australia.
According to data from Australia Post, in the 11 weeks to 11 September 2021, consumers in NSW shopped online in record numbers, with a 58.5% year on year growth.
Many retailers and logistics partners are struggling to fulfil these orders and are on the hunt for industrial space to service their customers.
However, businesses especially those looking to expand in metropolitan Sydney need to be wary of rising land values and construction costs.
Industrial land values in Sydney have significantly increased, with 1–5-hectare lot land values in Western Sydney at the start of the year averaged at $806 per sqm, up 6% over the previous year.
For the core markets of Eastern Creek and Erskine Park, 1-5 lot hectare land values were higher at $850 to $900 per sqm.
Our analysis is showing that yield compression is driving industrial land value growth of 8-10% across 2021 in Western Sydney. As a result, 1–5-hectare lot land values in the core markets of Eastern Creek and Erskine Park are likely to be priced closer to $1000 per sqm by the end of this year.
Whilst land values in Western Sydney have doubled over the last 3 years, we have witnessed only a moderate uptick in net face rents as the insatiable demand for industrial investments has compressed yields to record levels, enabling rents to remain in check.
This lid on rents however is about to pop. Constraints on serviced and benched industrial land combined with rising development and construction prices, which are being further exacerbated by COVID-19 delays, will inevitably lead to a rise in rental costs in the next six months.
While property costs are on the rise, there is still opportunity for businesses to act now before the market resets and overcome the increased cost with operational designs that maximise the value of the asset for their specific business.
Why are costs rising?
Over 850 hectares of re-zoned land from rural to industrial hit the market in the Western Sydney precinct of Kemps Creek last year. While this will help alleviate the demand issue from 2023 when the majority of sites will be able to accommodate facilities, longer term, the Sydney metropolitan area will remain largely undersupplied until the Aerotropolis Precinct surrounding the new Western Sydney Airport comes online at the back end of this decade. Consequently, such land constraints will continue to push up land values and lead to an inevitable increase in rents.
In 2015, a greenfield site based on a 55% site coverage and a 20% lease incentive on a 10-year lease at $350 per sqm represented 40% of the total development cost. Now in 2021, the same site would be around $850 per sqm and a represent 55-60% of the total development cost.
With the incredible demand for greenfield developments and industrial buildings getting bigger, the take up of land in Sydney has gone from an average of 500,000 sqm per year to over 1 million sqm per year.
Between 2007 and 2009, the average warehouse size delivered in Sydney was 13,970 sqm. Now in 2021, TMX are currently tracking 645,500 sqm in greenfield requirements, with the average requirement at 20,000 sqm, which could be even larger if it wasn't for the constrained land in Sydney.
At TMX, this year, we have secured 75,000 sqm and 45,000 sqm greenfield developments for TTI and TJX respectively in Sydney. Other recent large-scale commitments in the Sydney market include a 60,000 sqm requirement for Winnings and a 33,700 sqm development for CEVA logistics.
The demand for greenfield development also extends to speculative and brownfield stock, with vacancy rates for brownfield stock in Western Sydney at sub 1%. This follows unprecedented national gross take up of brownfield stock in Australia, which totalled over 1.15 million sqm in the first quarter of this year and outperformed the 10-year quarterly average by 91%.
Overcoming the costs
The combination of unprecedented occupier demand, lack of available serviced land, and increasing development costs will lead to an inevitable increase in rental costs. In the short term, we are likely to see a 3.2% year-on-year growth and 3.6% year-on-year growth over a longer term. Over a 10-year period that is roughly a 40% rental uplift value.
There is still a slight window of opportunity for businesses to act now and secure their long-term property needs and avoid the inevitable rental increases over the next six months.
However, it's not all doom and gloom for occupiers. The new normal for real estate costs has forced businesses to pay closer attention to how they process, store and distribute goods.
Fortunately, there are a plethora of new technologies and storage solutions enabling businesses to become more efficient and building designs are changing to create greater cubic capacity.
Having the right operational design will create efficiency and flexibility in operations to maximise value and well and truly offset an increase in any real estate costs. This could include automation solutions or adding in mezzanines to maximise the footprint within a facility. By designing operational and property strategies in parallel, we ensure your operations drive your property solution.
TMX is supporting businesses across a wide variety of industries throughout the Asia-Pacific region to transform for tomorrow with a seamless end-to-end supply chain, property and project management solution. We are witnessing best-in-class innovations that are reducing real estate footprint.
Looking forward two things are certain; demand for industrial space will continue to outstrip supply and rents will climb. The time to act is now.
Jack Moroney and Nick Greenwell
TMX