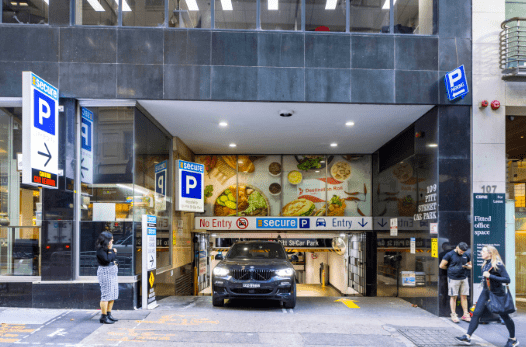 There is much discussion on the impacts of work-from-home on the office sector, with decreased activity seeing many businesses reduce their accommodation requirements, resulting in increased vacancy which is pressuring effective rents. However, the reduction of staff in our CBDs has impacted other segments of the market, such as retail and car parking. Prior to the pandemic, for many office markets, vacancies sat at long term lows which caused occupancy levels to elevate for parking within most CBDs. This led to difficulty in sourcing regular monthly parking spaces with wait lists for some facilities. This resulted in strong price rises for both fixed term and casual parking, notably in Sydney and Melbourne CBDs, with limited discounts on offer.
Fast forward through to the last couple of years, once lockdowns were over and staff slowly trickled back into the CBDs, the reluctance of many to take public transport saw an increase in demand for CBD parking. However, this demand remained well below what was seen prior to the pandemic, resulting in a reduction in daily rates by more than 20 per cent in some cities, while greater flexibility in early bird times and discounting were offered to grow occupancy. For most CBDs, office vibrancy has shown improvement with some markets more advanced than others. Brisbane, Perth and Adelaide are leading the charge while Sydney, Melbourne and Canberra continue to lag behind, resulting in some difficulty for the car parking sector.
Analysis on the casual parking rates over the last ten years have shown surprising results with average parking rates recording little change, thanks to this overall decrease in demand. Despite this, Sydney CBD remains the most expensive in the country with average daily rates at $85.05, growing by just 1.73 per cent per annum over the last ten years. Brisbane has historically had expensive parking facilities, with average daily rates now at $82.61 (2.18 per cent annual growth) ahead of Melbourne CBD at $68.19, which has only appreciated 0.49 per cent per annum over a ten year period. Perth CBD office market has been through much fluctuation over the past ten years resulting in stability in daily rates, now averaging $33.50, similar to Adelaide which is trending slightly behind 2013 results at $23.50. Canberra has seen strong compression in parking rates since pre-COVID-19 levels, however, current rates have seen the greatest growth of all regions at 3.84 per cent to now average $19.79. This is the only market to make a thoughtful push to upgrade their parking facilities to include a high number of bookable EV charging stations driven by the State Government's strong incentivising of these vehicles. Hobart and Darwin CBDs have had mixed results with a higher reliance on council parking than private sector facilities.
While early bird discounts have always been on offer across the markets, we saw greater flexibility in entry and exit times over the past two years to allow for the staggered start and end times, as staff navigated their way back into the office. While some of this flexibility has now reduced, the overall discounting on offer has not, providing substantial savings for casual users. Melbourne CBD offers the greatest discounts averaging -66.2 per cent compared to the daily rate as their office occupancy remains low. However, Brisbane and Sydney markets have seen a 58.7 per cent and 57.6 per cent discount respectively.
In some CBDs we have seen providers cease offering early bird rates in favour of more flexible hourly rates offering similar levels of discounting. Over the past ten years, technology has swiftly improved and with app booking available the ability to pre-book online adds another method of discounting. Sydney and Brisbane CBDs daily rate had the ability to reduce by approximately 40 per cent if booked prior, while Melbourne and Perth received a 35.5 per cent and 33.4 per cent discount respectively, with all other markets seeing some smaller reductions.
Given these large discounts on offer across most CBDs, it appears that parking today is competitive and in some cases cheaper than the rates achieved ten years ago on a casual basis. Increased vacancies in many larger parking facilities have also resulted in monthly parking rates growing at a limited rate, with businesses reducing their office footprint and parking needs in this environment of high work-from-home rates.
While office occupancy is expected to improve, growing parking demand once again, there are many cities that continue to deter vehicle transport across CBDs. So what is the future for car parking? Underground facilities may have limited reuse potential, however, cultural, recreational, or entertainment facilities could be an option along with city logistic hubs off the back of a transport and distribution need for last mile delivery. Those facilities above ground have more potential including the redevelopment to residential, given our housing supply issues across the country, as well as more alternative uses such as market gardens or community spaces.