HealthCo Sells Childcare Portfolio and Provide Update on HealthScope Acquisition
8 June 2023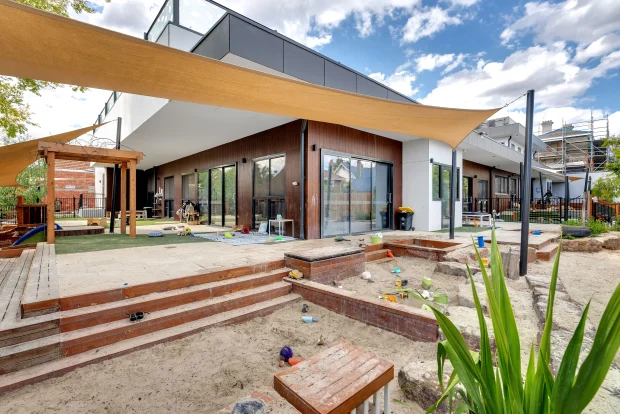 HealthCo has confirmed the sale of assets as part of its asset recycling program announced at the time of acquiring the Healthscope Hospital Portfolio.
So far, HealthCo has sold $82.3m of assets comprising;
$45.3m of childcare assets transacting at a 2% discount to Dec-22 book values, demonstrating the continued strong demand for high quality and well located childcare centres; and
Cairns Health Hub, a repurposed former Masters site in far north Queensland, which sold at a 5% discount to Dec-22 book value.
An additional ~$45m of asset sales are currently under advanced due diligence.
The childcare assets now under contract formed part of a 10 asset portfolio worth $110m which CBRE took to market in May. The largest asset in the portfolio, a 168 place childcare centre in Armadale, VIC was reportedly sold on a 4.5% cap rate for $20.5m.
CBRE's Sandro Peluso, Jimmy Tat and Marcello Caspani-Muto brokered the deal. Mr Peluso said the transaction was struck on the sharpest yield for a childcare centre since the 4.25 per cent achieved on a facility in Narre Warren, in Melbourne's south-east, three years ago.
"With interest rates having risen 3.85 per cent since, the Armadale transaction is a testament to the strong and unwavering investor sentiment toward the early learning sector, in combination with an appreciation for the value of existing centres in a rapidly rising construction cost environment," Mr Peluso said.
"With an influx of international capital over the past six months pricing is being driven by strong buyer interest from both domestic and international high-net-worth private groups along with multiple REITs looking to increase their exposure into social infrastructure real estate."
Mr Peluso said both the Armadale facility and other childcare assets under negotiation were in established suburbs, which meant underlying land values were high. As a consequence, coupled with high construction costs, childcare facilities were selling at close to replacement cost, he said.
HealthScope Update
HealthCo also confirmed that the Group has settled Tranches 1 and 2 of the Healthscope hospital portfolio for $730m and has strong indicative interest from multiple domestic and global institutional investors for the first close of the institutional fund raising of ~$325m by September 2023.
HealthCo Healthcare & Wellness REIT Senior Portfolio Manager Sam Morris, said: "The settlement of Tranches 1 & 2 represents the beginning of our long-term strategic partnership with Healthscope, Australia's second largest private hospital operator. HealthCo has also made meaningful progress on our key strategic objectives, including the asset recycling program, as we reduce gearing to the midpoint of our target range. Pricing and indicative interest received to date highlights the quality of the HealthCo portfolio.
"HMC Capital has also received a strong response from institutional investors for the remaining ~50% interest in the unlisted fund, which demonstrates the level of demand for critical social infrastructure assets of this scale and quality. HMC Capital's fund raising remains on-track to reach first close by September 2023 with a target initial raising of ~$325m", Mr Morris said.
HCW also acknowledged the recent announcement from GenesisCare regarding the Chapter 11 bankruptcy filing in the U.S. to allow a global restructure, including the Australian operations. GenesisCare currently represents less than 5% of HCW revenue following completion of the Healthscope hospital portfolio acquisition. The underlying HCW properties leased to GenesisCare continue to remain attractive to HCW for due to the proximity of the assets to complementary health services and hospital infrastructure; and the custom high intensity fit outs, including certified radiation proof concrete bunkers, required by legislation to support treatment and costly to relocate.
GenesisCare is currently compliant with its lease obligations with HCW, including all current rent paid. GenesisCare has announced the Australian business will continue to operate normally during the Chapter 11 process and patient care will not be affected.
Whilst the Australian GenesisCare operations are reported to be profitable, should circumstances change, HCW has received unsolicited expressions of interest from multiple leading industry operators and is confident in its ability to re-lease the properties at passing rents.