From mining to farming: how a lockdown-run process delivered a $120m outcome
11 January 2022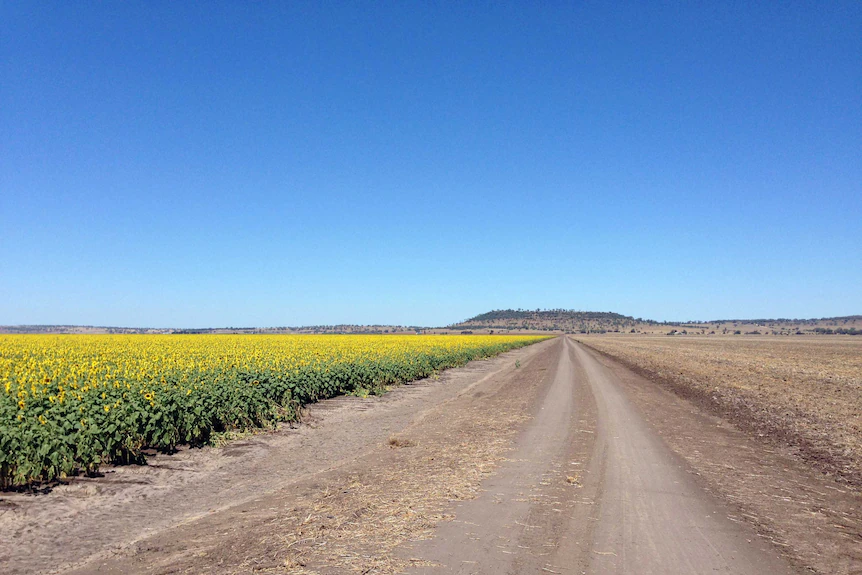 A massive north-west NSW portfolio of land once earmarked for a coal mine has been carved up between 12 local farming families plus one corporate institution in a landmark deal valued at circa $120 million.
CBRE's Agribusiness team negotiated the sale of approximately 16,500ha of land in the Gunnedah region previously held by Shenhua Watermark Coal Pty Ltd.
CBRE's Agribusiness Managing Director David Goodfellow said the extraordinary result highlighted the benefits of CBRE's ability to stage an inclusive process that delivered a positive outcome for both the corporate investment sector and local farming families despite the many impediments of the NSW COVID lockdown.
"We made a very genuine commitment at the start of the sale process to give local producers a proper and equal opportunity to be successful in purchasing land, and we worked hard with both the family farming sector and the corporate farming sector to give everyone a fair chance, regardless of the extra work involved," Mr Goodfellow said.
"By fostering and encouraging local participation we received a genuine mix of corporate and family farming interest and it became a very equitable process, which resulted in the sale of about one third of the whole portfolio to an Australian agricultural investment manager and the balance to twelve local farming families. Families in this region have recovered well from the drought and are now looking to expand their operations to capitalise on low interest rates and the continued strength in commodity prices to make inter-generational buying decisions."
The Shenhua Watermark sale process followed an agreement made last year with the NSW Government under which Shenhua Watermark Coal Pty Ltd returned its exploration license and withdrew its mining license for the site.
Mr Goodfellow said the Gunnedah region was well-known for its highly productive soils, its wide range of well-proven agricultural systems and its typically even distribution of rainfall throughout the year, which had underpinned strong interest in the process.
"The rainfall pattern in this region means it can grow pastures for breeding and fattening livestock right through the year as well as growing both summer crops and winter crops for grain and/or fodder – lending these landholdings to an incredibly wide range of purposes," Mr Goodfellow said.
"In addition, some of the land is also highly suited to regeneration of soils and native forests and may be suitable for projects to create carbon credits, which are quickly becoming very valuable given the current demand to achieve targets of net zero emissions.
A Shenhua spokesperson said it was particularly pleasing that the sale process had returned much of the land to the local farming community while also delivering tangible environmental and indigenous outcomes.
"We have owned the majority of these assets for over ten years and have formed good relationships with the farmers who have continued to work the land," the Shenhua representative said. "Given these properties will now be retained for farming instead of being used for a coal mine, we are delighted that CBRE has been able to work with local families to give them a real opportunity to purchase a significant portion of the land."
The CBRE sale process resulted in 59 inspections from 49 interested parties over a total of five weeks. Some of the parties required two inspections due the scale of the aggregation. A total of 45 Expressions of Interest were received for all or part of the three Shenhua aggregations near Tambar Springs, Barraba and Breeza.
Two separate families have acquired the 1,208ha Tambar Springs aggregation, which comprises three non-contiguous holdings within two kilometres of each other. The holdings are currently used for both mixed dryland cropping and beef cattle production.
Another two separate families have purchased the Barraba aggregation, which has a total land area of 1,114ha and comprises two non-contiguous, nearby landholdings. Approximately 580ha is considered grazing land, with the balance comprising remnant vegetation. The land area is principally used for beef cattle and sheep production.
Breeza is the largest of the three aggregations at approximately 14,270ha and is currently used for dryland cropping (cereals, legumes and cotton) and beef cattle grazing with the opportunity to irrigate, benefited by access to water access entitlements. It has been divided up between eight local families and one corporate farming business.
One of the local purchasers of the Breeza land was the Warmoll family, who operate the well-known Jack's Creek cattle and beef business. The Warmoll family acquired approximately 4,900ha which has the capacity to run approximately 3,500 cattle year-round.
Patrick Warmoll said, "We are very grateful that CBRE went to the effort to give locals a chance to purchase part of the whole aggregation. Our acquisition of some of the land at Breeza has enabled our family business to bolster our landholdings in this area which helps us to further expand and solidify our business for our next generation."
Another of the local purchasers of the Breeza land was the Norman family, who operate a successful row cropping business nearby on the Liverpool Plains. While the Norman family acquired a relatively small parcel of just 183ha, Lisa Norman said, "We are so grateful to CBRE and Shenhua for allowing us to be able to purchase this land which neighbours our existing landholding."
Mr Goodfellow noted that the successful corporate entity had requested that their identity remain confidential until a FIRB approval process had been completed.
"This entity is a well-known institutional investor focused on acquiring land that can be improved with highly sustainable farm development practices," Mr Goodfellow said. "This entity's investment strategy is also well-aligned to supporting the new koala corridors and regeneration areas to be established within the boundaries of the land they are acquiring. They have acquired approximately 5,860ha of the Breeza aggregation, much of which was to be mined for coal, but which will now be re-established and used for mixed farming including livestock production and both summer and winter row cropping."
Mr Goodfellow noted that five agricultural corporations had been interested in purchasing the whole of the Breeza aggregation because of its scale, location and land quality.
"While the successful corporation was also keen to purchase the whole aggregation, they were also willing to purchase just part of the aggregation if that meant some local families had an opportunity to purchase smaller amounts of land in sizes that were affordable to their own businesses," Mr Goodfellow said. "This is what made the process work for multiple stakeholders."

CBRE Agribusiness Associate Director James Auty said the sale process had occurred during lockdowns, which required the team working on the project to travel with properly approved permits to the Gunnedah region to conduct two separate series of property inspections, for two weeks on one occasion and for over three weeks on another occasion, before spending two weeks in home isolation. Each time"
"During each period in Gunnedah, we'd travel out to the properties with the buyers in separate cars and communicated with them via mobile phones to ensure that we were both social distancing and properly guiding everyone through properties and through the process," Mr Auty said.
"It was an incredible team effort and the feedback we've received is that it was unlike any other process that had been run for the sale of a large-scale aggregation and one that has provided a really positive outcome for all of the key stakeholders."
James Auty also noted that the level of inter-generational family farming interest alongside the interest from corporate buyers had been particularly pleasing given the team's effort to run a truly inclusive process.
"It was wonderful to see mums and dads inspecting the properties with their children, who were so obviously keen to make agriculture their chosen profession," Mr Auty said, noting that some of the farms had been purchased to provide career opportunities for the next generation.
"While the drought had a short-term impact on the willingness of families to step up to buy land, it is now two seasons behind us and with current strong commodity prices and positive future forecasts, it's great to see family farming businesses on the march again."