Elanor Hotel Accommodation Fund Review
8 June 2022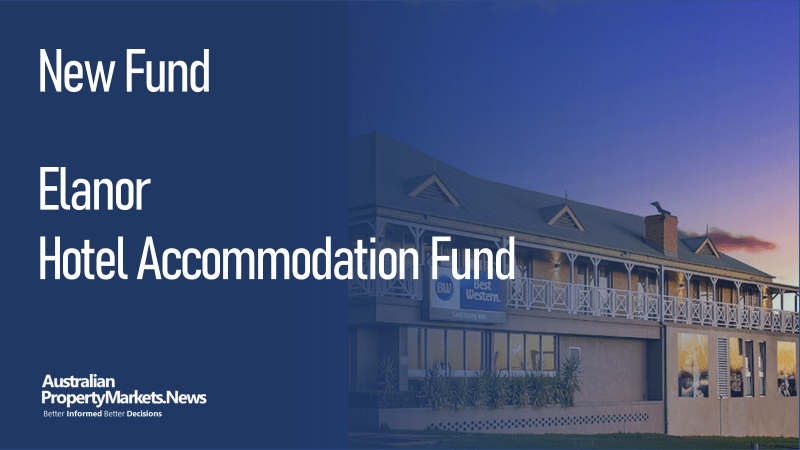 Elanor Investors are seeking to raise $19.4m to support the acquisition of 2 new accommodation assets for their Hotel Accommodation Fund.
The Fund is looking to acquire Estate Tuscany Hunter Valley NSW, valued at $12.75m and Sanctuary Inn Tamworth NSW, valued at $16.45m. Estate Tuscany Hunter Valley is a 4.0-star 38-room hotel located in the Hunter Valley wine region, 64km north-west of Newcastle NSW and the Sanctuary Inn Tamworth is a 4.0-star, 60-room hotel located in the heart of Tamworth on the New England Highway, 282km north- west of Newcastle and 2km south-east of the Tamworth railway station.
The acquisitions and capital raising will increase the Funds' portfolio to 16 properties valued at $379.9M.
Hotel assets have has been impacted by COVID-19 and flooding events over the past 2 years. Regional demand has largely recovered, and in some instances surpassed pre-COVID-19 levels, supported by a wave of domestic tourism. Regional hotels are heavily weighted to domestic use and are expected to be well supported as economic growth (particularly in agriculture) spurs regional business & family trips.
Elanor reports that trading conditions in its portfolio have improved since February 2022 following an increase in vaccinations and the exit of lockdowns as a result of the Omicron variant and are forecasting distributions of 9.2% p.a. from the Fund in FY23. The forecast takes into account the acquisitions as well as updated trading conditions.
Elanor currently manages approximately $2.6bn of Funds Under Management across Retail, Office, Healthcare, Hotels, Tourism & Leisure sectors.
Fund Overview
Responsible Entity
Elanor Funds Management Limited (ABN 39 125 903 031,
AFSL 398196)
Fund Manager
Elanor Asset Services Pty Limited (ABN 83 614 679
622)
Fund Size Target
$19.4M
Fund Open
June 2022
Fund Raising Close
30 June 2022
Fund Term
Closed ended
Target Return
18% IRR over 2 year term
Liquidity
Illiquid – The Manager is considering a liquidity event in the next 12-months, during FY23, via a potential ASX listing
Investor Type
Retail, minimum $10,000
Target Assets
Estate Tuscany Hunter Valley
Sanctuary Inn Tamworth
Existing Assets
Adabco Boutique Hotel Adelaide
ibis Styles Albany
Mayfair Hotel Adelaide
Peppers Cradle Mountain Lodge
Barossa Weintal Resort
Byron Bay Hotel & Apartments
Clare Country Club
ibis Styles Canberra
ibis Styles Eaglehawk
ibis Styles Tall Trees Canberra
ibis Styles Port Macquarie
Mantra Pavilion Wagga Wagga
Mantra Wollongong
Parklands Resort Mudgee
Fund overview
The Elanor Hotel Accommodation is a closed-ended, unlisted fund that seeks to provide investors an attractive distribution as well as the potential for capital gain through investing in a diversified portfolio of hotel accommodation properties located throughout Australia.
The Fund was established in June 2021 as a stapled entity consisting of two hotel operating entities and three property trusts.
Elanor currently owns 43.6% of the units in the Fund and may sell down its portion to a minimum 15% if the Fund raising is oversubscribed.
The Funds' occupancy levels dropped to lows of 57% (FY20), 48% (FY21), and FY22 expected to be around 39%. However, occupancy has improved to around 60% in April 2022, following an increase in vaccinations and the exit of lockdowns from the Omicron variant.

Fund strategy
The Funds' objective is to provide strong income and capital growth from a diversified portfolio of high investment quality hotel accommodation assets, with a strategy to:
Invest in hotel accommodation assets with significant competitive advantages and strong cashflows,
Diversify by geographic location and hotel sector,
Enhance income and capital value with strategic value-add initiatives, and
Grow the Portfolio to over $500M to pursue a liquidity event, including a potential IPO
Diversification
The portfolio is diversified across 5 states with the majority of assets (by value) located in NSW (37%), SA (31%), and TAS (19%). By value, around 57% of the hotels in the portfolio are classified by the Manager as Upscale/Upper Upscale.
Management
The properties in the portfolio are all managed by Elanor with a franchise arrangement in place for 9 hotels with Accor.
Elanor Investors Group charge a management fee of up to 10% of Net Operating Profit.
Accor Group provides branding and support under franchise agreements to designated hotels, which generally provide for fees of 2% – 4% of Gross Revenue. The franchised hotels utilise brands such as ibis Styles, Mantra and Peppers.
Fund Fees
Elanor are entitled to receive fees in consideration for establishment and management of the Fund including;
Equity Raising Fee up to of 2.00% of the new equity raised
Property Acquisition Fee of 1.0% of the acquisition price
Management Fees based on 1.0% of the Gross Asset Value (GAV) of the Fund
Costs and Expenses: 0.36% p.a. of the Gross Asset Value of the Fund
Development Management Fee of up to 8.0% of total development costs
A Performance Fee of 20% of the Fund's outperformance above the benchmark return of 15%pa after fees and costs
The above fees generally align with market practice in the context of the targeted returns.
Fund Gearing
The Fund has existing debt facilities for $172.0M which are expected to be increased to $185.2M in order to assist in the acquisition of the properties. The debt facility includes a $7.0M junior tranche which is provided by Elanor on commercial terms. The total debt has an estimated all-in cost of 3.2% p.a. and is 49% hedged.
Gearing is high and a 10% drop in valuations may subject the fund to further equity raisings to avoid a breach of covenants.

Limited withdrawal facility
The Fund is closed ended and liquidity will be provided via a portfolio sale or an ASX Listing of the Fund. The Manager is considering a liquidity event in FY23, which would be before the original anticipated 3 5-year targeted investment horizon.
Investors should be aware that a liquidity event is not guaranteed and likely to be dependent on the Manager's ability to execute the Fund strategy as well as overall market conditions. As such, investors should consider the Fund to be illiquid, and a liquidity event outside this period may be possible.
Forecast Distributions
The Manager is forecasting FY23 distributions of 9.2 cpu. The forecast is lower than the prior forecast of 10.2 cpu, with the forecasts taking into account a delay in the recovery of occupancy levels due to the COVID-19 Omicron variant.
The Manager is forecasting portfolio occupancy in FY23 to increase to 69.3%. This is below the 72.4% previously forecast, due to a delay in the recovery of the sector as a result of the Omicron variant. The Manager is still targeting portfolio occupancy of 75.3% in FY24.
Core Property Group have reviewed the financial forecasts for the Fund and have estimated the returns based on a range of outcomes of Occupancy and Average Daily Room Rates as per the table below.

The results indicate that the distributions are naturally extremely sensitive to both occupancy and room rates and as such highly dependant on economic recovery conditions given the current occupancy rates are lower than the managers forecast.
Recommendation
The investment strategy is not part of our preferred investment strategy at this point in the cycle.
Revenues and Capital growth from the assets in the fund can be volatile and create a higher risk than traditional assets which are subject to more predictable cash flow from leasing activities.
Potential investors are advised to review the key risks in the product documentation, specifically around hotel performance, distributions, gearing and ultimate liquidity. These items generate a high risk rating (7.4/10) and require a high return to compensate (+14.8% IRR). The forecast returns correlate with the higher risks.
Investors seeking an above average distribution yield and high total return (both of which subject to volatility) may wish to consider the fund further.
Disclaimer: The information contained on this web site is general in nature and does not take into account your personal situation. You should consider whether the information is appropriate to your needs, and where appropriate, seek professional advice from a financial adviser.