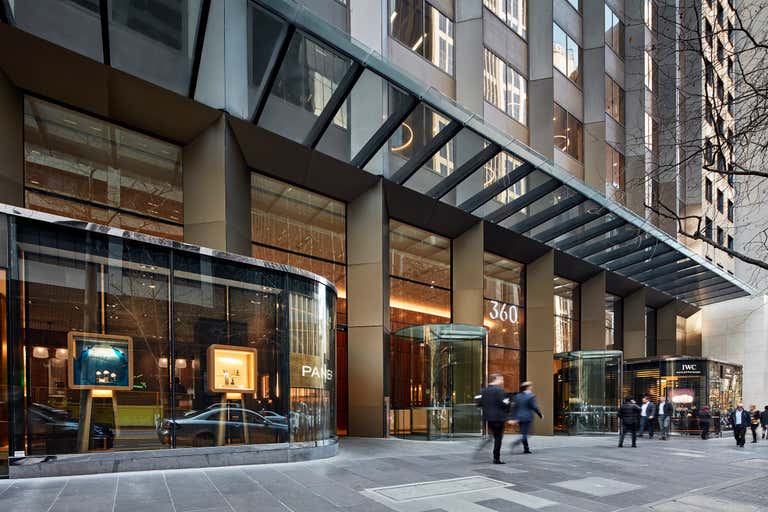 Dexus' 360 Collins Street in Melbourne is now 99% leased following strong leasing activity over the past six months, demonstrating continued demand for high-quality office space despite the current economic climate.
However Dexus is bucking the trend with the PCA Office Market Reort released today revealing that Melbourne CBD's office vacancy rate has hit its highest level since January 2000 as the city continues to feel the impact of repeated lockdowns. The PCA Report for the 6 months to July 2021 also found demand in Melbourne's CBD was at its lowest level on record, eclipsing the 1990s recession. Vacancies in the CBD increased to 10.4% over the past six months, a 2% increase on the previous period, and the highest vacancy rate the city has recorded since January 2000.
Victorian Executive Director of the Property Council of Australia Danni Hunter said: "Every lockdown is a step backwards for Melbourne and particularly our CBD and there is residual uncertainty about the future with more supply coming online over the next six months.
"These numbers and declining office occupancy reinforce the urgent need for a plan to revitalise our CBD and ensure Melbourne continues to be a place to live, work and invest.
Patrick Stronell, Victorian General Manager, Office Leasing at Dexus, said: "The recent lockdown had interrupted but not derailed the broader economic recovery, and although the momentum was impacted, we are already seeing confidence returning as these successful transactions demonstrate."
Melbourne's CBD saw negative net supply with 13,219sqm of supply additions over the period and 13,450sqm of withdrawals. This is in stark contrast to the year to January 2021, which saw more than 350,000sqm of office space added to the market in 2020. However, Melbourne is set to deliver over half of new office space in Australia over the next six months, with 222,000sqm of new stock entering the market in the second half of 2021.
Negative demand was concentrated in A Grade office space, with a net absorption of -84,540sqm over the measured period, leaving Melbourne with more negative demand for prime stock than secondary stock. Conversely, every other capital city recorded higher vacancy in secondary over prime stock.
With more new space being added to the market and other tenants withdrawing from the market, many tenants are now finding better value in older stock. Over the six months to 30 June 2021, Dexus transacted 11 leasing deals across 4,327 square metres, all commencing in CY2021.
Key leasing activity included:
Reaching a Heads of Agreement with a multi-national business across 894 square metres, expanding their tenancy by 605 square metres
Renewing American Express across 844 square metres
Securing PAC Partners across 473 square metres
Securing ALIC across 359 square metres
Securing CEVO across 350 square metres
Across the transactions, the weighted average lease term was 4.2 years, with seven deals representing commitments from new customers.
Dexus believe that the leasing demand for 360 Collins Street is as a result of customers looking for fitted suites with premium amenity including refurbished end-of-trip facilities, a wellness centre and access to Dexus Place.
According to the Property Council of Australia's Office Market Report, Australia's aggregate vacancy rate for all office markets increased only slightly from 11.6 to 11.9 per cent for the six month period to July 2021. The report measures the levels of leased space, not worker occupancy of office space.
Overall CBD vacancy edged higher from 11.1 per cent to 11.2 per cent. While non-CBD markets also recorded a small vacancy increase, from 13.0 per cent to 13.6 per cent.
The Charts for the Melbourne market appear below.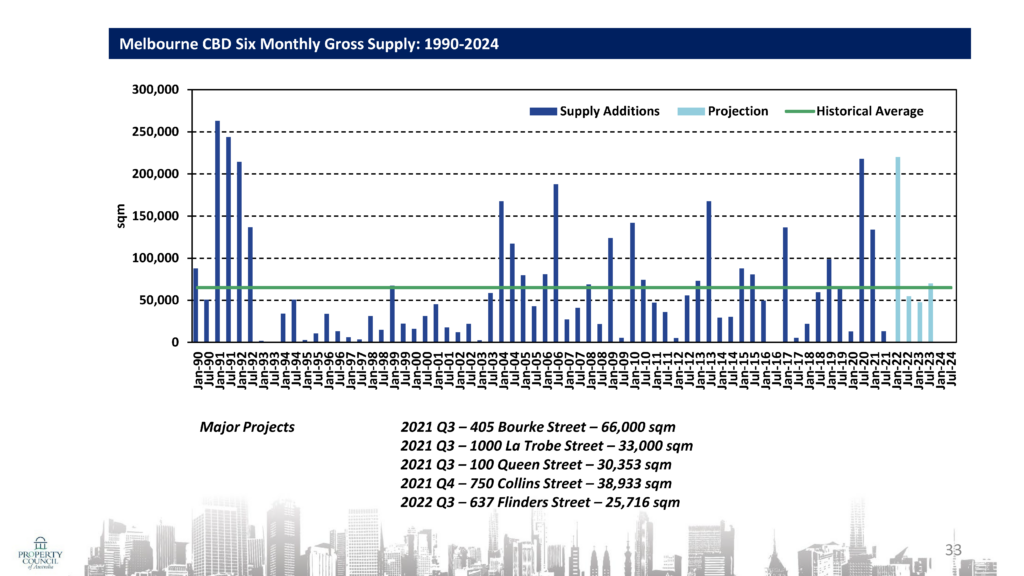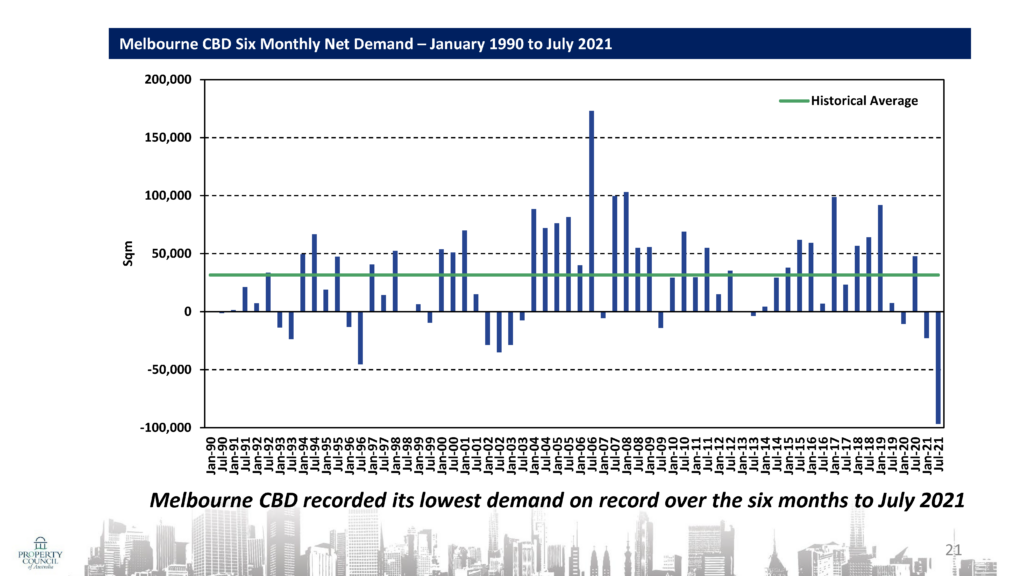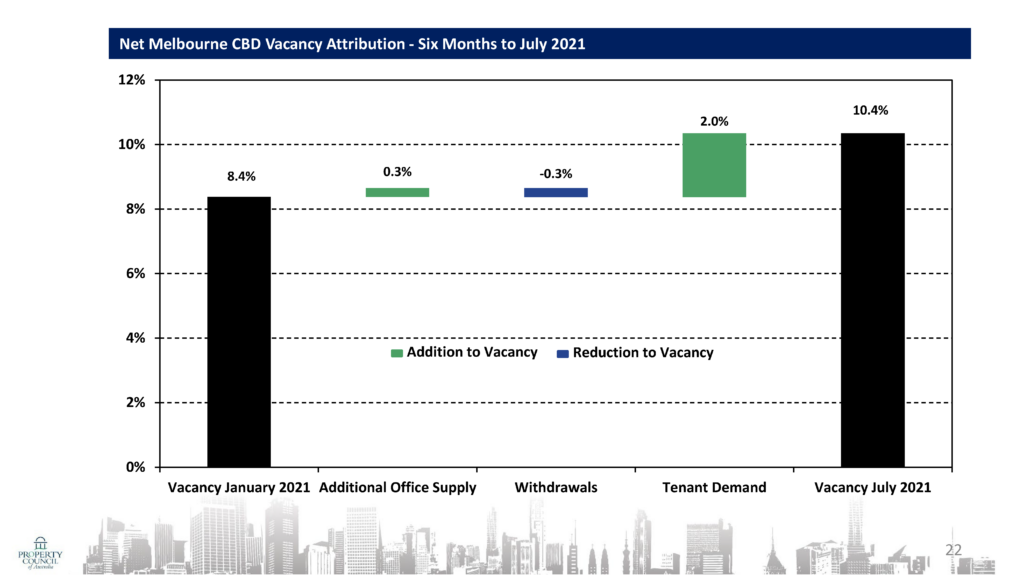 Disclaimer: The information contained on this web site is general in nature and does not take into account your personal situation. You should consider whether the information is appropriate to your needs, and where appropriate, seek professional advice from a financial adviser.