Churches of Christ to Offload 'Yarra Corner' in Alphington
15 November 2023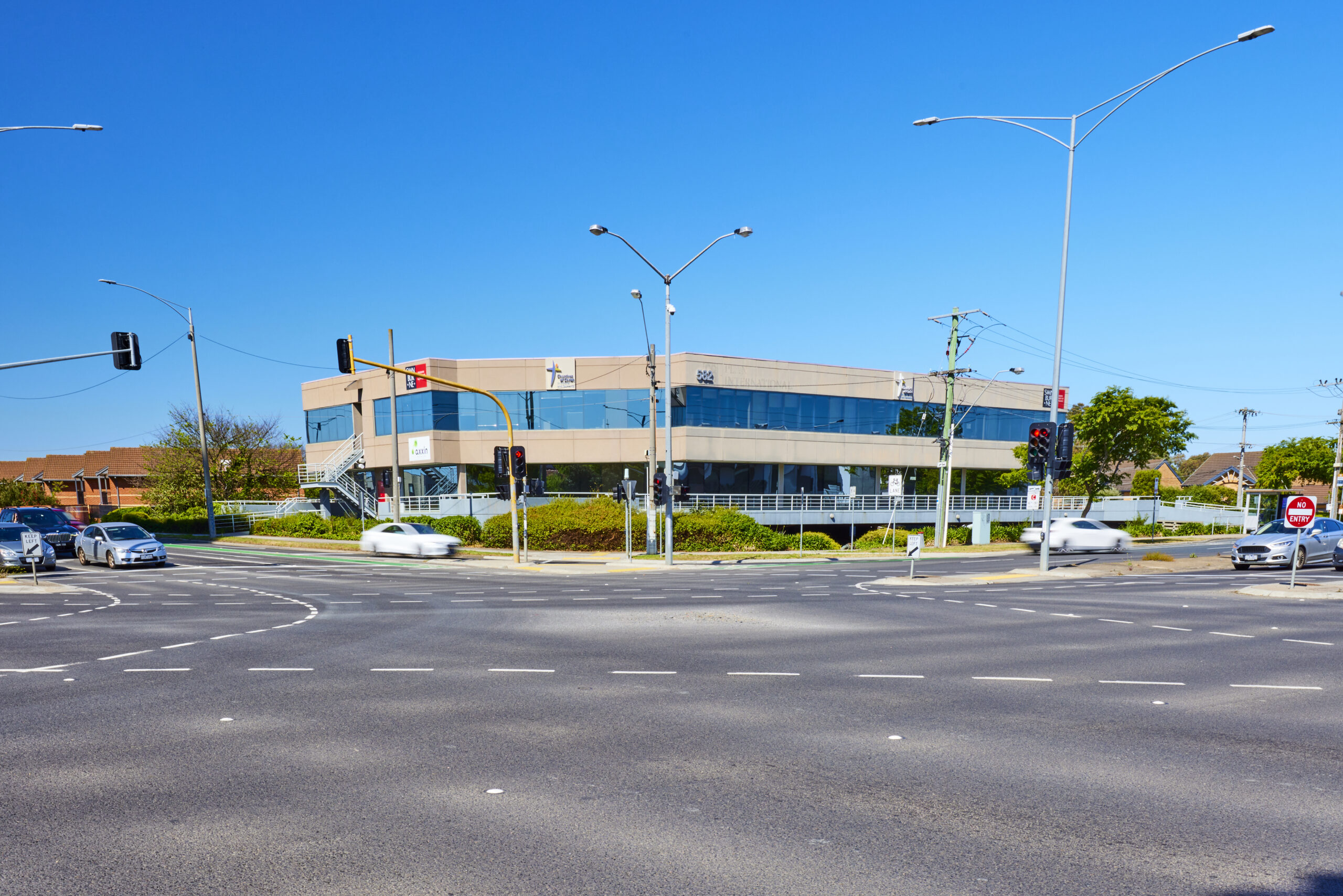 A significant redevelopment opportunity, opposite the circa $2 billion former Australian Paper Manufacturers site project in Alphington, looks set to attract strong interest from developers, investors and potential occupiers, based both locally and offshore.
Owned by the Churches of Christ, the 582 Heidelberg Road property boasts an exceptional address on the corner of the Chandler Highway just 15 minutes (or 5.5 kilometres) of Melbourne's CBD.
The property comprises a quality 2739 sqm, two-level office building with undercroft parking for 94 cars on a 3729 sqm site with frontage to Heidelberg Road, the Chandler Highway and Coate Avenue. It is currently occupied by Swinburne University and Axxin on short-term leases returning $953,895 per annum net.
According to JLL Director – Jesse Radisich, the property provides opportunities for a broad range of buyers including owner-occupiers and investors, as well as developers.
"This is an outstanding corner landholding that possesses all the key fundamentals that are resonating with buyers in the current market. The site itself could hardly be better placed right opposite the Paper Mill project, one of inner Melbourne's most ambitious and successful infill developments," he said.
"It has a highly strategic corner position with the benefit of protected city views, quick access to the CBD via Clifton Hill or the Eastern Freeway, three street accesses totaling more than 160 metres, and the benefit of short-term holding income providing significant flexibility for developers or owner-occupiers to capitalise on the enormous development and re-positioning upside."
Mr Radisich is marketing the property along with Josh Rutman, Mark Stafford and Head of Asia Markets Mingxuan Li under instructions from Michael Jackson and Steve Bennett at JACX Property, who are acting as transaction managers on behalf of the vendor.
Senior Executive Mark Stafford said the property had the potential to provide a redevelopment opportunity of up to 27metres, based on its highly flexible Commercial 1 zoning and local height precedents, which would suit a variety of high-density development outcomes including residential, healthcare, office, child care and more (STCA).
Mr Radisich said a significant feature of the surrounding zoning was that it limited neighbouring developments to two storeys, providing protected views over the expansive Yarra Bend Parklands and of the Melbourne CBD and its surrounds.
"A clear selling feature of any future development or repositioning of the asset will be the protected view lines towards the Melbourne CBD. This will provide for a stunning feature, that is sure to create a strong demand and emotional connection with end users.
"The past decade has seen Alphington transform from a relatively unknown for developers, into one of the more sought-after Melbourne locations, due to the abundance of parklands and proximity to key amenity, making it a proven apartment and development precinct," he said
Mr Radisich said the level of confidence that highly regarded developers had in the area was exemplified by Time & Place's $500 million Paper Mills project comprising 632 apartments, 25,000 square metres of retail, co-working spaces and community facilities, and also by Home by Caydon, a recently completed Paper Mills project comprising 324 residential units over 16 levels.
"These surrounding developments underpin the popularity of the suburb and provide confidence that Alphington remains an active and highly desirable development location," he said.
Strategically located moments from Thomas Embling Hospital, which is undergoing a $515 million upgrade, the property also offers immediate access to Fairfield Village retail, cafes and restaurants, quality schools and parklands including Yarra Bend, Studley Park and Kew Golf Club, as well as the Yarra River. Public transport options include Fairfield train station and bus routes running along the Chandler Highway and Heidelberg Road.
Mr Stafford said while it seemed likely the property would be most attractive to developers, the location, quality improvements, transport accessibility, off-street parking and exposure was also expected to draw the interest of owner-occupiers and investors.
"Properties such as this will always draw a broad cross-section of buyer interest given the very strong business and investment credentials including parking, road access, close proximity to the CBD and the position within one of Melbourne's most highly sought-after lifestyle and executive residential areas.
"The opportunity to capitalise on the significant level of existing parking, efficient floor plate designs and high exposure position provides for strategic repositioning opportunities within the healthcare, child care, aged care and life science sectors, as well as traditional office value-add investors," he said.