Charter Hall puts prime Brisbane CBD site on the market
24 March 2021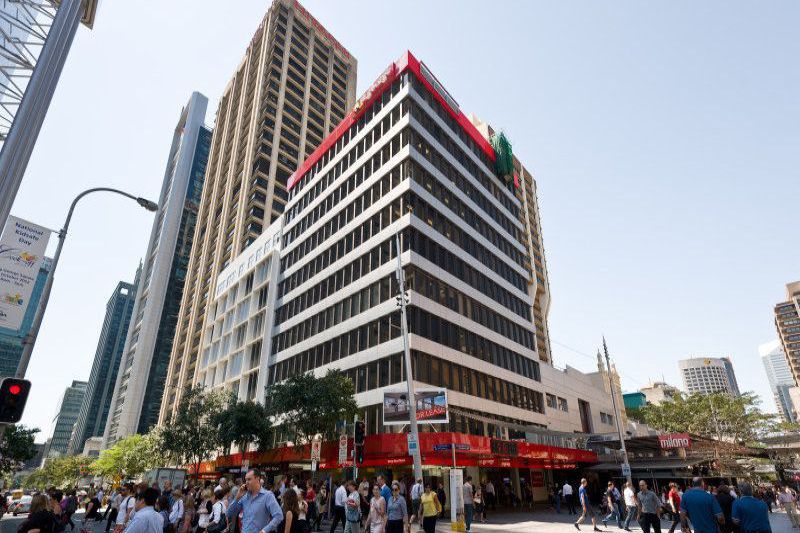 Charter Hall Group has listed for sale three adjoining buildings – 217 George Street, 60 Queen Street and 231 George Street – on separate titles onto the market.
The properties were acquired off 151 Property Group ( Blackstone) in July 2018 for $93.96m (reflecting a passing yield of 7.5%) with a development approval (DA) in place for an 81 storey residential tower scheme. Blackstone had previously acquired the properties off Valad in 2007 for $107m.
In returning these assets to the market, Charter Hall believes that they have added significant value by increasing occupancy of the existing buildings to ~90% (by income) and securing, a DA for a landmark, 34 storey, commercial office and retail tower in December 2020.
Designed by award-winning architects Blight Rayner, the DA comprises a total of 24,490sqm (NLA) of office space and 2,150sqm (NLA) of ground floor and podium level prime retail space over 4 storeys as well as basement parking for 94 cars and 213 bikes.
Charter Hall's Managing Director and Group CEO, Mr David Harrison, said "Following the success of securing a new commercial DA for the site, the investors in the Partnership have decided to realise their investment."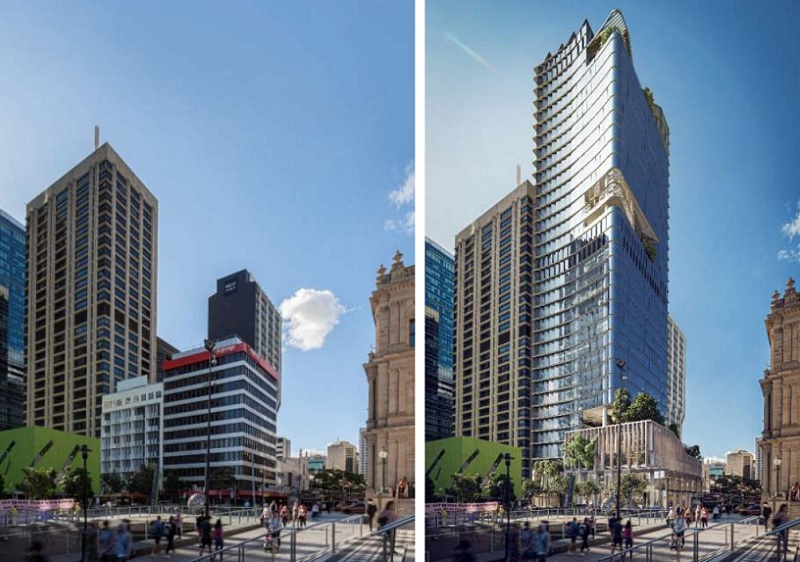 Charter Hall & Investa Fund acquired 360 Queen Street for $53M in 2019 and have since obtained a development approval for a 38,900sqm tower, it is hard to see the George Street site (with a smaller DA) providing a price nearing that rate of $1,362sqm of proposed GFA.
Also in Brisbane, Charter Hall and QuadReal are paying c$60m for a site in Roma Street with an expectation of securing a 50,000sqm development approval, equating to $1,200/sqm of proposed GFA.
The George street site is therefore unlikely to be sold for its short term development potential, but presents an opportunity for a value add play on the existing improvements.
Located on one of the most prominent corners in the Brisbane CBD, at the corner of George Street and the southern end of Queen Street Mall, No.1 Brisbane is well positioned to capitalise on the $13 billion of projects in the immediate precinct including Queens Wharf, Cross River Rail, Brisbane Live and the Brisbane Metro.
The building's sale campaign, is being handled by CBRE's Bruce Baker, Peter Chapple, Tom Phipps and JLL's Seb Turnbull and Paul Noonan.
Our Views
As mentioned above, the income from value of the existing assets is likely to exceed any value of the site as a future development. For Charter Hall to recover their funds from this investment, they will need to sell the asset for circa 6.75% on passing income which could be an attractive proposition for a value add investor.
The Passing Net Income for the assets is $6.34M and the fully lease net income is estimated to be $7.7M.
Disclaimer: The information contained on this web site is general in nature and does not take into account your personal situation. You should consider whether the information is appropriate to your needs, and where appropriate, seek professional advice from a financial adviser.