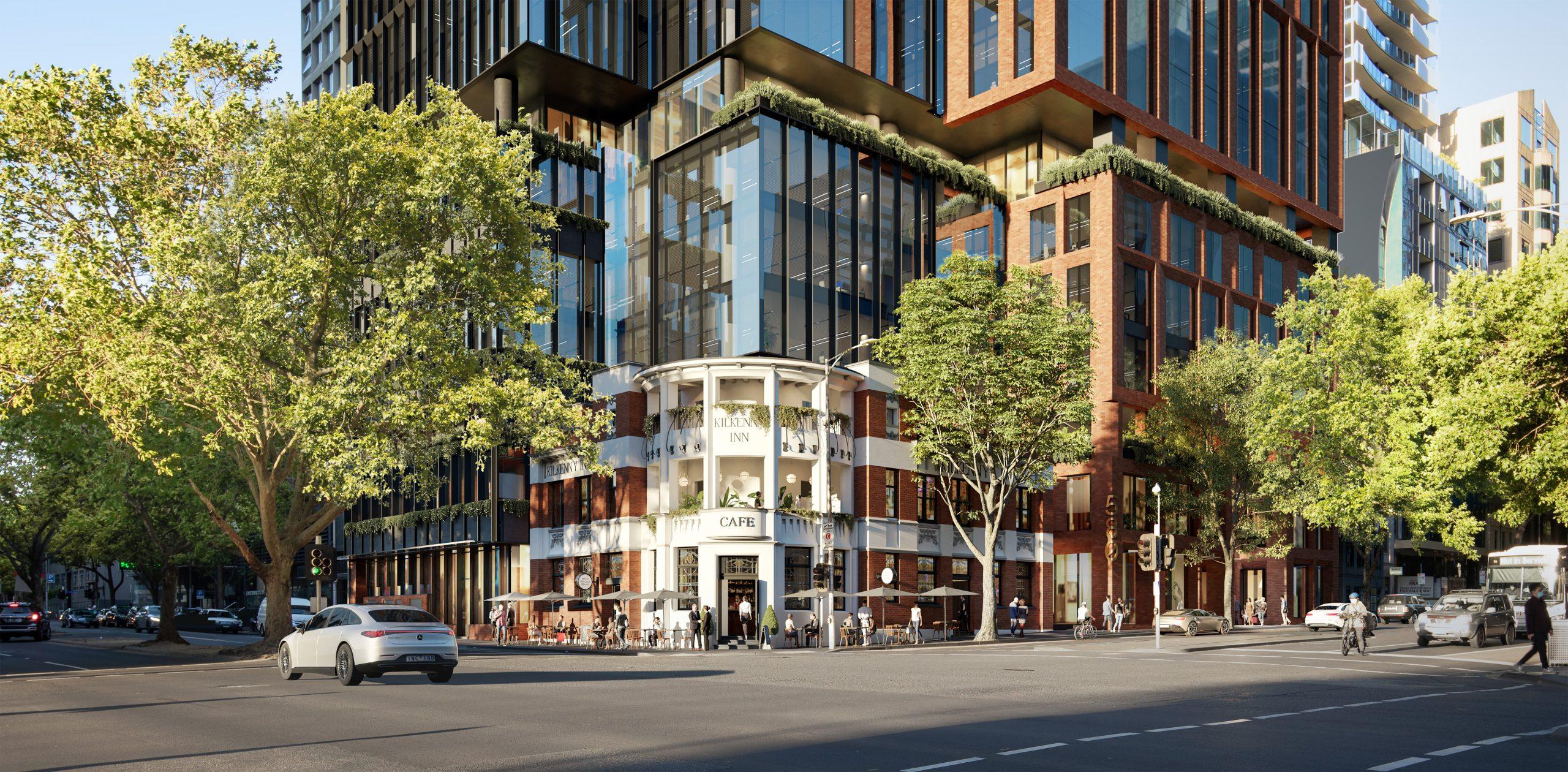 An opportunity to secure one of Melbourne's last prominent CBD corner sites 580 Lonsdale Street has hit the market. Melbourne-based developer and builder Hickory is seeking a prospective investment partner or buyer to share the vision of this generational asset, listed through leading commercial real estate agent Cushman & Wakefield.
580 Lonsdale, activated by a landmark heritage corner is positioned in the epicentre of Melbourne's CBD, secured planning approval in 2022 and has since completed demolition.
The premium 21-storey office tower, designed in partnership with renowned firm Cox Architecture is situated on a 1,756 sqm corner site with a prominent Lonsdale Street frontage. The proposed plans for the mixed-use development include 24,000 sqm of office space, 623 sqm of ground and first-floor retail space, and three levels of basement car parking.
Hickory worked in conjunction with City of Melbourne to retain the heritage façade and unlock the project's true development potential. The building will also offer world-class amenities and landscaped terraces on multiple floors. The sites flexible zoning allows for multiple uses within various asset classes, including Residential, Student Accommodation and Hotel.
International Director and Co-Head of Investment Sales at Cushman & Wakefield Oliver Hay is leading the campaign for 580 Lonsdale Street and believes it will generate significant competition not only in the current office market but amongst all potential asset classes.
Oliver Hay, International Director Cushman & Wakefield, said: "We are entering a unique time in the Melbourne CBD with the supply of developable land becoming increasingly tight, coupled with tightening planning controls, as time goes on corner sites of this scale will become virtually non-existent. Given the amenity attributes in this location as well our current population growth rate and housing undersupply, we expect strong interest from luxury residential and multi-family sectors as well as tourism and commercial sectors".
Hickory CEO Michael Argyrou sees the company's involvement with the revitalisation of the vicinity as ongoing, with projects such as 570 Little Bourke Street in Joint Venture partnership with Maxcap and Argo Group, ICD Property's Aspire tower at 299 King Street, and Melbourne's first Meriton Suites Hotel at 140 King Street underway.
"We see the vision of transforming this pocket of Melbourne's CBD and are pleased to be part of this precinct's vibrant evolution, creating better places for future communities." explained Michael Argyrou.